Validate DBE Counting (Form 1432)
Validate DBE counting training guides & process map for Primes, project oversight, and CDOT Civil Rights for design-bid-build construction projects.
Design-Bid-Build Construction Projects
Training Guides
All training materials listed below are in development and will be uploaded upon completion. Training guides correspond to step numbers in the process map. 
10-1 Complete Section 1 of Form 1432 when DBE First Begins Work (Contractor)

10-2 Complete Section 2 of Form 1432 within 10 Days of Beginning Work (DBE)

10.3 Complete Section 3 of Form 1432 Within 10 Days of Receipt from DBE (Contractor)
10-4 Complete Section 4 of Form 1432
10-5 Conduct further Review of DBE CUF

10-6 Update Payments for non-CUF Activities as Not Counting Toward the DBE Goal in B2GNow System

10-7 File Completed Form 1432 in B2GNow System
State email address required in order to access Civil Rights documents
Process Map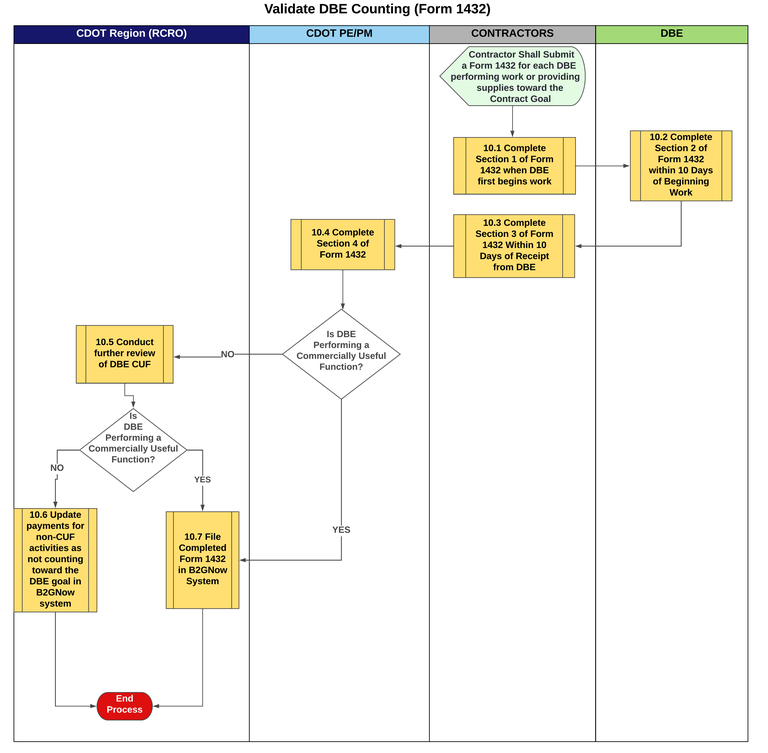 Download PDF of Validate DBE Counting process map (print-friendly)
Text version of Validate DBE Counting process map under development.