Spring migration is here: slow down, scan the roadsides for wildlife
May 19, 2015 - Statewide Transportation Plan - Wildlife on the Move!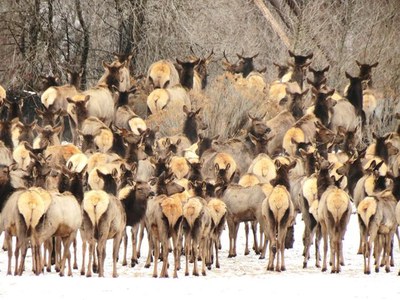 STATEWIDE – Springtime in the Rockies means wildlife are on the move again:  deer and elk are migrating to their summer habitats, and that means they will be crossing highways in higher numbers. The Colorado Department of Transportation, Colorado State Patrol, Colorado Parks and Wildlife and many non-government organizations statewide make efforts each migration season to remind motorists that wildlife-vehicle collisions (WVCs) are high this time of year.
"Our engineers continue to build wildlife mitigation features into our projects where collisions trends are highest," CDOT Chief Engineer Joshua Laipply said. "Still, it's up to all of us who drive these corridors to heed the wildlife warning signs, slow down, and do what we can to avoid these incidents."
Wildlife-vehicle collisions happen year round, 24/7. However, there is always an increase during migration seasons—typically November for fall and May for the spring—and the majority occur during the hours between dusk and dawn. These collisions are not only a matter of safety, but can be quite costly as well. According to the Rocky Mountain Insurance Information Association, the insurance industry pays out nearly $1.1 billion a year in claims for all wildlife-vehicle collisions nationwide.
In Colorado there were 3,437 wildlife-vehicle collisions reported to law enforcement in 2013 (the most recent data), down from 4,016 in 2012 and below the 10-year average of 3,605. Of the 3,437 collisions, 3,183 involved vehicle damage, 250 involved injuries and 4 involved fatalities (source:  CDOT Traffic & Safety Division).
La Plata County tops the list for highest WVCs in the state at 252 in 2013; Jefferson County, 248; El Paso, 201; Douglas, 199; Garfield, 128; Moffat, 116; Larimer, 106; Montezuma, 106;  (please see more county- and statewide data, here: http://www.coloradodot.info/programs/environmental/wildlife/wildlifeonthemove/data-and-charts. (Numbers above came from the chart entitled "Reported Wildlife-Vehicle Collisions by Type and County.")
"We have the unfortunate distinction of having this high number of collisions involving wildlife," La Plata County Living With Wildlife Chair Maureen Kielty said. "We don't have the traffic issues here, as on the Front Range, but we do have the wildlife; watching out for them near our roadways is a critical part of living with wildlife."
The next CDOT project to mitigate wildlife-vehicle collisions in La Plata County will begin after the Labor Day holiday. Located on US 160 about five miles east of the SH 172 junction, the project will involve shoulder widening, fence installation and construction of a wildlife underpass.
"Wildlife-vehicle collisions still remain one of the leading threats to the state's wildlife this time of a year," Colorado Parks and Wildlife Communications Manager Matt Robbins said. "We know where the migration corridors are and we work closely with CDOT to design mitigation features and place signage where they will be the most effective."
NOTE FOR ONLINE CHART INTERPRETATION:  On CDOT's Wildlife on the Move media page, there is a chart entitled "Reported Wildlife-Vehicle Collisions by Type & County;" the acronyms mean the following:  PDO = property damage only; INJ = injury accident; FAT = fatal accident. Please note, the numbers indicate the number of accidents involving a PDO, injury/ies or fatality/ies. So a FAT of "3" or INJ of "3" for example does not indicate that 3 people died or were injured that year, but rather there were three wildlife-vehicle collisions where a human fatality or injury (or several fatalities or injuries) occurred.
For CDOT project information, sign up for free messages to your email or phone by going to www.codot.gov and choosing the envelop icon at the bottom of the page. Or for road information, call 511 or see our lane closure reports at www.codot.gov/projects. Follow us on Twitter @coloradodot and on Facebook.
See this and other photos and data at: http://www.coloradodot.info/programs/environmental/wildlife/wildlifeonthemove.