Halfway Milestone Brings Major Traffic Switch to New Pavement, Old I-25 Bridge Demolition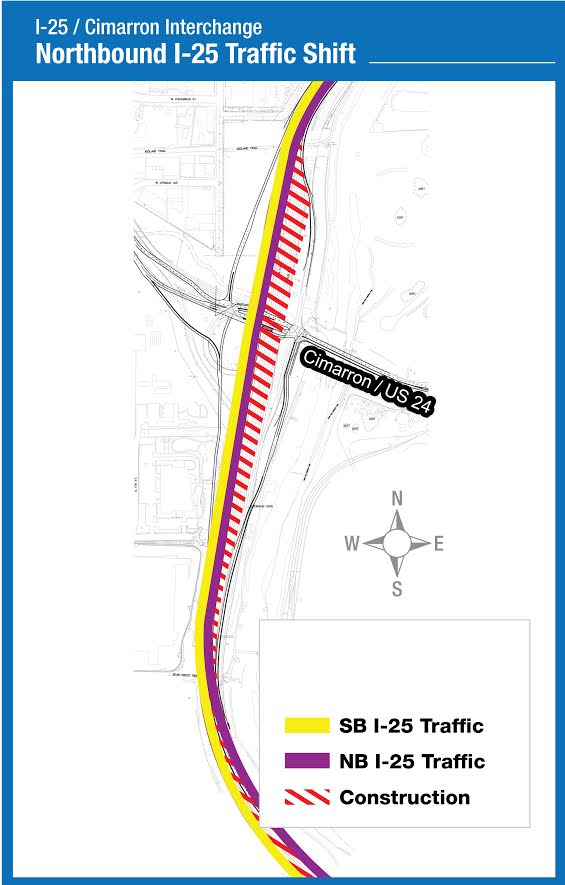 COLORADO SPRINGS—From the many cones, traffic shifts and closures motorists have experienced thus far, positive change can be seen at the I-25/Cimarron Interchange, and more change is to come. A major shift of traffic to new permanent pavement and the demolition of the old I-25 bridge over US 24/Cimarron Street is anticipated later this month and in November—marking progress and the halfway mark for the project team.
"While the exact dates for these two milestone activities have not yet been set," said Dave Watt, CDOT project manager, "we want the community to be aware these major changes are coming soon."
Upcoming impacts:
Traffic Switch to New Permanent Pavement: Northbound I-25 traffic will switch from the old onto the new pavement between South Nevada Avenue/Tejon and Bijou Street. To prepare for the traffic switch, northbound I-25 will temporarily close between South Nevada Avenue/Tejon and Bijou Street, and intermittent ramp and lane closures will take place over a weekend.

After these closures, motorists will be driving on the new permanent northbound I-25 pavement and the new I-25 Bridge over US 24/Cimarron Street, marking a major milestone for the project.


I-25 Bridge Demolition: In addition to the traffic switch, the old I-25 Bridge over US 24/Cimarron Street will be demolished this November. The demolition will require a temporary full closure of US 24/Cimarron Street under the bridge from 10 p.m. on a Friday until 5 a.m. on a Monday. The southbound ramps remain open; however, northbound ramps will be closed.

The I-25 Bridge is largest bridge that will be demolished as part of the I-25/Cimarron Interchange project. The temporary weekend closure will save what would otherwise require approximately 11 nights of overnight closures.

"While we recognize that a weekend closure of US 24/Cimarron Street under the I-25 Bridge will be inconvenient for the traveling public, it's the fastest and more importantly, safest way to get the old bridge down," Wyatt said. "Keeping US 24/Cimarron Street open during demolition would require a piece-by-piece process that would have to stretch over two weeks, causing greater inconvenience to the travelling public. Community input during the design phases of the project indicated a preference for more impactful, shorter-duration closures in order to expedite the work as quickly and as safely as possible."
Safety is a top priority for the project team. Precautionary measures throughout this demo operation will be taken to ensure the traveling public and workers are safe.
Once the old interstate bridge over US 24/Cimarron Street has been removed, the project moves forward to Phase 2 with work on the northbound I-25 off- and on-ramps.
---
Here is what motorists can expect in Phase 2, anticipated to continue through summer 2017:
Pave northbound I-25
Northbound I-25 on and off-ramp realignment work
Install lighting signals and signs on Cimarron Street/US 24
Additional Requested Elements (ARE) 2B – Provide additional lanes for 8th Street
Northbound south-end overlay for tie-in
Northbound I-25 bridge work
Northbound I-25 on-ramp bridge over Upper Fountain Creek
ARE 3: Stream channel reconstruction and multi-use trail extension
Begin landscaping
Pedestrian bridges over Upper Fountain Creek and Monument Creek
Please keep in mind that all work is weather dependent and subject to change.
Stay Informed
Project Coordination
The Cimarron Interchange Project Team coordinates schedules with other local construction projects in the area to minimize impacts to the traveling public as much as possible. Those include:
I-25 Overlay/MLK Bypass Project
Interstate 25 and Academy Boulevard
Project Info
The $113 million I-25/Cimarron Interchange Design-Build Project involves rebuilding the I-25 interchange between Colorado Avenue on the north and South Nevada Avenue to the south, 8th Street on the west and the Cimarron Street over Fountain Creek bridge on the east. Improvements are intended to provide enhanced operations, correct existing safety and design deficiencies, and to serve the anticipated short- and long-term travel demands in this area.
When complete, this will be a high-functioning interchange that safely handles more vehicles and enhances multi-modal travel for those using I-25, US 24/Cimarron Street, and the trail system along Monument and Fountain creeks. Substantial completion is planned for December 2017.