Get Free Rides When You Find "Mile 420"
CDOT and Lyft promote marijuana safety with giant edible candy bar at Denver's 420 celebrations.
DENVER—CDOT and Lyft are giving out free ride credits and discounted rides all week during Denver's 420 celebrations, but you're going to have to work for it.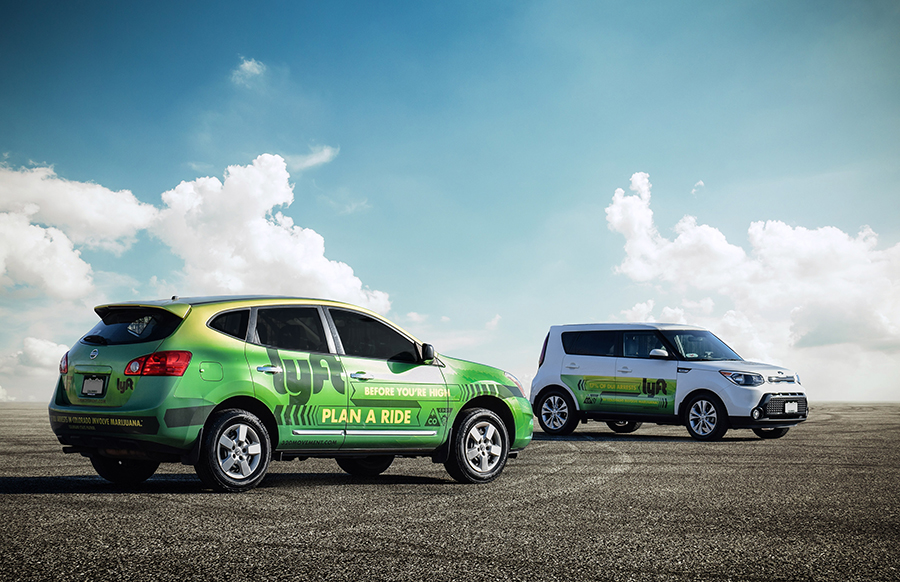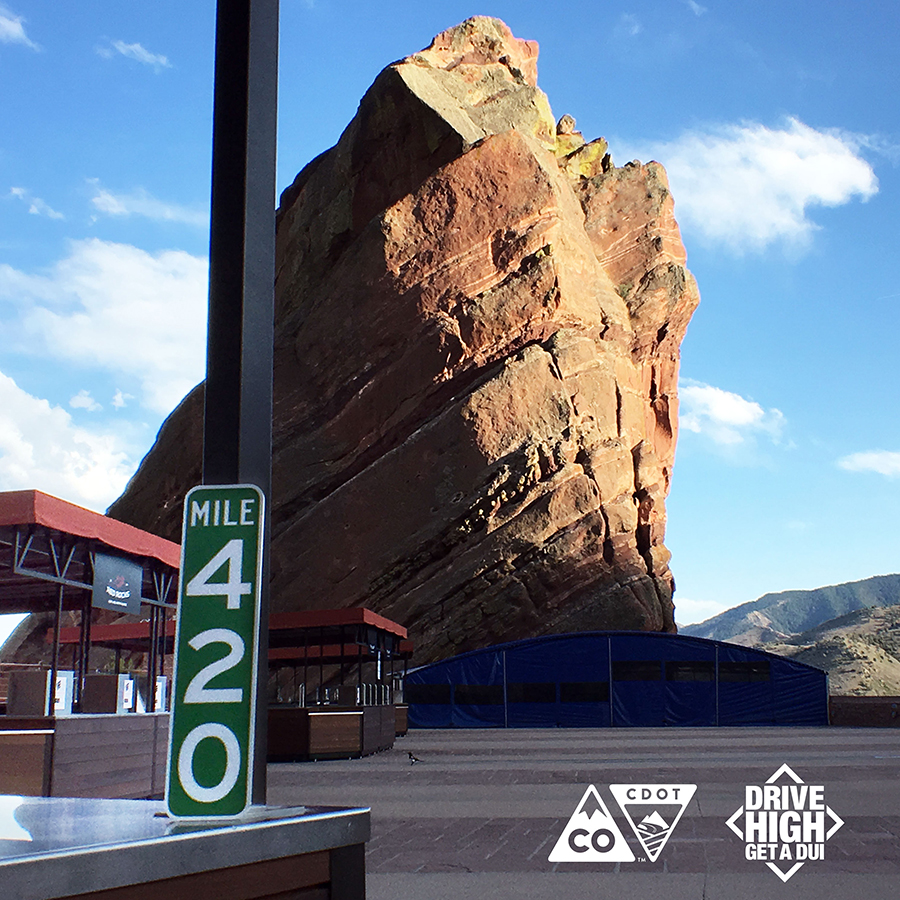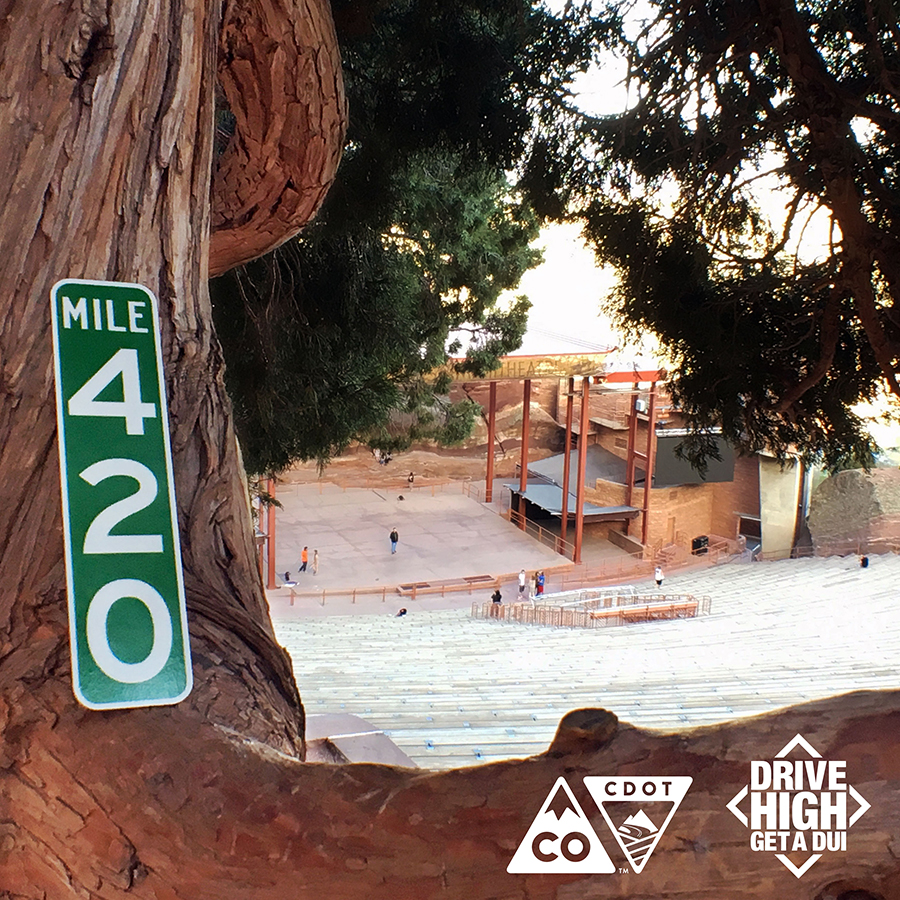 Miniature "Mile 420" signs will be hidden at major marijuana-related events, each with a promo code that can redeem $42 worth of ride credit. The "Mile 420" hunt is part of CDOT's Drive High, Get a DUI campaign to reduce the number of drug-related DUIs, traffic crashes and fatalities.
A few years back, CDOT replaced Colorado's infamous 420 mile marker sign, along I-70 with mile marker 419.99 after it was repeatedly stolen. Now, marijuana users have the chance to get their hands on the coveted Mile 420 sign, in addition to free ride credits, as CDOT and Lyft work to encourage Colorado cannabis users to plan a ride before they're high.
In addition to the 420 mile markers, CDOT and Lyft will have street teams at 420 events to educate about safe rides. CDOT will also display a giant, 3D candy bar display, created to highlight the dangers of driving after consuming edibles—which can take up to two hours to affect the user.
The giant chocolate edible is designed to look like a crashed car, and measures 14 feet long and 4 feet high. On the front, the safety message is "Plan a Ride Before You Bite It." On the back, where nutrition facts would typically be found, are statistics on the dangers of driving high—including that 55 percent of marijuana users believe it is safe to drive under the influence of marijuana.
The edible display will appear for the first time at TruCannabis - Mile High (1630 Federal Blvd., Denver 80204) from 4-7 p.m. on Tuesday April 18.
The giant edible display and 420 mile markers will be at the Red Rocks Amphitheatre for "420 Eve on the Rocks: Method Man & Redman" on April 19, and the "420 on the Block" multi-venue event on south Broadway on April 20. At each event, the Lyft team will be handing out discount ride codes to encourage and enable marijuana users to plan for safe transportation.
"This is a big week for cannabis users in Colorado, and we want to make sure everyone plans ahead and stays safe," said CDOT Safety Communications Manager Sam Cole. "The bottom line is that driving high is dangerous and illegal, and any amount of impairment puts you at risk for a DUI."
In March, CDOT and Lyft launched the 320 Movement, a proactive program that aims to change the way people think about driving high—to always plan a safe, sober ride, just as they would when drinking. On March 20, Lyft unleashed a fleet of 17 vehicles wrapped with green "Plan a ride before you're high" messaging across metro Denver.
The 17 vehicles represent the 17 percent of Colorado State Patrol DUI arrests last year that involved marijuana. If you order a Lyft any time through April 20 and are picked up by one of these vehicles, you'll receive a discount of up to $10 on your ride.
"We know that Lyft passengers are great about planning ahead when it comes to alcohol consumption, with almost 90 percent of Lyft users recently surveyed saying that they use the service to avoid driving under the influence," said Gabe Cohen, Denver general manager for Lyft. "Lyft is proud to join with CDOT in promoting this same, safety-first message when it comes to cannabis consumption."
According to a 2016 survey conducted by CDOT, 55 percent of marijuana users said they believed it was safe to drive under the influence of marijuana. That's an alarming statistic given the fact that marijuana affects reaction time, judgment, motor skills, and perception of time and distance. This year, CDOT has considerably ramped up its Drive High, Get a DUI campaign by focusing on reaching cannabis users directly through partnerships at point-of-sale and point-of-use locations.
"This is a very collaborative effort among CDOT, dispensaries and the Marijuana Industry Group to educate the community on the realities of driving high," said Cole. "We all want the same thing, which is to keep people safe."
In response to the legalization of recreational marijuana in Colorado, CDOT launched Drive High, Get a DUI in 2014—a public outreach and education campaign to raise awareness about the dangers and laws surrounding driving while under the influence of cannabis. For more information, visit the CDOT website.