Three-Week Closure of Elk River Road South of US 40 Starts Monday
STEAMBOAT SPRINGS—Starting Monday, July 31, and continuing 24/7 for about three weeks, crews will close Elk River Road just south of US 40—between US 40 (Lincoln Ave) and Curve Plaza. Travelers will use Shield Drive and Curve Court as a detour route.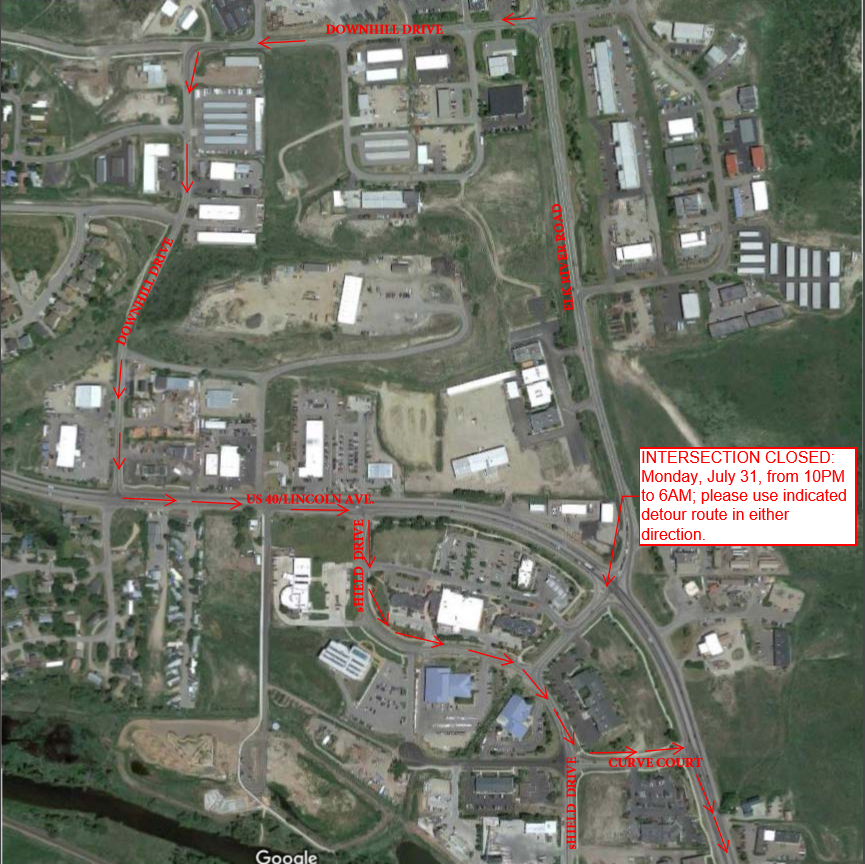 The closure allows crews to complete full-depth roadway reconstruction that will produce a dedicated left-turn lane for northbound Elk River Road, and facilitate drainage improvements.
Closure Benefits
Reduce the duration of work from six weeks to three weeks, in turn reducing the impact of construction on businesses and the traveling public.
Avoid potential safety hazards by enabling crews to complete the work in a closed construction zone.
Reduce rush hour traffic by extending "green" time on US 40 westbound and eastbound.
All business access at Curve Plaza will remain open during this closure period. Access the Plaza entrance on Elk River Road from the south side, using either Curve Court or Shield Drive.
One-Night Intersection Closure
From 10 p.m. Monday, July 31 to 6 a.m. Tuesday, Aug. 1, crews will close the intersection of Elk River Road and US 40 to restripe and open the new right-turn lane from northbound Elk River Road to westbound US 40. Southbound travelers on Elk River Road wanting to access downtown will detour onto Downhill Drive, then onto eastbound US 40, then Shield Drive onto Curve Court. Those wanting to head north on Elk River Road from downtown will use this detour route in reverse.
Project Info
Starting May 1, 2017, and continuing through late November 2017, CDOT, the City of Steamboat Springs and contractor Flatiron Construction will improve safety and mobility on US 40 on the west side of Steamboat Springs. Work includes resurfacing the highway from east of County Road 33A to Elk River Road, improving the intersection and signal at Elk River Road, and making drainage, sidewalk and curb ramp upgrades.