Yosemite Street (North) to Close Tomorrow
GREENWOOD VILLAGE—Yosemite Street between Arapahoe Road and Yosemite Circle (north of Arapahoe Road) will close early the morning of Wednesday, June 7, for about 10 days as crews conduct utility work and storm system improvements.
Benefits
This full closure allows crews to complete this work in a matter of days versus about four weeks—the length of time it would take to complete via a series of overnight closures. It also avoids eliminates continual traffic shifts and change conditions for drivers to navigate.
Traffic Impacts
While all businesses will remain accessible, in some instances, drivers must use alternate routes to access businesses along Yosemite Street.
During this closure, crews will work day and night to remove asphalt, adjust temporary signal heads and pave to shift Yosemite Street traffic to the west so construction can begin on the east side of Yosemite Street.
Expect intermittent lane closures.
From 8 tonight through 5:30 a.m. Wednesday, June 7, northbound I-25 double right lane restrictions will be required between Dry Creek and Orchard roads, as well as a full closure of the northbound I-25 off-ramp to Arapahoe Road and the eastbound Arapahoe Road on-ramp to northbound I-25. These closures are required for paving operations.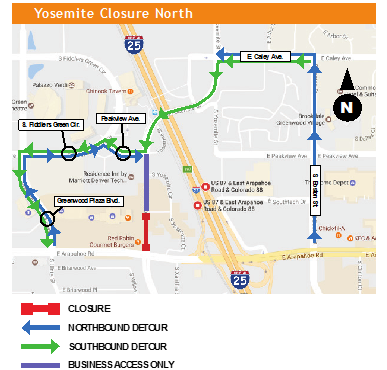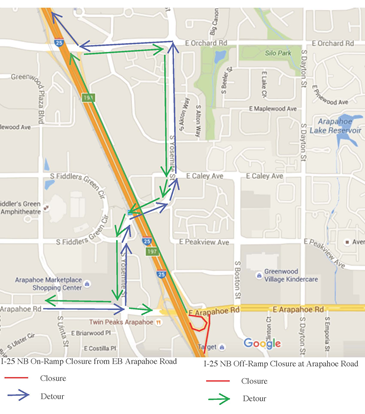 Stay Informed
Project hotline: 720-580-2525
Project email:

[email protected]

Get real-time road conditions on COtrip, or by dialing 511 from anywhere in the state.