CDOT Begins Sign Replacement Project on CO 119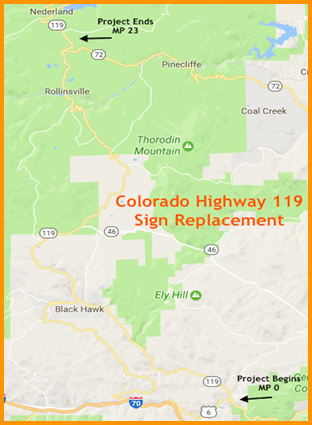 GILPIN/BOULDER COUNTIES—Starting on Monday, April 3, the Colorado Department of Transportation (CDOT) and contractor CC Enterprises will replace and install more than 900 ground signs on Colorado Highway (CO) 119, from mile post 0 to 23. Crews also will install sign posts and foundations.
The estimated completion for this project is early summer 2017.
Travel Impacts
Work will be completed from 7 a.m. - 7 p.m., Monday through Thursday. Motorists can expect shoulder closures, with crews working alongside the highway for the duration of the project. Both northbound and southbound CO 119 will be subject to single lane closures for sign removal and installation. All work is weather dependent, and schedules are subject to change.
Stay Informed
Project hotline: 970-456-1482
Project email:

[email protected]

Get real-time road conditions via COtrip, or by calling 511 from anywhere in the state.