CDOT to Fix Congested Bottleneck on Southbound I-225 in the DTC
Pilot project will convert shoulder to additional lane, expected to cut delays in half during rush hours

DENVER METRO AREA—CDOT is conducting a pilot project to expand capacity on one of the worst bottlenecks in the region: I-225 southbound in the Denver Tech Center (DTC). CDOT will convert the shoulder to an additional lane by restriping less than a mile of southbound I-225 from Yosemite Street to I-25.
There will be access restrictions for this project for it to work effectively. Drivers coming from DTC Boulevard, Yosemite Street or E. Quincy Avenue who get on the on-ramp to southbound I-225 will not have access to southbound I-25. A concrete barrier will restrict them to northbound I-25. This will prevent traffic weaving across lanes, improving safety and efficiency for the mainline of southbound I-225.
CDOT awarded the project to K.E.C.I. Colorado, Inc. Work will be done overnight to minimize construction impacts. Construction is expected to begin later in October and should be completed in a month.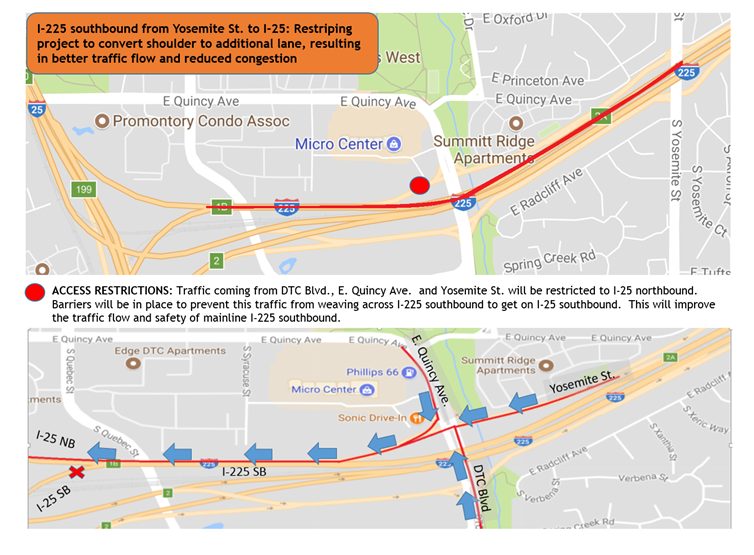 "With traffic backups extending over three miles on I-225 southbound during the peak travel times, converting the shoulder to a lane is anticipated to cut traffic delays in half during the rush-hours," said CDOT Denver Regional Director Paul Jesaitis. "We get a lot of complaints about this location and something needs to be done now. Rather than waiting for years to get the $65 million needed for a permanent fix to build additional lanes and new bridges, the restriping project is a viable solution we can deliver this fall that should bring immediate congestion relief.
"We have seen great success with other restriping projects in the state, such as US 36 and the I-70 Mountain Corridor. The I-225 southbound restriping is a pilot project, and will be evaluated and monitored for effectiveness."
Traffic Impacts
Nighttime work on southbound I-225 from Yosemite Street to I-25, lasting up to a month beginning later in October (information on exact dates forthcoming)
At least one lane open on southbound I-225 during overnight construction
First few nights: concrete barriers will prevent DTC Boulevard and other on-ramp traffic to I-225 southbound from entering I-25 southbound
Remaining nights: restriping southbound I-225
In preparation of construction, CDOT will have signage ready to warn motorists of construction and to alert motorists of new traffic patterns.
Stay Informed
Customer Service Line: 303-759-2368
Travel conditions: COtrip.org