Fred Estrian Takes on New Role to Promote Pedestrian Safety
April 9, 2018 - As temps rise, CDOT's crosswalk champion protects Colorado road users

STATEWIDE—In 2017, pedestrian fatalities in Colorado reached an all-time high. Ninety-three lives were lost last year, up 11 percent from the 84 pedestrian fatalities in 2016, and up 45 percent from 2015 when 64 pedestrians died.
To shed light on the importance of pedestrian safety, CDOT is once again enlisting the assistance of veteran crosswalk champion Fred Estrian in its pedestrian-safety campaign.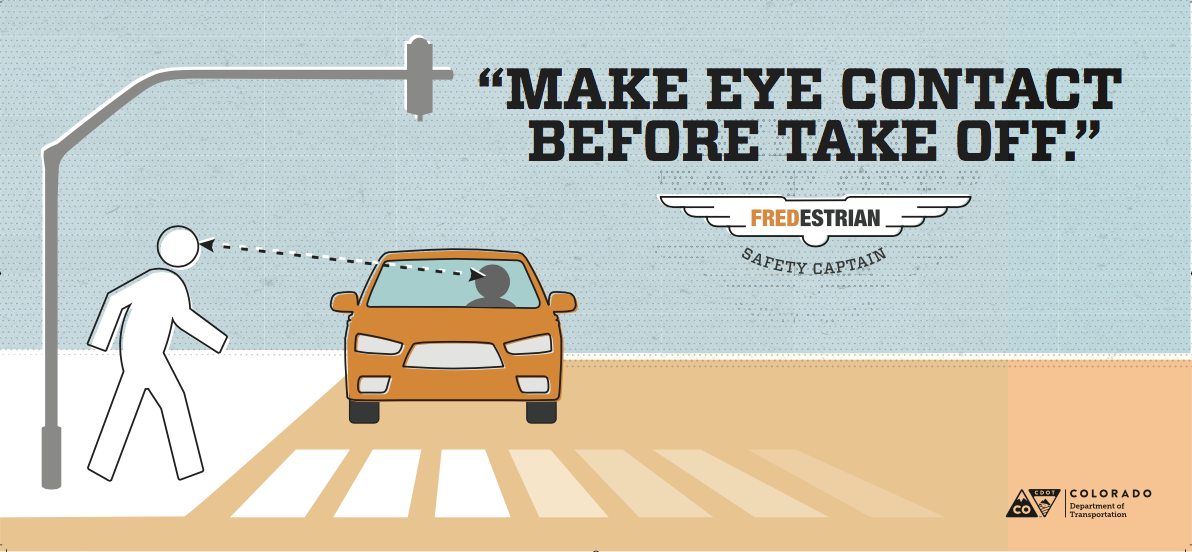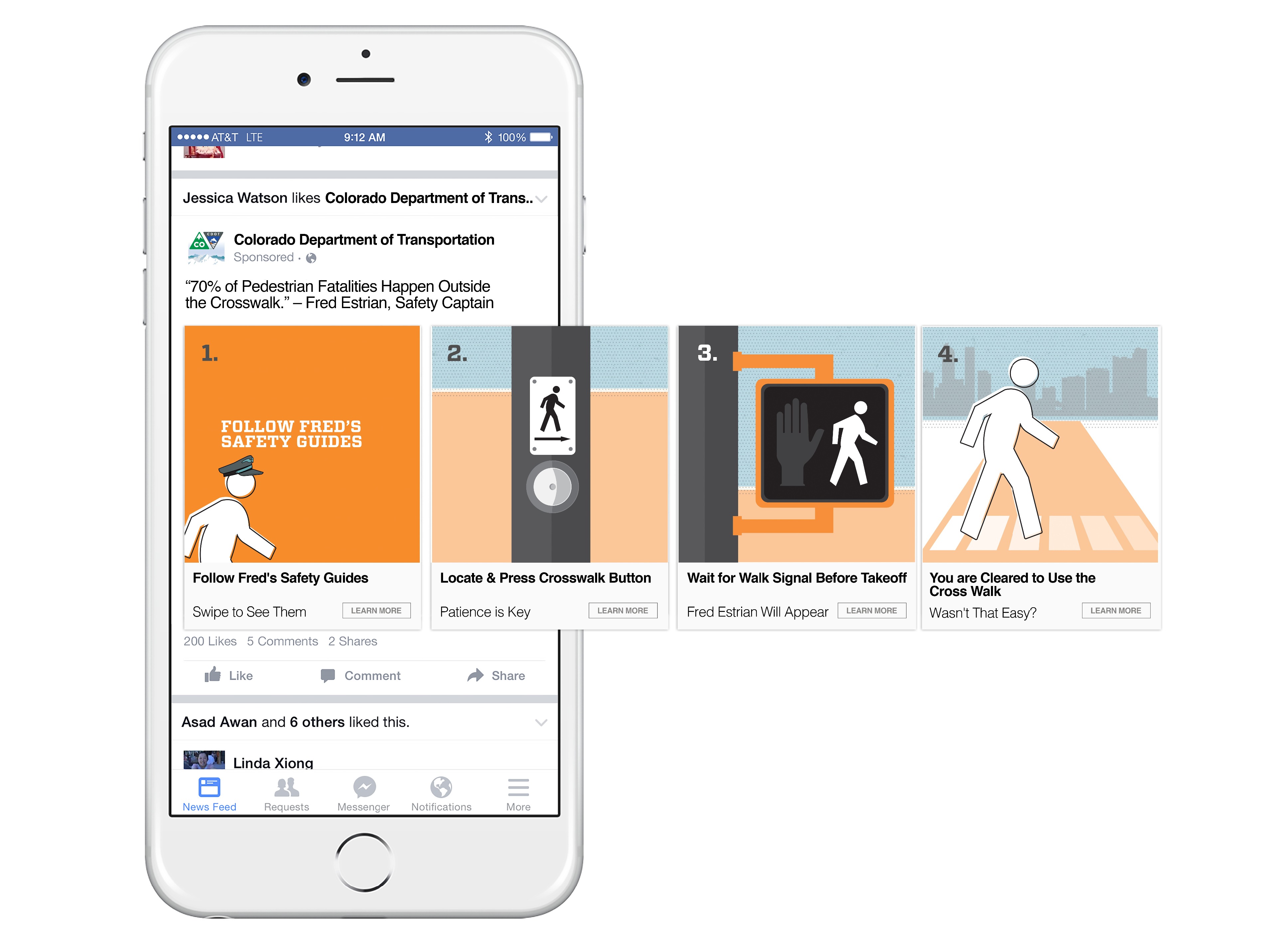 First introduced in 2016, Fred Estrian—a play on the word "pedestrian"—is the life-size walk-signal man with a passion for protecting Colorado road users. This year, he has transformed into "Captain Fred Estrian," a spoof on an airline captain who shares guidelines and safety tips that resonate with pedestrians and drivers alike.
CDOT's pedestrian-safety campaign launches just in time for spring weather, as warmer temperatures tend to increase foot traffic on Colorado roadways. Beginning today through early May, Fred's safety guidelines will run in the form of radio PSAs, social media advertisements, billboards and sidewalk chalk art. Radio spots imitate pre-flight safety demonstrations, while print and social media ads aim to emulate airplane safety manuals. The goal? To engage with pedestrians and drivers where they spend most of their time: online, outside and in their cars.
"Over the past two years, Fred Estrian's light-hearted and paternal demeanor has grown to become the face of our pedestrian-safety efforts and allows us to engage with road users in a direct, informative and entertaining way," said Sam Cole, safety communications manager at CDOT. "We hope this year's campaign will drive home the point that crosswalks play a critical role in preventing pedestrian fatalities."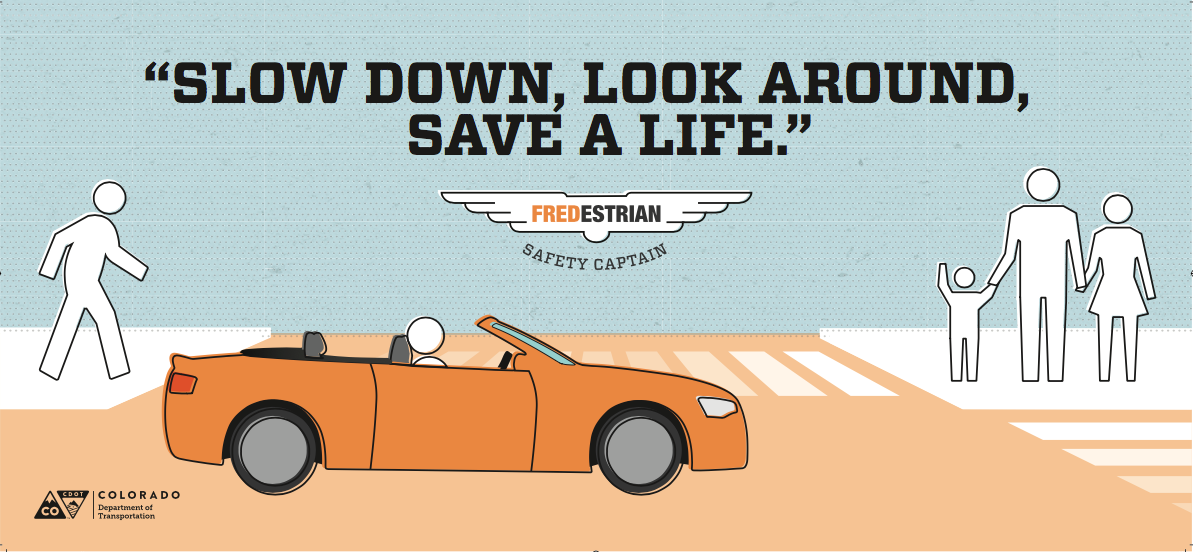 As part of this year's campaign, CDOT also installed sidewalk chalk art promoting pedestrian safety throughout the state. The chalk art, which reads "Stow your phone before crossing," is displayed in 100 high-foot traffic areas across Colorado for a month to create impact among pedestrians in a non-traditional way.
Pedestrian fatalities are an increasing problem in Colorado, most often occurring at non-intersections. In 2017, pedestrians represented 14.4 percent of all traffic fatalities statewide. CDOT's pedestrian-safety campaign aims to promote the importance of using crosswalks and encourage drivers to always yield to pedestrians.
Learn more about Colorado's pedestrian laws, and to view campaign materials.