Holiday Parties DUI Enforcement Period Begins Tonight
Dec. 7, 2018 - CDOT Campaign Includes Naughty or Nice List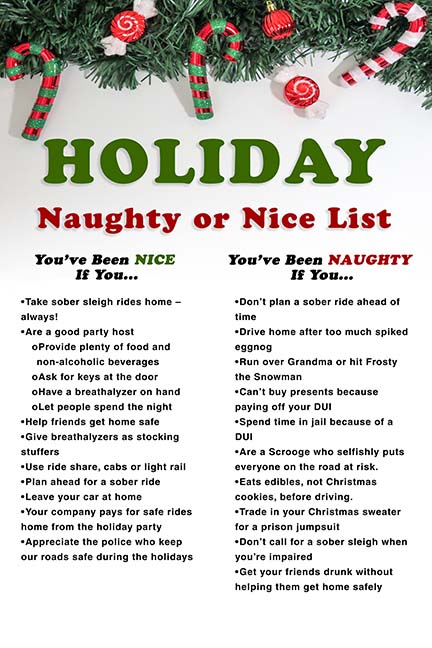 STATEWIDE—The turkey has been carved and holiday parties are right around the corner, which means an increase in impaired drivers on Colorado roads. CDOT, Colorado State Patrol (CSP) and statewide law enforcement agencies are teaming up for heightened DUI enforcement this holiday season beginning tonight, Dec. 7, through Monday, Dec. 17.
Today, CDOT rang in the holidays at a press conference encouraging motorists to not drive impaired during seasonal celebrations. CDOT, the National Highway Transportation Safety Administration (NHTSA), CSP and local law enforcement decked the halls with decorated patrol cars; DUI snowman and snow-woman mugshots; a naughty or nice list with tips for keeping yourself and others safe; and DUI-themed cookies—all drawing attention to the Holiday Parties enforcement period.
This enforcement effort is part of CDOT's ongoing The Heat Is On campaign to enforce Colorado DUI and DWAI laws to reduce the number of injuries and fatalities caused by impaired drivers in Colorado. During last year's 10-day holiday enforcement period, 114 law enforcement agencies arrested 656 impaired drivers. This year, 106 law enforcement agencies and CSP troops will be participating in the crackdown.
"Impaired driving causes injuries, physical and emotional, that can last a lifetime, and it's a serious crime. Don't take a risk with your future or somebody else's; driving either drunk or high is a DUI," said NHTSA Deputy Administrator Heidi King. "This holiday season, designate a sober driver or use a ridesharing service to ensure everybody makes it home safely.
In December 2017, there were 50 fatalities on Colorado roads, and 10 of those fatalities (20 percent) involved impaired drivers.
"The holidays can be a dangerous time to be on the roads," said Darrell Lingk, CDOT director of the Office of Transportation Safety. "Looking forward to the rest of 2018, we want everyone to think twice—and choose wisely—before getting behind the wheel while impaired."
Throughout the state, 112 agencies participated in the Thanksgiving Weekend enforcement period, with Denver Police Department (53), the Colorado Springs Police Department (38) and Thornton Police Department (22) recording the highest arrest totals. Access CDOT's The Heat Is On arrest database for all enforcement periods. Arrest data can be sorted by law enforcement agency, county and enforcement period.
There are several options available for those who need to find a sober ride home. Ride-hailing services like Lyft, Uber and zTrip connect users directly with a nearby driver. Public transportation is also available across the state. Learn more about how to plan ahead before you drink.
"The holidays are meant to be a special time with family and friends, and driving impaired puts that all in jeopardy," said Col. Matthew Packard, CSP chief. "We urge people to wear seat belts, travel safely and consume responsibly. Losing someone during the holidays is particularly tough since your family will never be able to truly celebrate the holiday again."
The CDOT Highway Safety Office provides funding to Colorado law enforcement for impaired driving enforcement, education and awareness campaigns. The Heat Is On campaign runs throughout the year with 14 specific, high-visibility impaired driving enforcement periods centered on national holidays and large public events. Enforcement periods can include sobriety checkpoints, saturation patrols and additional law enforcement on duty dedicated to impaired driving enforcement. More details about the campaign, including impaired driving enforcement plans, arrest totals and safety tips can be found at HeatIsOnColorado.com.