US 550 Red Mountain Pass Ruby Walls Work to Require Four More Major Closures
Dec. 4, 2018 - Work is Weather Dependent

SOUTHWEST COLORADO—As crews near completion of emergency cliff work on the ruby walls on US Highway 550 Red Mountain Pass, they will close the highway four additional times: From 7:30 to noon and from 1 to 5 p.m. on Wednesday, Dec. 5, and from Saturday, Dec. 8 through Monday, Dec. 10.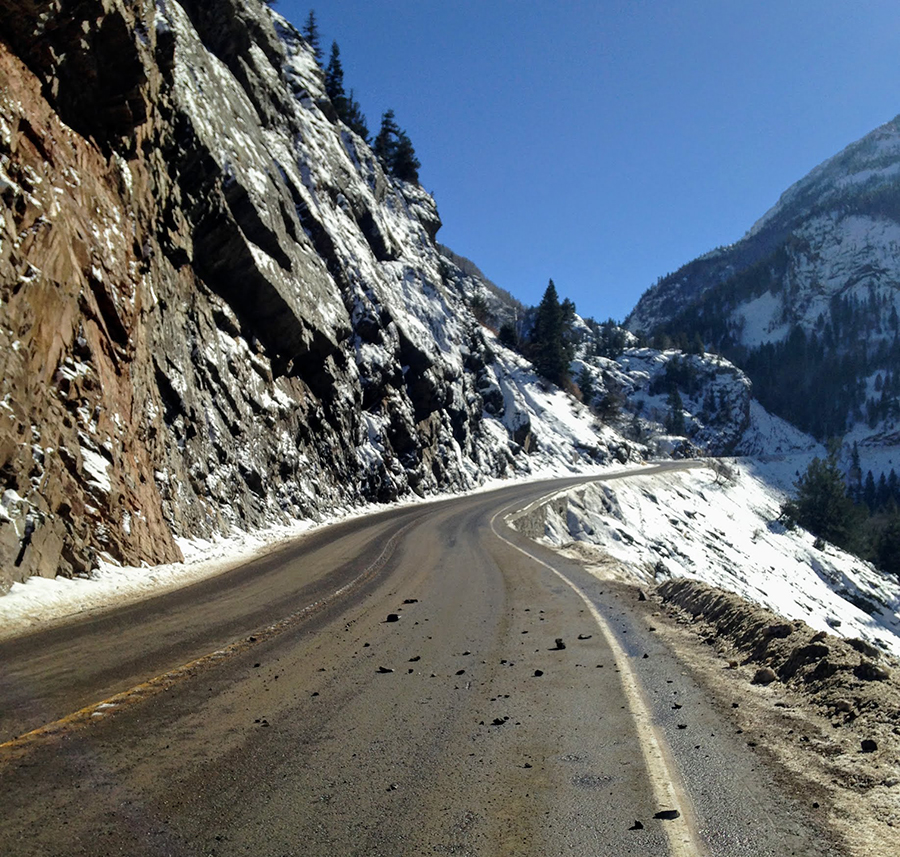 Rocks are prone to fall on the roadway after storms, especially near steep slopes and cliff walls as seen here on US 550 Red Mountain Pass. Geo-technical crews are installing new, additional fencing in the area to help prevent rocks from falling on the highway and make travel safer for motorists.
"We need to take advantage of these last few windows of opportunity," said CDOT Project Manager Jeff Reichle. "This week, and over the upcoming weekend, we have some breaks in the weather that will allow us to complete this important work, which will reduce the potential for rocks falling onto the roadway."
Reichle said it would be advantageous to complete the work now rather than calling the contractor back to the site next spring.
"We're so close to completing this cliff work. Winter traffic over the passes has slowed a bit. We want to take advantage of that before more severe snow storms hit the high country, and more folks head into the mountains to ski and snowmobile."
Travel Impacts
Work dates are subject to change due to inclement weather and work could be postponed to the next available clear weather day. When work is being performed, US 550 Red Mountain Pass will be closed in both directions for several hours in the morning and in the afternoon.
Motorists will have a one-hour window of opportunity from noon to 1 p.m. on work days to travel through the work zone.
Southbound traffic will be stopped just south of Ouray, near the Bear Creek scenic overlook. Northbound traffic will be stopped at Ironton.
Project Info
Crews are repairing the draped netting that hangs on the face of the cliff wall, which traps falling rocks. Additionally, new supplemental netting and fencing are being installed to increase the capacity for debris and prevent rocks from falling onto the highway.
Stay Informed
Get real-time road conditions on COtrip, or by dialing 511 from anywhere in the state. Helpful resources on COtrip include: