Work Begins on CO 7 in Estes Park
Sept. 4, 2018 - Crews to Improve Accessibility Features at Intersections

ESTES PARK—Starting this week, preliminary concrete work begins in town on Colorado Highway 7. Travelers will see little to no impacts until intersection reconstruction starts Sept. 10.
Project Facts
Work: Permanent flood repairs, including

two-inch mill and overlay of the road;
road widening to accommodate bike lanes;
culvert repairs and replacement; and
ADA-compliant curb ramps.

Cost: $13 million
Contractor: Flatiron Constructors, Inc.
Time Frame: May 2018 - late 2019
Location: On CO 7, from mile points 0 to 12, spanning Boulder and Larimer counties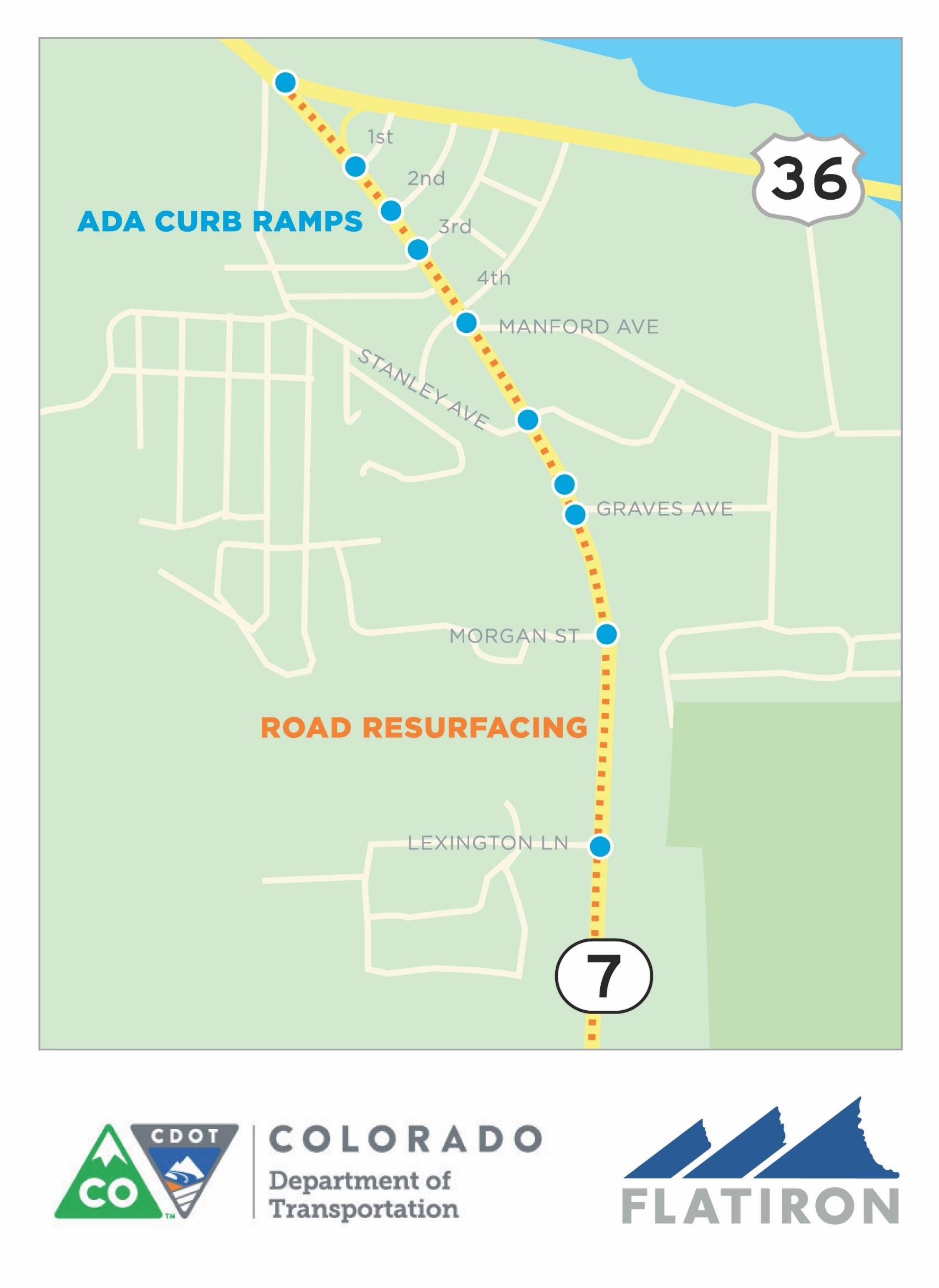 Approximately 11 intersections—from Lexington Lane to where US Highways 34 and 36 meet—will see drainage improvements and accessibility upgrades for people with disabilities in compliance with the Americans With Disabilities Act (ADA).
Crews will rebuild the intersections to include improved signalization and curb ramps. Existing sidewalks also will tie in to the new curb ramps at numerous locations. Travelers can expect one-lane and shoulder closures while work commences.
In-town construction will last through fall, with a winter break, and will resume in the spring. As it pertains to this project, there will be no work in this area between Memorial Day and Labor Day 2019.
Schedule
Normal work hours: 7 a.m. to 7 p.m., Monday through Thursday, and 7 a.m. to noon on Fridays
Work extended in special cases, with no weekend work anticipated
Expected completion: Late 2019
Travel Impacts
single-lane closure with up to 15-minute delays
shoulder closures
sidewalk detours