I-70 Closed This Weekend from I-270 to Colorado Boulevard
April 11, 2019 - Closure is from 10 p.m. Friday to 5 a.m. Monday

DENVER—From 10 p.m. Friday, April 12 through 5 a.m. Monday, April 15, I-70 will be closed in both directions between I-270 and Colorado Boulevard so crews can safely set bridge beams on the new I-270 flyover structure that will eventually take southbound I-270 traffic to eastbound I-70.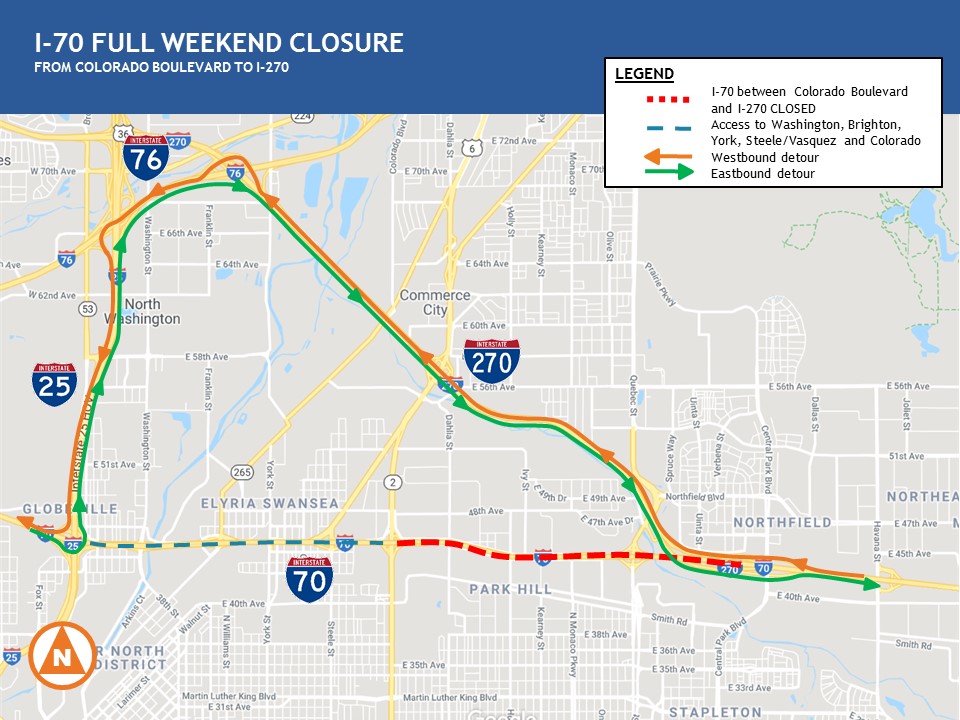 Construction activities are weather dependent and subject to change.
Safety Travel Tips
Do not speed in work zones; obey the posted speed limits.
Stay alert! Expect the unexpected.
Watch for workers and drive with caution.
Don't cross solid lines when changing lanes.
Avoid using mobile devices such as phones while driving in work zones.
Turn on headlights so that workers and other drivers can see you.
Be especially alert at night while driving in work zones.
Expect delays, especially during peak travel times.
Allow ample space between you and the car in front of you.
Anticipate lane shifts, and merge when directed to do so.
Be patient!
About the Central 70 Project & CDOT
The Central 70 Project will reconstruct a 10-mile stretch of I-70, add one new Express Lane in each direction, remove the aging 55-year-old viaduct and lower the interstate between Brighton and Colorado boulevards.

---
CDOT has approximately 3,000 employees at its Denver headquarters and in regional offices throughout Colorado, and manages more than 23,000 lane miles of highway and 3,429 bridges. CDOT also manages grant partnerships with a range of other agencies including metropolitan planning organizations, local governments, and airports, and administers Bustang, the state-owned and operated interregional express service. Gov. Jared Polis has charged CDOT to further build on the state's intermodal mobility options.