Colorado seat belt use increases to 88%
August 29, 2019 - Statewide Traffic Safety - Usage is record for the state
More Coloradans will be buckling up when they hit the road for the Labor Day holiday weekend. According to a recent survey by the Colorado Department of Transportation (CDOT), seat belt use increased by 2% in 2019. This is the highest rate since record-keeping began in 1997 when the state logged a 60% buckling up rate.  CDOT's 2019 State of Colorado Statewide Seat Belt Survey shows seat belt usage improved to 88.3% in 2019 from 86.3% in 2018. The national rate is 90%. In 2018, there were 220 unbuckled passenger vehicle deaths on Colorado roads — accounting for about half of the 416 total passenger vehicle deaths in the state.
"We are pleased to see a record share of Coloradans buckling — with a meaningful increase of 2 percent in the past year," said Shoshana Lew, executive director of CDOT.  "Buckling your seat belt can be a lifesaving decision, and we encourage both drivers and passengers to stay focused on safety so we can continue to improve over the year to come."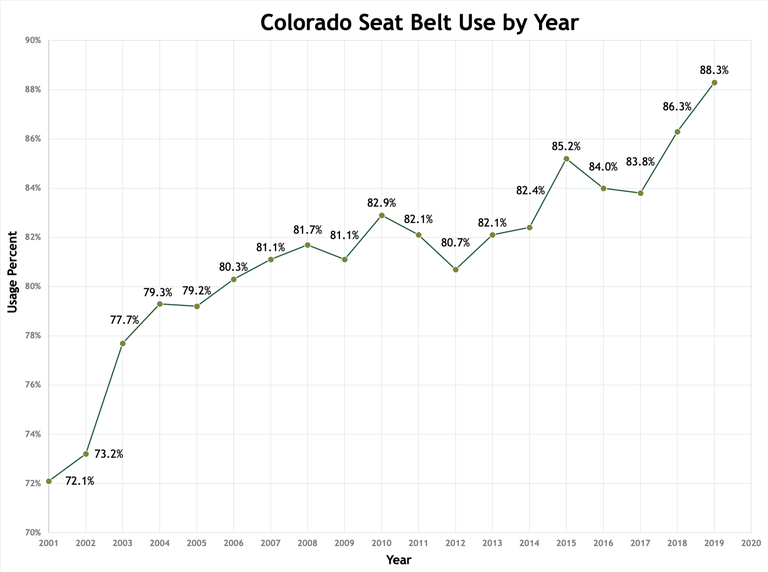 The survey identifies use rates for select Colorado counties. The three highest population counties around Denver (Arapahoe, Denver, Douglas) all registered just above 90%. El Paso County also had a 90% use rate. At a population of just over 48,000, Fremont County demonstrated the highest rate of seat belt use across the state at 95.2%. Lower seat belt usage is most often reported in the state's rural counties, with Moffat coming in lowest at 71.4%, then Cheyenne (74.4%), Delta (80.7%), Otero (82.1%) and Gunnison and Montrose (82.9%). Adams County saw the largest gain in seat belt use, rising 19.3% to 89.2%.
The 2019 seat belt study, along with previous years, can be found at:
codot.gov/safety/seatbelts/surveys
"This annual survey provides critical insight to the seat belt use habits across the state and helps us know which counties need more focus and education," said Col. Matthew Packard, chief of the Colorado State Patrol. "Our goal is to bring both the rural and urban county use numbers closer together to increase Colorado's overall seat belt use and lower passenger vehicle fatalities."
Among the other findings in the report:
The highest percentage usage was among SUV drivers at 92% with Vans following close behind at 90.1%.
The lowest percentage usage was among commercial vehicles at 75.8% and pickup trucks at 82.6%.
There appears to be a strong correlation between speed and seat-belt usage – at higher speeds, especially on primary roads, drivers are more likely to buckle up than on local roads.
The annual State of Colorado Statewide Seat Belt Survey is required by the National Highway Traffic Safety Administration (NHTSA) to observe seat belt use in Colorado. Trained observers collected data at 770 sites in 31 counties across Colorado. A total of 148,095 vehicles were observed, including cars, vans, sports utility vehicles (SUVs), and pickup trucks. A total of 182,193 occupants (drivers and passengers) were observed during a two-week period in June. For safety and visibility, the observations took place during the daytime between 7 a.m. and 6 p.m. The study did not include usage rates during nighttime hours. NHTSA confirms that belt use is significantly lower, and unbelted fatalities are far greater at night.
Click It or Ticket is a nationwide campaign from NHTSA. Since Click It or Ticket was introduced in Colorado in 2002, statewide seat belt use has increased from 72% to 88.3 % in 2019.
This year, CDOT hit the road to capture stories from Coloradans in Weld, Adams and El Paso counties — the counties with the highest number of unbuckled fatalities in 2017 — about why they buckle up.
CDOT's hope is that stories from fellow Coloradans will encourage those who don't wear seat belts to think of a reason to buckle up, and ultimately change their behavior. Coloradans can share their reasons for wearing a seat belt at codot.gov/safety/seatbelts.
COLORADO'S SEAT BELT LAWS
Adults — Colorado has a secondary enforcement law for adult drivers and front seat passengers. Drivers can be ticketed for violating the seat belt law if they are stopped for another traffic violation.
Teens — Colorado's Graduated Driver Licensing (GDL) law requires all drivers under 18 and their passengers, regardless of their age, to wear seat belts. This is a primary enforcement, meaning teens can be pulled over simply for not wearing a seat belt or having passengers without seat belts.
Children — Colorado's Child Passenger Safety law is a primary enforcement, meaning the driver can be stopped and ticketed if an officer sees an unrestrained or improperly restrained child under age 16 in the vehicle.
Learn more about Click It or Ticket enforcement and Colorado's seat belt laws at codot.gov/safety/seatbelts.
WHOLE SYSTEM. WHOLE SAFETY.  
To heighten safety awareness, CDOT recently announced its Whole System — Whole Safety initiative. This project takes a systematic statewide approach to safety combining the benefits of CDOT's programs that address driving behaviors, our built environment and the organization's operations. The goal is to improve the safety of Colorado's transportation network by reducing the rate and severity of crashes and improving the safety of all transportation modes. The program has one simple mission—to get everyone home safely.
ABOUT CDOT
CDOT has approximately 3,000 employees located at its Denver headquarters and in regional offices throughout Colorado and manages more than 23,000 lane miles of highway and 3,429 bridges. CDOT also manages grant partnerships with a range of other agencies, including metropolitan planning organizations, local governments and airports. It also administers Bustang, the state-owned and operated interregional express service. Governor Polis has charged CDOT to further build on the state's intermodal mobility options.