Overnight Closure of Edwards Access Road Planned for Aug. 22
August 15, 2019 - Northwestern Colorado - Construction Crews Will Erect Remaining Girders for the Eagle River Bridge
EDWARDS — The Edwards Access Road will be closed overnight between Miller Ranch Road and U.S. 6 on Thursday, Aug. 22, beginning at 8 p.m. while girders are set for the new Eagle River Bridge. It will reopen to traffic by 6 a.m. Friday.
During this closure, businesses and residences will remain accessible, but motorists may need to use the detour route to reach their destinations. North and southbound through traffic on the Edwards Access Road will use Miller Ranch Road and U.S. Highway 6 as the detour. Motorists should expect delays through the project area during this time.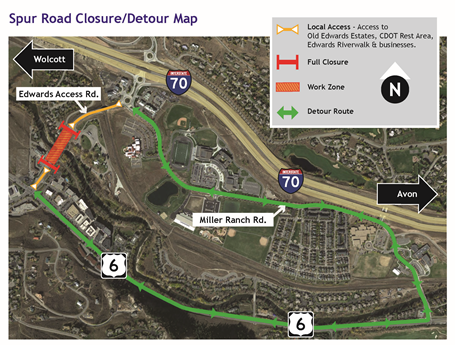 Spur Road Closure
Due to the length of the girders, transport trucks will need to exit Interstate 70 at the Wolcott interchange (U.S. Highway 6 and State Highway 131) and travel eastbound on U.S. 6. People traveling through this area between 3 a.m. and 4 a.m. should expect 15-minute delays.This operation is a major step in the construction of the new, widened bridge over the Eagle River, which aims to improve safety along the busy arterial road as part of CDOT's Whole System — Whole Safety initiative. Along with widening the road to two lanes in each direction, the new bridge will accommodate dedicated bike lanes and a detached, grade-separated pedestrian bridge. Crews set the northbound bridge girders in April and traffic has been traveling on the new bridge during construction of the southbound portion of the bridge.
PROJECT INFORMATION: For additional information about this project, call the project information line at 970-446-1001, email the team at [email protected], or visit the project website and sign up for updates atcodot.gov/projects/edwards-spur-road. For information on travel conditions visit COTrip.org, sign up for CDOT Alerts, or call 511. Updates are also available via Twitter @ColoradoDOT and be sure to "Like" our Facebook page at facebook.com/coloradodot.
REMEMBER: SLOW FOR THE CONE ZONE
The following tips are to help you stay safe while traveling through maintenance and construction work zones.
Do not speed in work zones.

 

Obey the posted speed limits.
Stay Alert! Expect the unexpected.
Watch for workers. Drive with caution.
Don't change lanes unnecessarily.
Avoid using mobile devices such as phones while driving in work zones.
Turn on headlights so that workers and other drivers can see you.
Be especially alert at night while driving in work zones.
Expect delays, especially during peak travel times.
Allow ample space between you and the car in front of you.
Anticipate lane shifts and merge when directed to do so.
Be

 

patient!
WHOLE SYSTEM. WHOLE SAFETY.  
To heighten safety awareness, CDOT recently announced its Whole System — Whole Safety initiative. This project takes a systematic statewide approach to safety combining the benefits of CDOT's programs that address driving behaviors, our built environment and the organization's operations. The goal is to improve the safety of Colorado's transportation network by reducing the rate and severity of crashes and improving the safety of all transportation modes. The program has one simple mission—to get everyone home safely.
ABOUT CDOT
CDOT has approximately 3,000 employees located at its Denver headquarters and in regional offices throughout Colorado, and manages more than 23,000 lane miles of highway and 3,429 bridges. CDOT also manages grant partnerships with a range of other agencies, including metropolitan planning organizations, local governments and airports. It also administers Bustang, the state-owned and operated interregional express service. Governor Polis has charged CDOT to further build on the state's intermodal mobility options.