Chip seal work to begin on CO 92 in Montrose, Delta and Gunnison Counties and on CO 133 in Delta County
July 2, 2019 - Southwestern Colorado, Northwestern Colorado
Montrose, Delta and Gunnison Counties, CO — On Monday, July 15, the Colorado Department of Transportation and contractor United Companies will begin a chip seal project on several sections of CO Highway 92 in Montrose, Delta, and Gunnison Counties and a section of CO 133 in Delta County.  This $2.8 million project will include chip seal, fog seal, asphalt patching, and pavement markings. This project is part of CDOT's "Whole System. Whole Safety." initiative aimed at enhancing safety for Colorado's traveling public. The chip and fog seal maintenance will help preserve the life of the asphalt and repair the asphalt that already exists, creating a smoother and safer surface for vehicles.  The project is anticipated to be complete by the end of September 2019.
TRAVEL IMPACTS
Motorists can expect one-lane alternating traffic with 20-minute delays and a speed limit reduction.  The project will be in operation Monday - Friday, 7:00 a.m. - 7:00 p.m.
Work will take place in four separate zones and is anticipated to be carried out in the sequence of location listed below. Please refer to COtrip.org and the project webpage for update throughout the duration of the project.
·         CO 92 between mile points (MP) 55 and 62, west of Blue Mesa Reservoir
·         CO 133 between MP 0 and 11.43, east of Hotchkiss
·         CO 92 between MP 6.98 and 15.5, east of Delta
·         CO 92 between MP 0.02 and 4.2, east of Delta
Motorists should expect delays during the scheduled work hours. Night work and weekend work are not anticipated at this time. See the project limits in the attached map.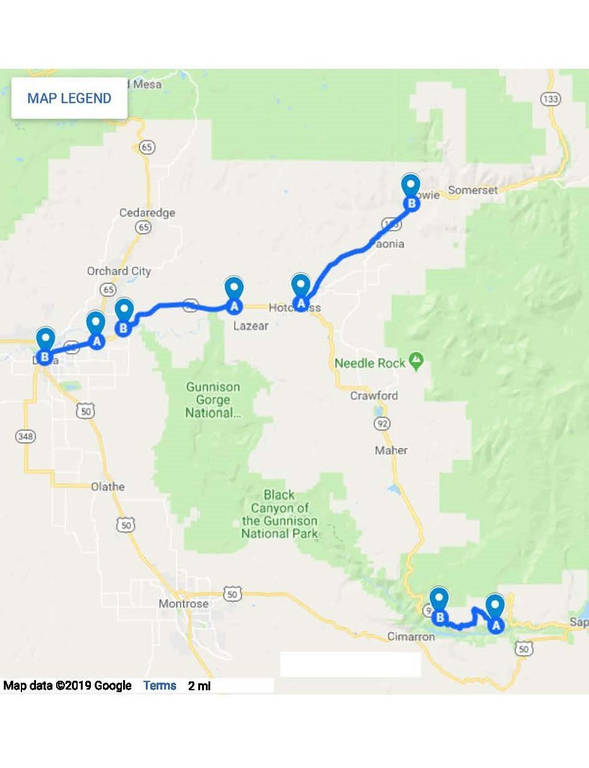 Project Limits of Construction Work Zone
PROJECT CONTACT INFORMATION
Project Phone Line - (970) 497-4744

Project email - [email protected]

Sign up for weekly project updates - Please log onto the project web site and fill out the right-side form to "Subscribe to Project Updates."
 REMEMBER: SLOW FOR THE CONE ZONE
The following tips are to help you stay safe while traveling through maintenance and construction work zones.
Do not speed in work zones. Obey the posted speed limits.

Stay Alert! Expect the unexpected.

Watch for workers. Drive with caution.

Don't change lanes unnecessarily.

Avoid using mobile devices such as phones while driving in work zones.

Turn on headlights so that workers and other drivers can see you.

Be especially alert at night while driving in work zones.

Expect delays, especially during peak travel times.

Allow ample space between you and the car in front of you.

Anticipate lane shifts and merge when directed to do so.

Be patient!
WHOLE SYSTEM. WHOLE SAFETY.  
To heighten safety awareness, CDOT recently announced its Whole System — Whole Safety initiative. This project takes a systematic statewide approach to safety combining the benefits of CDOT's programs that address driving behaviors, our built environment and the organization's operations. The goal is to improve the safety of Colorado's transportation network by reducing the rate and severity of crashes and improving the safety of all transportation modes. The program has one simple mission—to get everyone home safely.
ABOUT CDOT
CDOT has approximately 3,000 employees located throughout Colorado and manages more than 23,000 lane miles of highway and 3,429 bridges. CDOT also manages grant partnerships with a range of other agencies, including metropolitan planning organizations, local governments and airports. It also administers Bustang, the state-owned and operated interregional express service. Governor Polis has charged CDOT to further build on the state's intermodal mobility options.