Gunnison starts pedestrian-crossing improvements on US 50
July 3, 2019 -
Gunnison County—Crews this month will begin the $540,000 pedestrian crossing improvements on US Highway 50, in Gunnison. The project will begin at mile point (MP) 156 and continue to MP 158 on US 50 at 11th Street and at Jorgensen Park. 
Crews will remove the existing asphalt mat and add concrete crosswalks, install 10 Americans with Disabilities Act (ADA) ramps, add flashing beacon crosswalk signs, make improvements to storm drainage and striping. In addition to the ramp and crosswalk improvements crews, will add raised medians at Jorgensen Park.
The improvements are part of CDOT's statewide Whole System - Whole Safety initiative. Jorgensen Park and 11th Street are busy intersections with increased pedestrian traffic. The flashing beacon crosswalk signs are more effective at increasing driver yielding by increasing driver awareness of crosswalks and reducing the risk of multi-threat crashes on multi-lane roads. The raised median will add pedestrian refuge and reduce delays waiting for a gap in traffic. The ADA ramps will provide functional accessibility to all travelers.
"This project will make important changes to help keep pedestrians safe," said CDOT Executive Director Shoshana Lew. "These common sense improvements can make a big difference for safety. Flashing beacons remind drivers to look out for pedestrians. Curb cuts and grading complies with the Americans With Disabilities Act and make access easier for pedestrians, wheelchairs, bicyclists, strollers and others."  
TRAVEL IMPACTS
Motorists can expect east and westbound single lane closures and median/center lane closures. Work will take place Monday through Friday from 7:00 am to 5:00 pm. The project has an anticipated completion date of September 2019. 
PROJECT CONTACT INFORMATION
REMEMBER: SLOW FOR THE CONE ZONE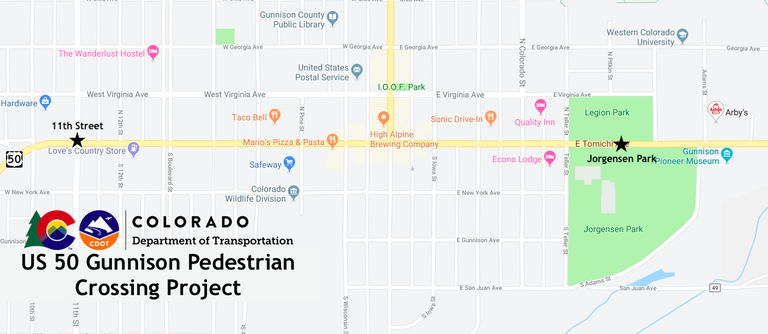 The following tips are to help you stay safe while traveling through maintenance and construction work zones.
Do not speed in work zones. Obey the posted speed limits.

Stay Alert! Expect the unexpected.

Watch for workers. Drive with caution.

Don't change lanes unnecessarily.

Avoid using mobile devices such as phones while driving in work zones.

Turn on headlights so that workers and other drivers can see you.

Be especially alert at night while driving in work zones.

Expect delays, especially during peak travel times.

Allow ample space between you and the car in front of you.

Anticipate lane shifts and merge when directed to do so.

Be patient!
WHOLE SYSTEM. WHOLE SAFETY.  
To heighten safety awareness, CDOT recently announced its Whole System — Whole Safety initiative. This project takes a systematic statewide approach to safety combining the benefits of CDOT's programs that address driving behaviors, our built environment and the organization's operations. The goal is to improve the safety of Colorado's transportation network by reducing the rate and severity of crashes and improving the safety of all transportation modes. The program has one simple mission—to get everyone home safely.
ABOUT CDOT
CDOT has approximately 3,000 employees located throughout Colorado, and manages more than 23,000 lane miles of highway and 3,429 bridges. CDOT also manages grant partnerships with a range of other agencies, including metropolitan planning organizations, local governments and airports. It also administers Bustang, the state-owned and operated interregional express service. Governor Polis has charged CDOT to further build on the state's intermodal mobility options.