CDOT Partners with AAA, City and County of Denver, MIG, and Lyft to Provide Free Sober Rides During St. Patrick's Day DUI Enforcement
March 15, 2019 - Statewide Traffic Safety - Coloradans Can Redeem Ride Credit by Signing Pledge to Not Drive Impaired
Whether you plan to enjoy green beer or another type of "green" this St. Patrick's Day weekend, the Colorado Department of Transportation (CDOT), AAA, the City and County of Denver, the Marijuana Industry Group (MIG) and Lyft are teaming up to provide $13,500 worth of free ride credit to help keep impaired drivers off the road. They are also warning drivers about the dangers of poly-consumption, or using marijuana and alcohol together. DUIs involving poly-consumption increased 112 percent in 2018, according to the Colorado State Patrol (CSP).
Driving under the influence of alcohol or cannabis significantly impacts a person's ability to drive — but combining the two substances significantly increases impairment, making driving even more dangerous.
Starting March 15 through March 18, CDOT, CSP and over 100 law enforcement agencies across the state will increase DUI patrols and enforcement for St. Patrick's Day weekend. Colorado DUI laws are enforced for all impairing substances, not just alcohol. During last year's The Heat Is On St. Patrick's Day enforcement period, 323 impaired drivers were arrested for driving under the influence of alcohol, marijuana or other drugs.
"Coloradans typically celebrate St. Patrick's Day by drinking beer or other alcoholic beverages," said Darrell Lingk, director of the Office of Transportation Safety at CDOT. "However, many people also consume marijuana at the same time, which can significantly affect their level of impairment. If you plan on consuming alcohol, marijuana or any combination of substances, we're urging people to plan ahead for a sober ride."
To help Coloradans get around safely and avoid a DUI this weekend, CDOT, AAA, the City and County of Denver, MIG and Lyft are providing $13,500 in free Lyft rides — the average cost of a DUI in Colorado, after considering legal fees and increased insurance costs. Anyone wanting to unlock ride credit (up to $10 per person) can do so by signing The Heat Is Green pledge to not drive impaired:
The ride credit is available statewide and can be accessed online at

 

HeatIsOnColorado.com.
In-person. Anyone visiting the St. Patrick's Day parade or festivities in downtown Denver on Saturday are invited to join CDOT at 17th

 

Street and Wynkoop Street to sign

 

The Heat Is Green

 

pledge car and receive a code to redeem their free Lyft ride.
The free ride is valid during The Heat Is On enforcement period from Friday, March 15 through Monday, March 18.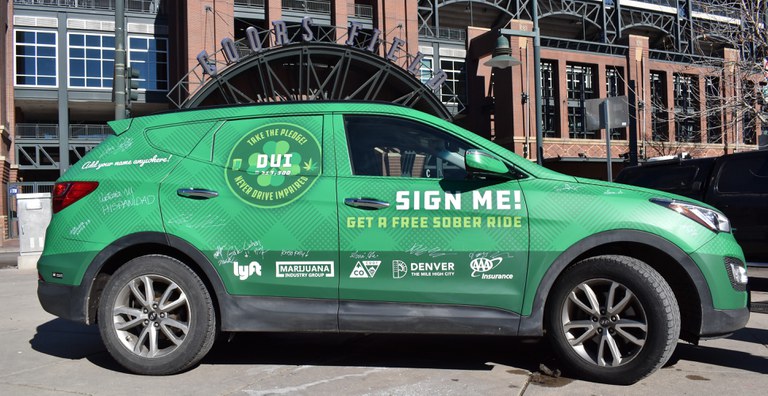 "Driving is a privilege, and consuming alcohol, marijuana or other drugs before doing so is extremely dangerous, not to mention selfish," said Skyler McKinley, director of public relations and government affairs for AAA Colorado. "We're excited that through this partnership, we'll be providing a real solution for Coloradans to plan ahead and avoid driving impaired."
In 2018, CSP issued a total of 5,144 DUI citations. Of those, 461 citations were for combined alcohol and marijuana impairment — a 112 percent increase from the previous year.
"Poly-consumption impairment, or consuming alcohol in combination with marijuana or other drugs, is on the rise in Colorado," said Col. Matthew Packard, chief of the CSP. "Law enforcement are trained to identify the signs of impairment from all substances, including cannabis."
"St. Patrick's Day is commonly associated with alcohol consumption, but many Coloradans may elect to consume cannabis instead, or perhaps, consume alcohol and cannabis together," said Kristi Kelly, executive director of the Marijuana Industry Group. "We think this partnership conveys an important message — no matter how you choose to celebrate, planning a sober ride ahead of time is always the safe choice."
The legal blood-alcohol content (BAC) limit in Colorado is 0.05 percent for driving while ability impaired (DWAI) and 0.08 percent for driving under the influence (DUI). Colorado law specifies that drivers with five nanograms of active tetrahydrocannabinol (THC) in their whole blood can be prosecuted for DUI. However, law enforcement officers — many trained as Drug Recognition Experts (DREs) — base arrests on observed impairment. Even people who use marijuana for medicinal purposes can still be arrested for driving under the influence of marijuana. First-time DUI offenders can be punished with up to one year in jail, license suspension and thousands of dollars in fines.
"This St. Patrick's Day, we're encouraging those celebrating to plan ahead with a Lyft ride to help them get out and explore their city without worry about parking or how to get home afterwards," said Gabe Cohen, Lyft Rockies Region General Manager. "We're excited to partner with these different entities in Colorado to give Coloradans a reliable ride option, in addition to providing a lucrative earning opportunity for drivers. With St. Patrick's Day as one of the busiest days of the year, we're grateful for our drivers that help people celebrating across all cities get home responsibly."
"One traffic death is too many — Denver is committed to reaching zero traffic deaths and serious injuries by 2030. One way to get closer to that goal is by not getting behind the wheel if you've been drinking and smoking or consuming marijuana," said Rolf Eisinger, City and County of Denver Vision Zero Project Manager. "We're asking everyone to do their part so we can all make it home safely by calling a ride-hailing company or taking advantage of bus and transit service. One simple choice can save someone's life."
Learn more and sign The Heat Is Green pledge to unlock a free Lyft ride valid this weekend at HeatIsOnColorado.com.
About The Heat Is On
The CDOT Highway Safety Office provides funding to Colorado law enforcement for impaired-driving enforcement, education and awareness campaigns. The Heat Is On campaign runs throughout the year, with 15 specific high-visibility impaired-driving enforcement periods centered on national holidays and large public events. Enforcement periods can include sobriety checkpoints, saturation patrols and additional law enforcement on duty dedicated to impaired-driving enforcement. Find more details about the campaign, including impaired-driving enforcement plans, arrest totals and safety tips at HeatIsOnColorado.com.
About CDOT
CDOT has approximately 3,000 employees located at its Denver headquarters and in regional offices throughout Colorado, and manages more than 23,000 lane miles of highway and 3,429 bridges. CDOT also manages grant partnerships with a range of other agencies including metropolitan planning organizations, local governments, and airports, and administers Bustang, the state-owned and operated interregional express service. Governor Polis has charged CDOT to further build on the state's intermodal mobility options.