US 550 North of Durango Closed 8:30 AM to 1:30 PM on Saturday, May 25
May 21, 2019 - Southwestern Colorado - Drivers may consider alternate route via Telluride
The Colorado Department of Transportation will close U.S. Highway 550 north of Durango, Saturday, May 25, during the annual Iron Horse Bicycle Classic. Motorists are urged to leave Durango early if traveling to Silverton or points beyond, since US 550 will be closed between Purgatory Ski Resort and Silverton from 8:30 a.m. until 1:30 p.m. to accommodate cyclists.
Likewise, travelers heading south (out of Ouray, Ridgway or Montrose) on US 550 should be aware the highway will be closed at Silverton. Motorists will not be permitted to continue southbound beyond Silverton after 8:30 a.m.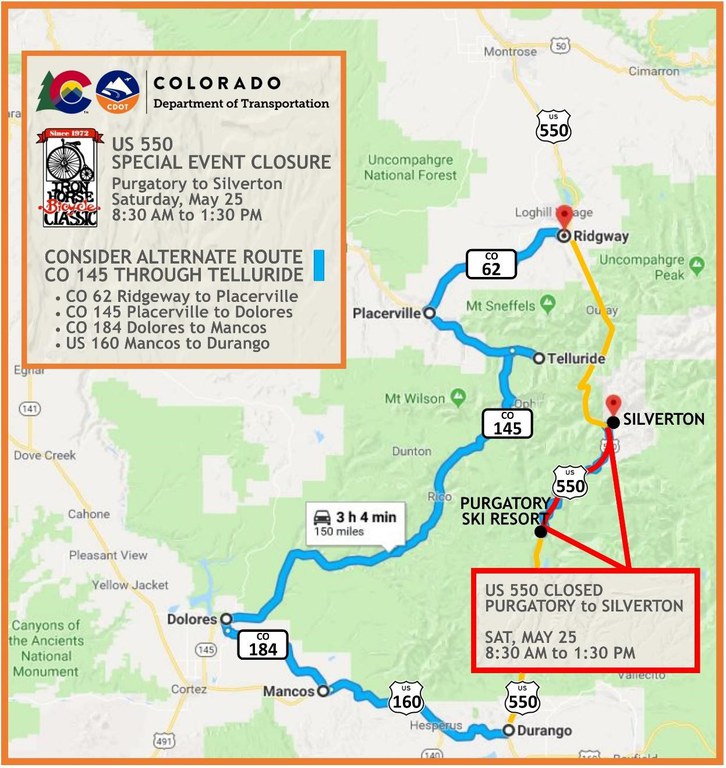 ALTERNATE ROUTE
If motorists have plans to travel on Saturday between northern communities (like Montrose, Ridgway or Ouray) and Durango, they may want to consider an alternate route via more westerly highways. (see map)
CO 62 Ridgway to Placerville

CO 145 Placerville to Dolores

CO 184 Dolores to Mancos

US 160 Mancos to Durango
This alternate route will add approximately one hour of additional driving time, taking approximately three hours. US 550 from Durango to Ridgway typically takes two hours driving time.
TRAVEL IMPACTS in DURANGO & US 550 SATURDAY, MAY 25
Starting at 7:00 a.m., in Durango just north of town, southbound US 550 traffic will be diverted onto CR 203 at Hermosa Creek to Animas View Drive. Northbound traffic from Durango to Purgatory Ski Resort will proceed along US 550 with traffic control in place.
Starting at 7:30 a.m., rolling closures will be in place to accommodate three biking event start times in downtown Durango. Motorist will experience brief delays along the northbound lanes of US 550/Camino Del Rio and Main Avenue from College Drive, north through the town.
From 8:30 a.m. ― 1:30 p.m., US 550 will be fully closed in both directions between Purgatory Ski Resort and Silverton. The highway north of Silverton will remain open.
Friends or family members who have plans to pick up cyclists in Silverton are advised to allow ample time departing Durango, since they must be past Purgatory Ski Resort (located 25 miles north of Durango) when the road closes at that location at 8:30 a.m.No work zones or construction projects are taking place between Durango and Silverton this year. For the past several weeks, CDOT maintenance crews have been maintaining and sweeping the highway to clear the road of debris, such as gravel and rocks.
Drivers are reminded and urged to watch for cyclists and drive safely for this event and other special events which may be taking place over the busy holiday weekend.
KNOW BEFORE YOU GO
Travelers are urged to "know before you go." Gather information about weather forecasts and anticipated travel impacts and current road conditions prior to hitting the road. CDOT resources include:
For more information about the Iron Horse Bicycle Classic, visit the event website: http://www.ironhorsebicycleclassic.com/Events