ADA Ramp Upgrades project on US 24 in the town of Divide, CO
September 20, 2019 - Southeastern Colorado
Teller County— On Wednesday, September 4, the Colorado Department of Transportation and contractor partner, Avery Asphalt, Inc., began ADA curb ramp upgrades on US Highway (US) 24 from CO 67 (Manchester Creek Road) to Meadow Park Drive.
This project includes pedestrian curb ramp updates at seven work zones from CO 67 (Manchester Creek Road), mile point (MP) 278.108, to Meadow Park Drive, MP 278.73. Work also includes minor asphalt and sidewalk repair, curb and gutter improvements, and erosion control throughout the project zone.
Crews are currently working at the US 24 and CO 67 intersection with single lane closures on US 24 and a full sidewalk closure at the northeast corner. Work will then continue eastbound along the south side of US 24 until Meadow Park Drive where work will move westbound along the north side of US 24.
Daytime work occurs on this project Monday through Thursday between 8 a.m. and 4 p.m.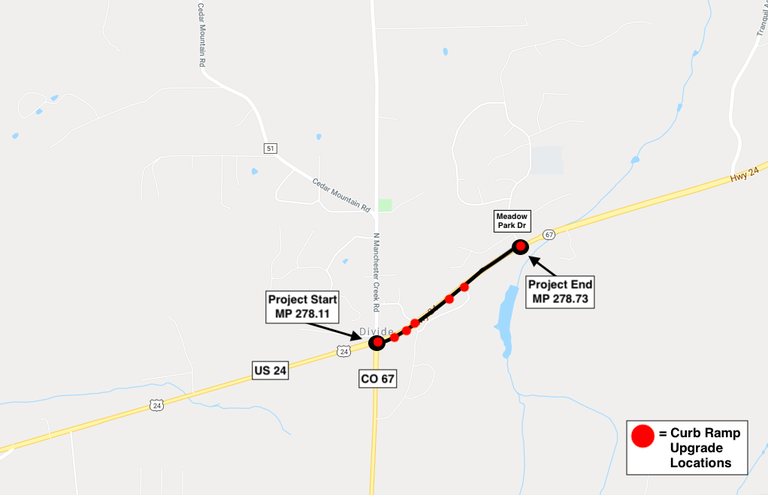 Project Location Map
TRAVEL IMPACTS
Motorists can expect shoulder closures and single lane closures on US 24 during work hours on this project.

Sidewalk access will be limited and pedestrians will not be able to cross US 24 for a minimum of 24 hours during ADA ramp upgrades at each intersection.

Pedestrians are encouraged to plan accordingly and determine an alternate method of transportation during ramp upgrades.
BACKGROUND
The US 24 ADA Ramp Upgrades project in Divide will update pedestrian curb ramps to comply with the Americans with Disabilities Act, making them more accessible to the public. Regular work hours will take place Monday through Thursday during daylight hours, typically between 8 a.m. and 4 p.m. This project is expected to be complete in November 2019.
Motorists can expect shoulder and single lane closures during daytime work and pedestrians can expect various full sidewalk closures for 24 hours at a time at each intersection during this project. No speed reductions or other restrictions are expected during this project.
Avery Asphalt, Inc., of Colorado Springs is the prime contractor on this $359,777 project.
PROJECT CONTACT INFORMATION 
REMEMBER: SLOW FOR THE CONE ZONE
The following tips are to help you stay safe while traveling through maintenance and construction work zones.
Do not speed in work zones. Obey the posted speed limits.

Stay Alert! Expect the unexpected.

Watch for workers. Drive with caution.

Don't change lanes unnecessarily.

Avoid using mobile devices such as phones while dr