Full weekend closure of I-70 from I-270 to Steele/Vasquez begins Friday night, Sept. 20
September 12, 2019 - Denver Metro Area, Colorado
DENVER — As part of the Colorado Department of Transportation's Central 70 Project, both directions of Interstate 70 will close between Interstate 270 and Steele/Vasquez in Denver so crews can set girders for the replacement bridge at Colorado Boulevard over I-70 and begin the I-270 bridge demolition. This closure begins 10 p.m., Friday, Sept. 20 and continues through 5 a.m., Monday, Sept. 23.
Full weekend closures allow construction crews to complete work that could potentially take months of nightly lane closures in just one weekend. Crews will also be taking advantage of this full highway closure to do additional work outside of the two major activities taking place. Motorists driving on I-70 through Denver to the eastern or western part of Colorado should plan their trip ahead of time.
In light of the start of football season, the Central 70 team worked to schedule this full weekend closure around Broncos home games as to avoid creating unnecessary impacts due to the closure.
TRAVEL IMPACTS:
Westbound I-70 full closure – Friday, Sept. 20, 10 p.m. to Monday, Sept. 23, 5 a.m.:To detour around this closure, westbound I-70 traffic will enter northbound I-270, use the off-ramp to westbound I-76, take southbound I-25 and exit onto westbound I-70.
Eastbound I-70 full closure – Friday, Sept. 20, 10 p.m. to Monday, Sept. 23, 5 a.m.:To detour around this closure, eastbound I-70 traffic will enter onto northbound I-25, use the off-ramp to eastbound I-76, take southbound I-270 and exit onto eastbound I-70. Traffic needing to enter I-70 just before Steele/Vasquez may still do so.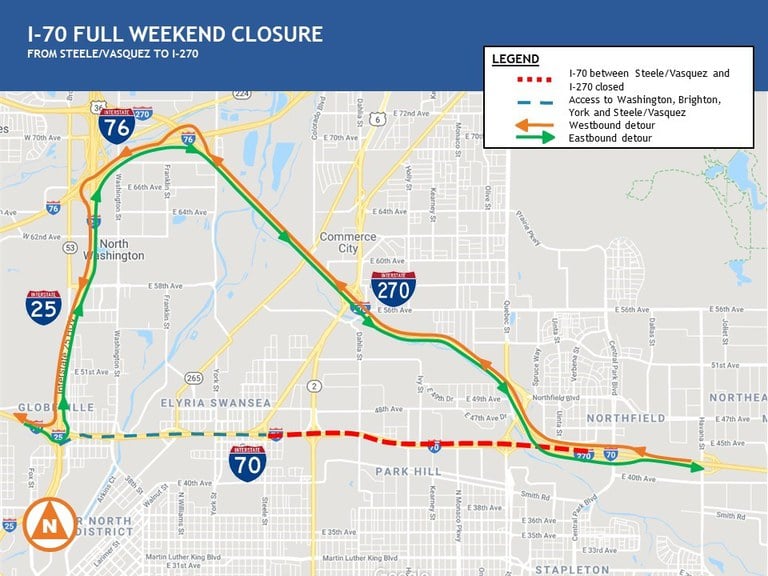 Construction activities are weather dependent and subject to change.
About the Central 70 Project
The Central 70 Project will reconstruct a 10-mile stretch of I-70, add one new Express Lane in each direction, remove the aging 55-year-old viaduct and lower the interstate between Brighton and Colorado boulevards. More information on the Project, including a list of the Project's community commitments are available at central70.codot.gov.
Stay Informed

Whole System. Whole Safety.
To heighten safety awareness, CDOT recently announced its Whole System | Whole Safety initiative. This project takes a systematic statewide approach to safety combining the benefits of CDOT's programs that address driving behaviors, our built environment and the organization's operations. The goal is to improve the safety of Colorado's transportation network by reducing the rate and severity of crashes and improving safety conditions for those traveling by all transportation modes. The program has one simple mission - to get everyone home safely.