Traffic impacts will begin next week with the start of bridge maintenance project south of downtown Durango
September 19, 2019 - Southwestern Colorado - Right turn restrictions in place at Turner Drive and Highway 3,  motorists may use Highway 3 as alternate route 
Motorists in the Durango area will experience travel impacts on U.S. Highway 160/550 south of downtown Durango beginning next week. The Colorado Department of Transportation will be upgrading several bridge structures including the "high bridge" located between Bodo Park and Walmart. Work will consist of removing and replacing existing asphalt and deck concrete; installing waterproofing membrane; removing and replacing bridge expansion devices; new paving of roadway approach on the west side of the bridge; and drainage improvements. The high bridge was built in 1979. Previous maintenance work occurred in 2008.
TRAVEL IMPACTS AT U.S. 160/550 HIGH BRIDGE 
Beginning Monday, September 23 work will take place from 7 a.m. to 7 p.m., Monday through Friday. The following traffic configuration is expected to be in place through the end of October 2019. CDOT will issue updated advisories when this configuration changes.
US 160/550 Bridge (also known as the "high bridge" over the Animas River)
Two lanes in each direction will be maintained on the bridge structure.

Lanes will be narrowed to 10 feet wide.

Motorists are required to reduce their speed to 40 mph.

Please note: In order to set up the narrow lanes and set traffic control barriers, lane shifts and lane restrictions will be necessary for 2 or 3 days. 

Travelers should follow all traffic restrictions, signage and flagging personnel through the work zone.
Highway 3
There will be no acceleration lane access for vehicles turning right off Highway 3 onto U.S. 160/550, north-/westbound.

Vehicles turning right MUST use the traffic light signal at U.S. 160/550, north-/westbound.

To avoid the bridge work zone, travelers may consider using Highway 3 as an alternate route.
Turner Drive in Bodo Park
There will be no right turns off Turner Drive onto U.S. 160/550, eastbound. 

Vehicles attempting to access U.S. 160/550 should use the Frontage Road and intersection/traffic light signal at Sawyer Drive.

Right turns off Turner Drive are allowed onto County Road 213/La Posta Road. 
MAP: TRAFFIC IMPACTS AT HIGH BRIDGE OVER THE ANIMAS RIVER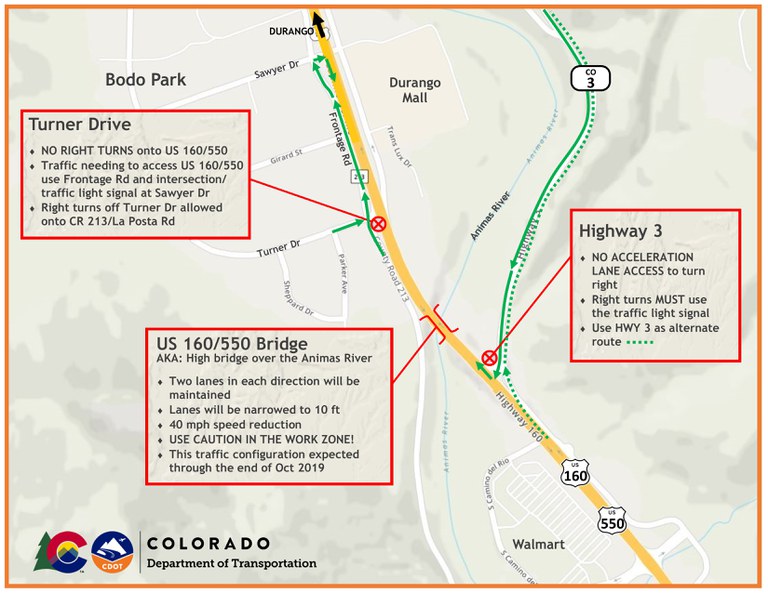 BRIDGE LOCATIONS 
The project includes three bridge locations: 
One bridge is located at U.S. 160/550, south of downtown Durango at the Animas River. This bridge is known locally as the "high bridge" between Bodo Park and Walmart.

Two additional bridges are located on U.S. 550 at MP 1.95 and MP 1.2 near the Colorado/New Mexico state line. Travelers should follow all traffic restrictions, signage and flagging personnel at these bridge locations. Work at these two bridge locations will begin in the next few weeks.
American Civil Constructors has been contracted for this $2.6 million project. Work is expected to be completed on the three bridges by December. The project will then continue at other bridge locations in the spring of 2020.
MAP: LOCATION OF BRIDGES AND SUGGESTED ALTERNATE ROUTE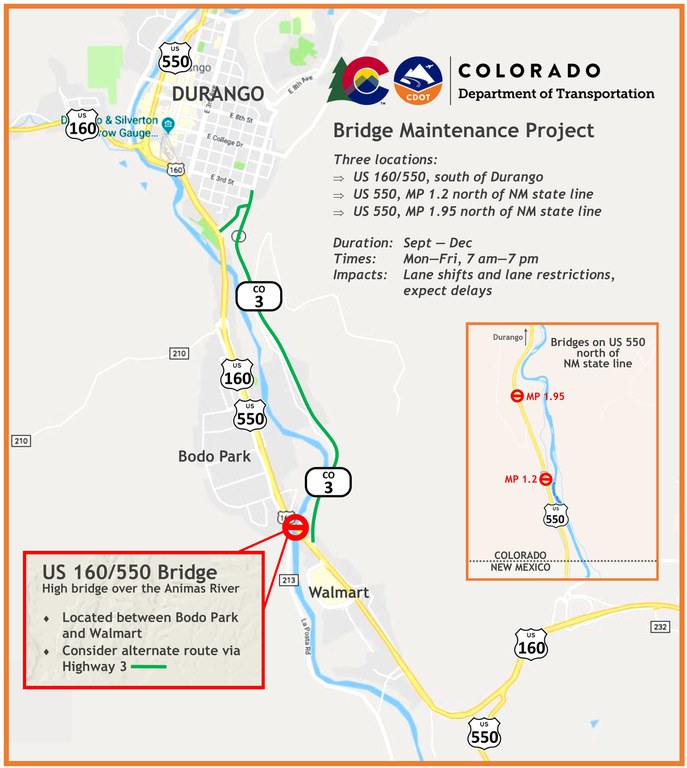 PROJECT INFORMATION 
For additional information about this project, call the project information line at 970-840-8517, email the team at [email protected], or visit the project website at www.codot.gov/projects/southwestern-colorado-bridge-maintenance.
Travelers are urged to "know before you go." Gather information about weather forecasts and anticipated travel impacts and current road conditions prior to hitting the road. CDOT resources include:
REMEMBER: SLOW FOR THE CONE ZONE
The following tips are to help you stay safe while traveling through maintenance and construction work zones.
Do not speed in work zones. Obey the posted speed limits.

Stay Alert! Expect the unexpected.

Watch for workers. Drive with caution.

Don't change lanes unnecessarily.

Avoid using mobile devices such as phones while driving in work zones.

Turn on headlights so that workers and other drivers can see you.

Be especially alert at night while driving in work zones.

Expect delays, especially during peak travel times.

Allow ample space between you and the car in front of you.

Anticipate lane shifts and merge when directed to do so.

Be patient!