CDOT resumes reconstruction and widening project on  CO 13
April 21, 2020 - Northwestern Colorado -Speed limits to be strictly enforced
MOFFAT COUNTY - The Colorado Department of Transportation and contract partner Elam Construction will resume the CO 13 reconstruction and widening project on April 29, 2020. The project is north of Craig, from mile post (MP) 115 to MP 121. The $11 million project started April 2019, with a winter shutdown from Dec. 2019 to April 2020, and has an anticipated completion date of June 2020.  
As part of CDOT's Whole System - Whole Safety initiative, this project will focus on widening the roadway to include 12-foot drive lanes and 8-foot paved shoulders to provide vehicles a safer place to pull over in emergencies. Crews will also flatten the side slopes, add snow fencing and rumble strips for adverse weather conditions, and improve the alignments of the highway to meet the 65 mph design speed. All improvements will allow motorists to have better visibility.  
During the 2019 construction season, crews completed earthwork operations to achieve the realignment and new grades of the roadway; added the bottom and middle layer of asphalt for the roadway with widened shoulders; installed three sections of guardrail and new culverts to replace the 70-year-old drainage system. New fencing, snow fences, seeding, erosion control measures, new signs and delineators were also installed.
This construction season crews will: lay the top and final layer of asphalt, install rumble strips, finish shoulder work, install permanent signage and complete the inlaid striping.
TRAVEL  IMPACTS 
Motorists can expect one lane alternating traffic with 15-20 minute delays.  The project will be in operation Monday through Friday from 7 am to 7 pm.
PROJECT INFORMATION
Those seeking more information about this project, or with questions or comments, can reach the project team at: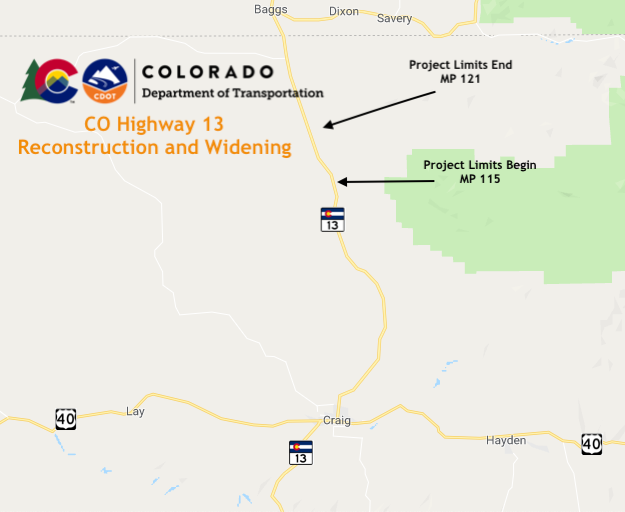 COVID-19
Safe transportation infrastructure is essential for emergency first responders and freight drivers as Colorado navigates the COVID-19 pandemic. With that in mind, construction continues on CDOT projects with social distancing and other health safety measures to reduce COVID-19 exposure on the worksite. The Colorado Department of Public Health and Environment announced guidelines for construction activities. The public is urged to join the campaign for #DoingMyPartCO and practice social distancing, stay at home when possible, and avoid nonessential travel. With fewer vehicles on the roads, CDOT crews will be able to work more efficiently and safely.  
WHOLE SYSTEM. WHOLE SAFETY.  
In early 2019, CDOT announced its Whole System—Whole Safety initiative to heighten safety awareness. This initiative takes a systematic, statewide approach to safety combining the benefits of CDOT's programs that address driving behaviors, our built environment and the organization's operations. The goal is to improve the safety of Colorado's transportation network by reducing the rate and severity of crashes and improving the safety of all transportation modes. The program has one simple mission — to get everyone home safely