CDOT and Scooter's Coffee in Greeley partner to boost seat belt use
August 24, 2020 - Northeastern Colorado Traffic Safety - 'Click It for Coffee' offers discounted coffee for customers wearing a seat belt
GREELEY — Wear your seat belt, get $1 off your next coffee drink. The Colorado Department of Transportation (CDOT) is teaming up with Scooter's Coffee in Greeley for Click It for Coffee. On Friday, Aug. 28, drive-thru customers will be rewarded with $1 off any coffee drink for wearing their seat belt. The local franchise, owned by two Greeley first responders, hopes the promotion will help CDOT improve seat belt use in Weld County. Click It for Coffee is part of a weeklong focus on seat belt safety and first responders. In addition to offering discounted coffee on Aug. 28, Scooter's Coffee in Greeley is donating a portion of its proceeds from Aug. 24-30 to ResponderStrong, a local nonprofit that supports Colorado's first responders.
Colorado's seat belt use rate is currently 88% — below the national average of 90%. Locally, Weld County's seat belt use rate is 81%. Between 2015 and 2019, there were 227 motor vehicle occupant fatalities in Weld County, 117 of those being unbuckled deaths — the highest of any county in Colorado.
"According to the National Highway Traffic Safety Administration, buckling up in the front seat increases your likelihood of surviving a crash by 45% in a passenger vehicle and 65% in a light truck," said CDOT Communications Manager Sam Cole. "Even if you are just taking a short trip down the road, please buckle up every time."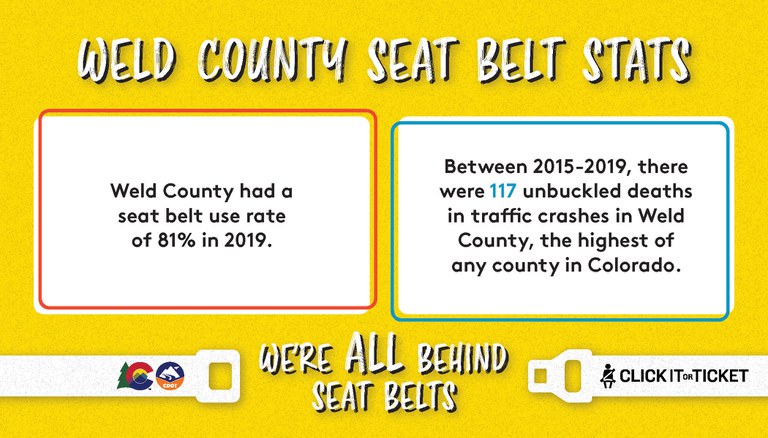 As first responders with more than 40 years of combined experience as a paramedic and firefighter, seat belt safety is an issue Scooter's Coffee franchise owners, Todd and Michelle Heasty, take personally. They've witnessed firsthand the impact of not wearing a seat belt and have a passion for encouraging their fellow community members to buckle up and stay safe on the road.
"We know all too well the devastating outcome for the victims of unbuckled crashes and the lasting impact on their friends and families," said Todd Heasty, Scooter's Coffee franchise owner. "Wearing your seat belt is a choice that is so simple and quick and can save your life — there's no reason not to make it."
Click It for Coffee aims to engage drivers and passengers during their routine drive-thru coffee stop to remind them about the crucial choice to buckle up. Scooter's Coffee is located at 2530 11th Ave. in Greeley and is open from 5:30 a.m. to 8 p.m. seven days a week.
ResponderStrong, part of the All Clear Foundation, is an organization dedicated to improving mental health supports for emergency responders and their families through joint focuses on intervention and prevention. Founded locally at the National Mental Health Innovation Center of the University of Colorado Anschutz, ResponderStrong is a collaboration between emergency responders and their advocates. The organization is proud to announce the launch of its FREE responder wellness tool. It's designed to support LEO, EMS, fire, dispatch and ER staff – along with their families – to help them succeed, thrive and matter. Check out the wellness tool at you.responderstrong.org.
COLORADO'S SEAT BELT LAWS
Adults — Colorado has a secondary enforcement law for adult drivers and front seat passengers. Drivers can be ticketed for violating the seat belt law if they are stopped for another traffic violation.
Teens — Colorado's Graduated Drivers Licensing (GDL) law requires all drivers under 18 and their passengers, regardless of their age, to wear seat belts. This is a primary enforcement, meaning teens can be pulled over simply for not wearing a seat belt or having passengers without seat belts.
Children — Colorado's Child Passenger Safety law is a primary enforcement, meaning the driver can be stopped and ticketed if an officer sees an unrestrained or improperly restrained child under age 16 in the vehicle.
Fines for not buckling up in Colorado start at $65, and parents or caregivers caught with an improperly restrained child can receive a minimum fine of $82.
From 2013 to 2017, 30 children aged 0 to 8 were killed in passenger vehicle crashes in Colorado. Among these, more than half were in an improperly used or installed car seat — or no car seat at all. Parents and caregivers can learn more about Colorado child passenger safety laws, recommendations and recalls at CarSeatsColorado.com.
ABOUT CLICK IT OR TICKET
Click It or Ticket is a nationwide campaign from NHTSA. Since Click It or Ticket was introduced in Colorado in 2002, statewide seat belt use has increased from 72% to 88%. For more information about seat belt safety and enforcement citation numbers, visit codot.gov/safety/seatbelts-carseats.
COVID-19
Safe transportation infrastructure is essential for all of us, particularly for emergency first responders and freight drivers as Colorado navigates the COVID-19 pandemic. With that in mind, CDOT maintenance and construction crews  follow social distancing and other health safety measures to reduce COVID-19 exposure on the worksite. The Colorado Department of Public Health and Environment announced guidelines for construction activities. The public is urged to join the campaign for #DoingMyPartCO by practicing social distancing and wearing face masks. As traffic returns to normal levels, motorists must drive cautiously and heed the speed limit so all of us can return home safely. 
WHOLE SYSTEM. WHOLE SAFETY.
To heighten safety awareness, CDOT recently announced its Whole System — Whole Safety initiative. This project takes a systematic statewide approach to safety combining the benefits of CDOT's programs that address driving behaviors, our built environment and the organization's operations. The goal is to improve the safety of Colorado's transportation network by reducing the rate and severity of crashes and improving the safety of all transportation modes. The program has one simple mission—to get everyone home safely.
ABOUT CDOT
CDOT has approximately 3,000 employees located at its Denver headquarters and in regional offices throughout Colorado, and manages more than 23,000 lane miles of highway and 3,429 bridges. CDOT also manages grant partnerships with a range of other agencies, including metropolitan planning organizations, local governments and airports. It also administers Bustang, the state-owned and operated interregional express service. Governor Polis has charged CDOT to further build on the state's intermodal mobility options.