CDOT, Scott Contracting complete project to reconstruct and improve CO 13
December 29, 2020 - Northwestern Colorado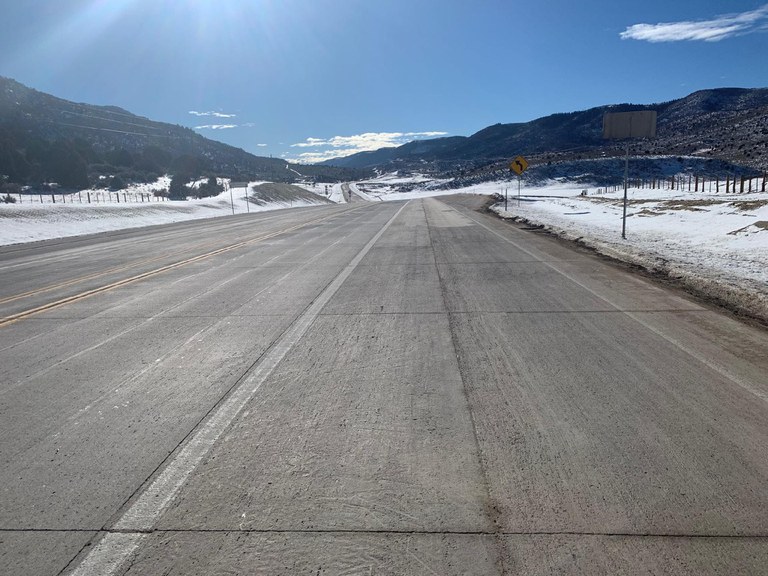 CO 13 looking south
GARFIELD/RIO BLANCO COUNTIES - The Colorado Department of Transportation's project to reconstruct and improve safety on Colorado Highway 13 is complete. Scott Contracting, Inc. reconstructed approximately five miles of roadway, located 16 miles north of Rifle. CDOT and Scott Contracting would like to thank the Garfield and Rio Blanco county communities for their patience during this project. 
Concrete was the primary material for reconstruction on the project, which extended north and south of Rio Blanco County Road 5. Crews also widened the shoulders and travel lanes between mile points 16.06 and 20.77. Other safety improvements included: 
Drainage upgrades, including three under-highway corrugated steel drain pipes that were replaced with concrete box culverts

Embankment safety improvements

Sight distance improvements

Wildlife fencing 

New signing and striping
Work began in June 2019, with a seasonal shutdown during the 2019-2020 winter months, and resumed in Spring 2020. 
Like other roadway construction projects in northwest Colorado, the 2020 construction season brought challenges such as the COVID-19 pandemic and nearby wildfires. During the Interstate 70 Glenwood Canyon closure in August 2020, Scott Contracting quickly responded by pausing the CO 13 project to accommodate heavy detour traffic. The project was paused for two weeks as wildland firefighters battled the Grizzly Creek Fire near I-70 in Glenwood Canyon. CDOT appreciates the speed and understanding with which Scott Contracting responded to the unusual circumstances during the I-70 closure. Customers with questions can contact the project's public information manager at [email protected]. The project web page is https://www.codot.gov/projects/co-13-rio-blanco-reconstruction.
Travel Info
Travelers are urged to "know before you go." Gather information about weather forecasts and anticipated travel impacts and current road conditions prior to hitting the road. CDOT resources include:
Covid-19 
Safe transportation infrastructure is essential for all of us, particularly for emergency first responders and freight drivers as Colorado navigates the COVID-19 pandemic. With that in mind, CDOT maintenance and construction crews follow social distancing and other health safety measures to reduce COVID-19 exposure on the worksite. The Colorado Department of Public Health and Environment announced guidelines for construction activities. The public is urged to join the campaign for #DoingMyPartCO by practicing social distancing and wearing face masks.  As traffic returns to normal levels, motorists must drive cautiously and heed the speed limit so all of us can return home safely. 
Whole System. Whole Safety.
In early 2019, CDOT announced its Whole System — Whole Safety initiative to heighten safety awareness. This initiative takes a systematic statewide approach to safety combining the benefits of CDOT's programs that address driving behaviors, our built environment and the organization's operations. The goal is to improve the safety of Colorado's transportation network by reducing the rate and severity of crashes and improving the safety of all transportation modes. The program has one simple mission—to get everyone home safely.
About CDOT
CDOT has approximately 3,000 employees located throughout Colorado, and manages more than 23,000 lane miles of highway and 3,429 bridges. CDOT also manages grant partnerships with a range of other agencies, including metropolitan planning organizations, local governments and airports. It also administers Bustang, the state-owned and operated interregional express service. Governor Polis has charged CDOT to further build on the state's intermodal mobility options.