CDOT to begin US 160 Hawkins signal and ramp enhancements in Cortez
July 22, 2020 - Southwestern Colorado
CORTEZ- The Colorado Department of Transportation and contracting partner Four Corners Materials will begin work on Monday of next week to improve safety on US Highway 160/Main Street in Cortez by installing a traffic signal on the Hawkins Street intersection along with constructing Americans with Disabilities Act (ADA) enhancements of 34 ramps at 9 additional intersections along US 160/Main Street: Maple St., Linden St., Washington St., Madison St., Harrison St., Park St., Mildred Rd., Sligo St. and Hawkins St. 
Work will include the installation of a traffic signal at the intersection of US 160/Main St. and Hawkins St. which will include signal poles, mast arms, signal heads, conduit, cabinet/controllers, and detection controls. Crews will also install 34 ADA compliant curb ramps. These ramps will be in compliance with the Public Right of Way Accessibility Guidelines requirement. Additional work will include improvements to curb, gutter, and sidewalks.
The installation of the traffic signal and ADA ramp enhancements will provide functional accessibility to all travelers using our US highways. This project will also better control traffic through congested areas, which will make the roads safer for pedestrians and the traveling public.  
Travel Impacts
Hours of operation are Monday through Friday, 7 a.m. to 7 p.m.

Motorists can plan for shoulder closures, intermittent single lane closures, and intermittent side street closures 

Traffic control will be present to guide motorists
The project has an anticipated completion date of December, later this year.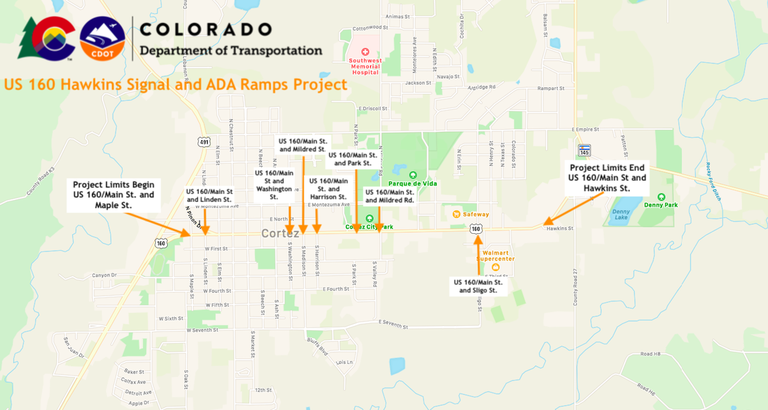 Project & Travel Information
For additional information about this project, contact the project team: 
Travelers are urged to "know before you go." Gather information about weather forecasts and anticipated travel impacts and current road conditions prior to hitting the road. CDOT resources include:
Remember: Slow for the Cone Zone
The following tips are to help you stay safe while traveling through maintenance and construction work zones.
Do not speed in work zones. Obey the posted speed limits.

Stay Alert! Expect the unexpected.

Watch for workers. Drive with caution.

Anticipate lane shifts and merge when directed to do so

Expect delays, especially during peak travel times.

Allow ample space between you and the car in front of you.

Avoid using mobile devices such as phones while driving in work zones.

Turn on headlights so that workers and other drivers can see you.

Be especially alert at night while driving in work zones.

Be patient!




COVID-19  
Safe transportation infrastructure is essential for all of us, particularly for emergency first responders and freight drivers as Colorado navigates the COVID-19 pandemic. With that in mind, CDOT maintenance and construction crews follow social distancing and other health safety measures to reduce COVID-19 exposure on the worksite. The Colorado Department of Public Health and Environment announced guidelines for construction activities. The public is urged to join the campaign for #DoingMyPartCO by practicing social distancing and wearing face masks. As traffic returns to normal levels, motorists must drive cautiously and heed the speed limit so all of us can return home safely. 
Whole System. Whole Safety.
In early 2019, CDOT announced its Whole System — Whole Safety initiative to heighten safety awareness. This initiative takes a systematic statewide approach to safety combining the benefits of CDOT's programs that address driving behaviors, our built environment and the organization's operations. The goal is to improve the safety of Colorado's transportation network by reducing the rate and severity of crashes and improving the safety of all transportation modes. The program has one simple mission—to get everyone home safely.