CDOT to begin resurfacing Belleview Avenue from University Boulevard to I-25
May 15, 2020 - Denver Metro Area
ARAPAHOE COUNTY — Work is scheduled to begin May 18 to resurface the pavement and improve sidewalks on three miles of Belleview Avenue from University Boulevard to Interstate 25. There will be day and night time lane closures during the project, which is scheduled to last through late August.  
Work will begin with improving concrete sidewalks and curb ramps, followed by resurfacing the road. This will include removing a layer of old asphalt and replacing it with new asphalt and re-striping. When completed, the project will improve safety and driving conditions.  
TRAVEL IMPACTS
May 18 through late June - There will be daytime lane closures as crews complete concrete work on the curb ramps and sidewalks. Work will occur on weekdays 8:00 a.m. to 5:00 p.m.

Late June through late August - Once the concrete work is complete, work will begin to resurface Belleview Avenue. This work will require nighttime lane closures. Crews will work from University Boulevard westbound to I-25. Work will occur Sunday night through Friday morning from 6:00 p.m. to 6:00 a.m. and possible weekend work Friday night through Sunday morning from 7 p.m. to 10 a.m.

There will be no speed reductions or oversize/overweight restrictions.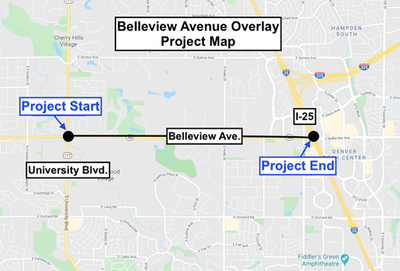 PROJECT BACKGROUND
Brannan Sand and Gravel, of Denver, CO, is the prime contractor on this project. Work is expected to be complete by the end of August.
PROJECT INFORMATION
Project information hotline: 303.317.2112
Email: [email protected]
Project website: https://www.codot.gov/projects/co88-belleviewoverlay
Latest weekly lane closures: https://www.codot.gov/travel/scheduled-lane-closures.html
Latest road conditions: cotrip.org
REMEMBER: SLOW FOR THE CONE ZONE
Motorists are encouraged to limit travel to help prevent the spread of COVID-19.  

When traveling, heed the speed limit and slow down in work zones. 

Stay Alert! Expect the unexpected.

Watch for workers. Drive with caution.

Don't change lanes unnecessarily.

Avoid using mobile devices such as phones while driving in work zones.

Turn on headlights so that workers and other drivers can see you.

Be especially alert at night while driving in work zones.

Expect delays, especially during peak travel times.

Allow ample space between you and the car in front of you.

Anticipate lane shifts and merge when directed to do so.

Be patient!
COVID-19  
Safe transportation infrastructure is essential for emergency first responders and freight drivers as Colorado navigates the COVID-19 pandemic. With that in mind, road maintenance and construction continues on CDOT projects with social distancing and other health safety measures to reduce COVID-19 exposure on the worksite. The Colorado Department of Public Health and Environment announced guidelines for construction activities. The public is urged to join the campaign for #DoingMyPartCO by practicing social distancing, wearing face masks, staying at home when possible, and avoiding nonessential travel. With fewer vehicles on the roads, CDOT crews will be able to work more efficiently and safely.