CDOT's "2-Hourglass" display targets drinkers
September 4, 2020 - Denver Metro Area Traffic Safety - CDOT, BACtrack® offer 50% breathalyzer discount until 9/20
AURORA, CO — Today, the Colorado Department of Transportation (CDOT) brought its Take Some Time DUI prevention campaign to life with the "2-Hourglass" display, showing that a single alcoholic drink can impair a person's ability to drive for up to two hours. The display was installed today at Stanley Marketplace in Aurora and features a large-scale beer and wine glass simulation.
The 2-Hourglass supports the current Labor Day DUI enforcement period, which runs until Sept. 8. Last year 899 drivers were arrested for DUI during the enforcement period. This is also the final weeks of the 50% personal breathalyzer discount offered by CDOT and BACtrack.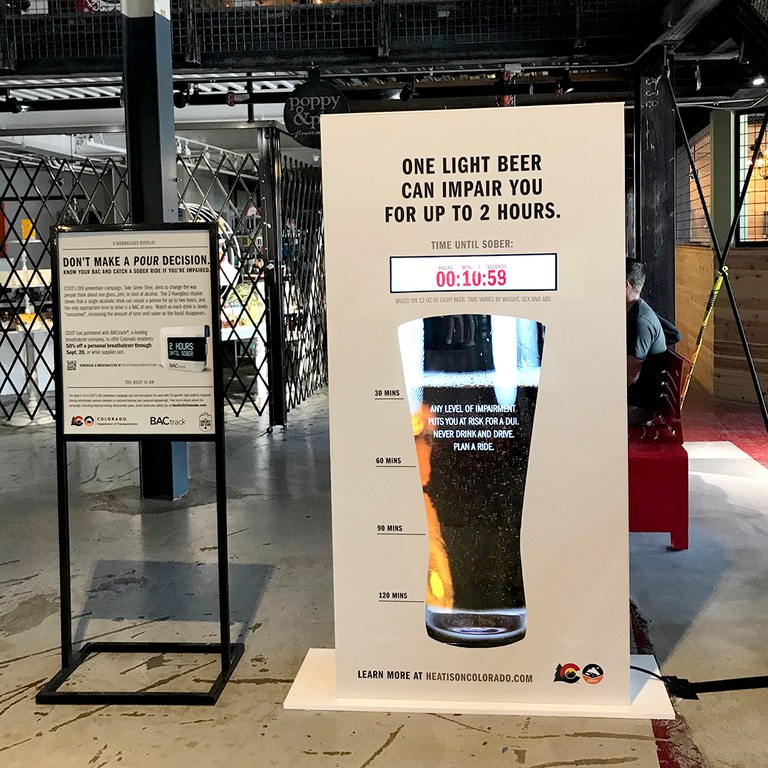 "Along with the DUI enforcement periods, The Heat Is On campaign aims to catch the attention of Coloradans to remind them of the irreversible risks that come with driving impaired," said Darrell Lingk, CDOT director of the Office of Transportation. "The hourglass display raises awareness on how long alcohol can affect your ability to drive, which we think will help reduce the number of DUIs across the state."
The fabrication imitates alcoholic drinks being slowly "consumed," which increases the amount of time until a person returns to sobriety, or .00% BAC. When the liquid disappears, it then refills to repeat the process. This simulation process will cycle in about 5-minute increments. The 2-Hourglass will stay on-site for two weeks.
"We aim to be a force for good in our community, so hosting an innovative and informative pop-up like this, with such an important message, is something we're excited and honored to do," said Stanley Marketplace Chief Storyteller Bryant Palmer.
The Take Some Time campaign launched statewide in July to help change the way people perceive one glass, pint, or shot of alcohol. In support of the campaign, CDOT and BACtrack® partnered again this summer to offer Colorado residents 50% off a personal BACtrack® breathalyzer to make breathalyzers more accessible and affordable. So far, there have been 1,159 breathalyzers sold this summer.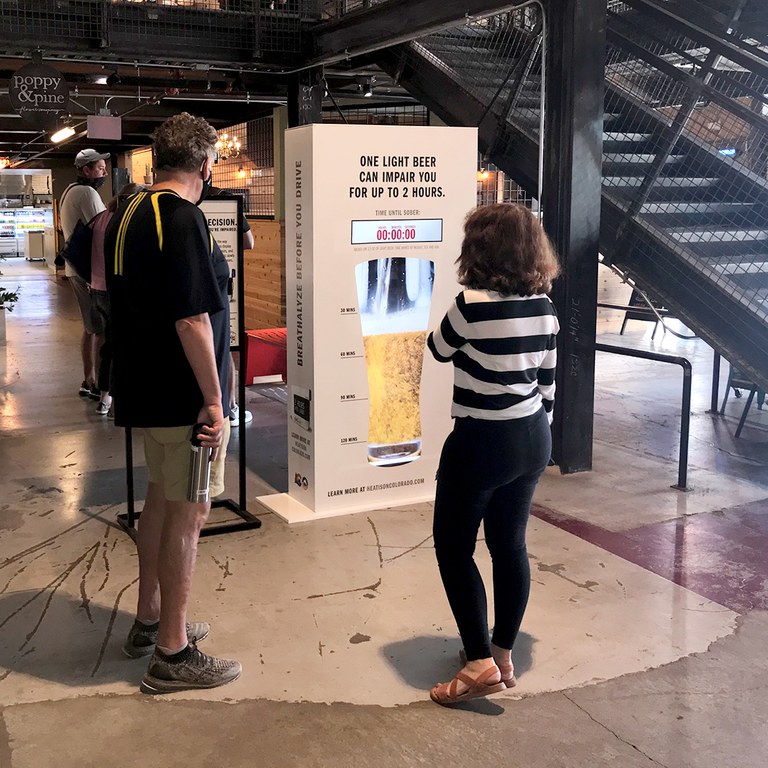 The discount is available only through Sept. 20, or while supplies last, on the BACtrack Mobile Pro, Trace Pro, C8, or C6. Colorado residents can visit codot.bactrack.com to purchase their own breathalyzer before it expires.
"We're pleased that our partnership with CDOT over the past several years has helped educate Coloradans about the importance of knowing your BAC," said Keith Nothacker, BACtrack President and CEO. "The 2-Hourglass is a creative way to draw attention to the 50% breathalyzer discount and, as a result, continue to give Coloradans useful DUI-prevention tools in personal breathalyzers."
To speak with a representative from BACtrack anytime over the holiday weekend or later, contact:
Stacey Sachs, VP, Partnerships at 415-425-8324 (direct/mobile number).
For more information about previous CDOT and BACtrack® breathalyzer campaigns, visit HeatIsOnColorado.com.

To view and download the current Take Some Time creative, visit dropbox.com/sh/d7xzbb8kd6j9sei/AACCAzHtXzPzJeSl6DMLHXzva?dl=0.
CDOT's commitment to protecting Colorado roads from impaired drivers can be found at https://www.codot.gov/safety. 
ABOUT THE HEAT IS ON
The CDOT Highway Safety Office provides funding to Colorado law enforcement for impaired driving enforcement, education and awareness campaigns. The Heat Is On campaign runs throughout the year, with 16 specific high-visibility impaired driving enforcement periods centered on national holidays and large public events. Enforcement periods can include sobriety checkpoints, saturation patrols and additional law enforcement on duty dedicated to impaired driving enforcement. Find more details about the campaign, including impaired driving enforcement plans, arrest totals and safety tips at HeatIsOnColorado.com.
COVID-19
Safe transportation infrastructure is essential for all of us, particularly for emergency first responders and freight drivers as Colorado navigates the COVID-19 pandemic. With that in mind, CDOT maintenance and construction crews follow social distancing and other health safety measures to reduce COVID-19 exposure on the worksite. The Colorado Department of Public Health and Environment announced guidelines for construction activities. The public is urged to join the campaign for #DoingMyPartCO by practicing social distancing and wearing face masks. As traffic returns to normal levels, motorists must drive cautiously and heed the speed limit so all of us can return home safely. 
WHOLE SYSTEM. WHOLE SAFETY.  
In early 2019, CDOT announced its Whole System — Whole Safety initiative to heighten safety awareness. This initiative takes a systematic, statewide approach to safety combining the benefits of CDOT's programs that address driving behaviors, our built environment and the organization's operations. The goal is to improve the safety of Colorado's transportation network by reducing the rate and severity of crashes and improving the safety of all transportation modes. The program has one simple mission—to get everyone home safely.


ABOUT CDOT
CDOT has approximately 3,000 employees located at its Denver headquarters and in regional offices throughout Colorado, and manages more than 23,000 lane miles of highway and 3,429 bridges. CDOT also manages grant partnerships with a range of other agencies, including metropolitan planning organizations, local governments and airports. It also administers Bustang, the state-owned and operated interregional express service. Gov. Polis has charged CDOT to further build on the state's intermodal mobility options.