Colorado records its 100th Motorcycle Death for the year
September 18, 2020 - Images and b-roll available from today's event available here.
2020 has been a difficult year, even for motorcyclists on Colorado roadways. With fatal motorcycle crashes up 12% over last year, a new partnership between the Colorado Department of Transportation (CDOT) and Grease Monkey is addressing this concerning trend by reminding motorists to watch for motorcyclists.
"Since January Colorado has seen a startling increase in motorcyclist fatalities and the state is expected to exceed the number of fatalities from last year," said Darrell Lingk, CDOT Director of the Office of Transportation Safety. "With the fall riding season approaching and many riders currently enjoying the warm weather, we are urging drivers to use caution and be aware of motorcyclists. Drivers, please remember to look twice and save a life."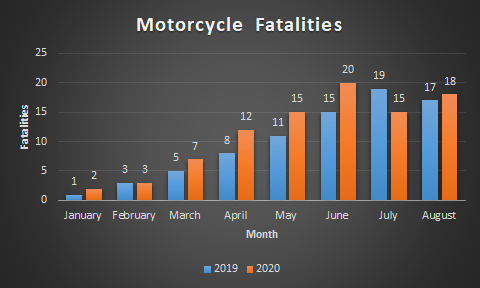 As a reminder to watch for motorcycles, Grease Monkey will be placing safety stickers on vehicles receiving oil changes at 64 Grease Monkey locations throughout Colorado. There will be 60,000 window stickers distributed over the next two months to all drivers getting their oil changed.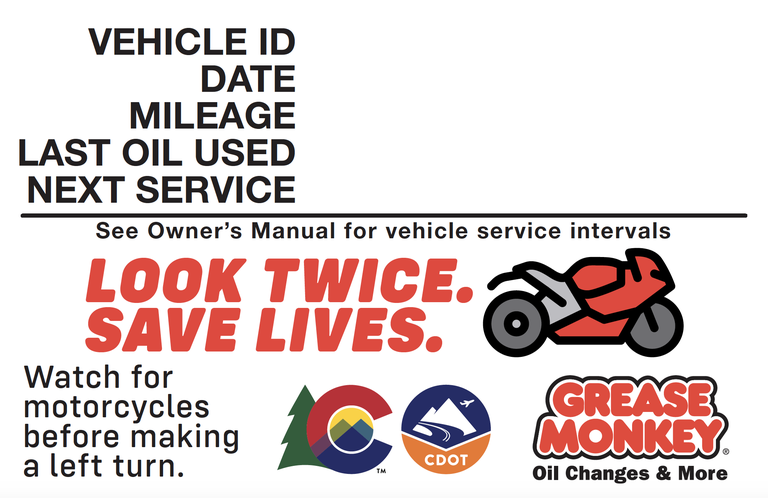 "Grease Monkey hopes getting this message out will help save a life," said Wes Stephenson, president and chief operations officer for Grease Monkey. "As a motorcyclist myself, safety on Colorado's roadways is everyone's responsibility. Everyone needs to do their part to make the roads a safe place to drive and ride."
With the launch of the new campaign also comes the debut of a CDOT vehicle wrapped with a safety message. The eye-catching visual depicts a motorcycle crash in which the motorcyclists is thrown from his bike.  The CDOT fleet car will be seen driving throughout the Denver metro area over the next two months.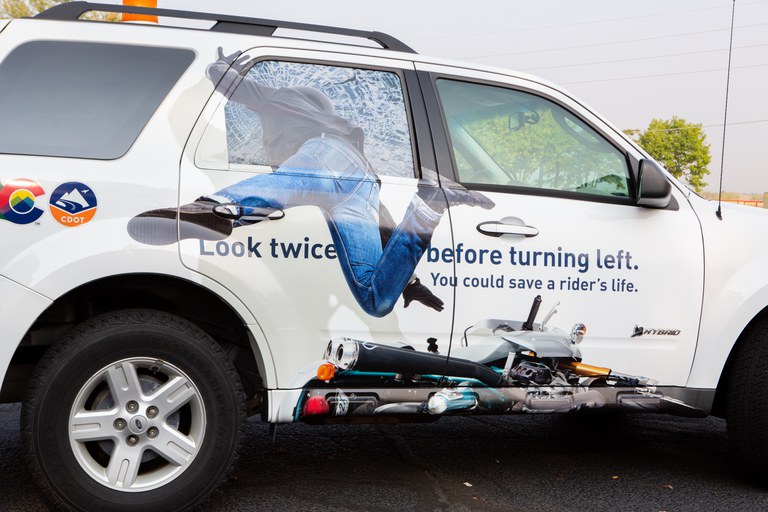 CDOT reminds drivers to be more aware of motorcycles and suggest drivers:
Check blind spots.
Since motorcycles are much smaller than cars, it is easy for them to get lost in blind spots. Before making any lane changes, thoroughly check all blind spots and use traffic signals.
Look twice.
When making lane changes, turns, merging and other traffic changes, check twice to save a life. 
Use extra caution when turning left.
Motorcycles are smaller which makes it hard for drivers to determine their speed accurately. When making left turns, look carefully for motorcyclists as the eye is not trained to detect them, then take the time to more accurately gauge their speed before entering the intersection.
Never follow motorcyclists too closely.
Motorcycles and their riders can slow down quicker than cars. Giving riders more space than a car ensures that drivers have enough time to slow or stop.
Eliminate distractions while driving.
Being mindful and aware of driving situations, changes on the roadways and other unexpected incidents increases the safety for drivers and motorcyclists.
"My son, Nick, was killed by a driver who made a left turn in front of my son on his bike," said Debby Uberecken-Standard, who lost her son in 2014. "As a mother, driver and Colorado resident, please always look twice. Motorcyclists are not as protected as drivers and can be hard to spot. Look twice and save someone's life."
Facts and Statistics:
To date there have been 100 motorcycle fatalities in 2020. This is up 12% from 89 at the same time last year.
In 2019 there was a total of 103 motorcycle fatalities.
Motorcyclists make up 23% of all deaths on Colorado roadways yet represent just 3% of the vehicles.
Of the 100 motorcyclist deaths in 2020, the following counties are noteworthy:    
o   The top three counties with the most motorcycle deaths are El Paso (17 fatalities), Adams (nine fatalities), and Jefferson (nine fatalities).
o   Northern Colorado
Larimer and Weld Counties have both had seven fatalities each.
o   Southern Colorado
El Paso has had 17 fatalities and Pueblo has had seven fatalities.
o   Western Slope
Mesa County has had six fatalities. Delta, Garfield, Gunnison, Montrose and Rio Blanco have each had one fatality.   
In addition to the window decals and CDOT fleet vehicle, Grease Monkey will also be placing motorcycle information in stores across the state while CDOT will be posting on social channels and running radio ads across Colorado to spread the message.
CDOT motorcycle safety efforts are part of CDOT's Whole System – Whole Safety campaign which aims to reduce fatalities and injuries and "Bring everyone home safely."
WHOLE SYSTEM. WHOLE SAFETY.  
In early 2019, CDOT announced its Whole System — Whole Safety initiative to heighten safety awareness. This initiative takes a systematic, statewide approach to safety combining the benefits of CDOT's programs that address driving behaviors, our built environment and the organization's operations. The goal is to improve the safety of Colorado's transportation network by reducing the rate and severity of crashes and improving the safety of all transportation modes. The program has one simple mission—to get everyone home safely.
ABOUT CDOT
CDOT has approximately 3,000 employees located at its Denver headquarters and in regional offices throughout Colorado and manages more than 23,000 lane miles of highway and 3,429 bridges. CDOT also manages grant partnerships with a range of other agencies, including metropolitan planning organizations, local governments and airports. It also administers Bustang, the state-owned and operated interregional express service. Governor Polis has charged CDOT to further build on the state's intermodal mobility options.
ABOUT GREASE MONKEY
Founded in 1978 and headquartered in Denver, Colorado, Grease Monkey® International, LLC is one of the largest automotive maintenance franchisors – not owned by a major oil company – with more than 300 centers currently located in the United States, Mexico, Colombia, China, and Saudi Arabia. Grease Monkey® centers focus on providing a Pit Crew Certified customer experience to fit the busy lives of the driving public by meeting its vehicle maintenance needs. Grease Monkey® wants their customers to Get In. Get Out. Get Going. 
COVID-19
Safe transportation infrastructure is essential for all of us, particularly for emergency first responders and freight drivers as Colorado navigates the COVID-19 pandemic. With that in mind, CDOT maintenance and construction crews follow social distancing and other health safety measures to reduce COVID-19 exposure on the worksite. The Colorado Department of Public Health and Environment announced guidelines for construction activities. The public is urged to join the campaign for #DoingMyPartCO by practicing social distancing and wearing face masks. As traffic returns to normal levels, motorists must drive cautiously and heed the speed limit so all of us can return home safely.