CDOT prepares for spring, summer in Glenwood Canyon
April 5, 2022 - Northwestern Colorado - Work nearing completion for removing material from Colorado River locations
Statewide — The Colorado Department of Transportation and contractor partners Lawrence Construction and IHC Scott have nearly completed the removal of material from the Colorado River in six locations. The work is part of several efforts to prepare Interstate 70 in Glenwood Canyon for possible 2022 spring runoff and summer debris flows. CDOT crews will soon resume a rockfall removal project in the canyon. Crews will continue previous work to clear rock caught by rockfall fencing, repair fencing and remove loose rock from the canyon walls. Midwest Rockfall, Inc. is the contractor on the rock fence repairs.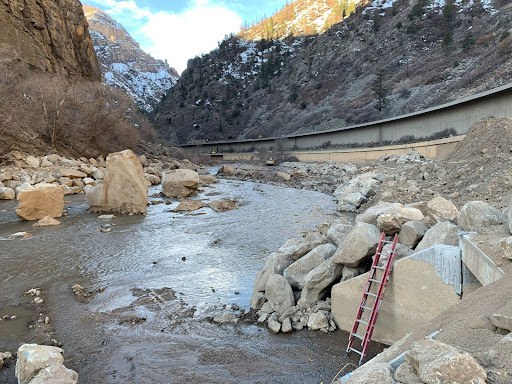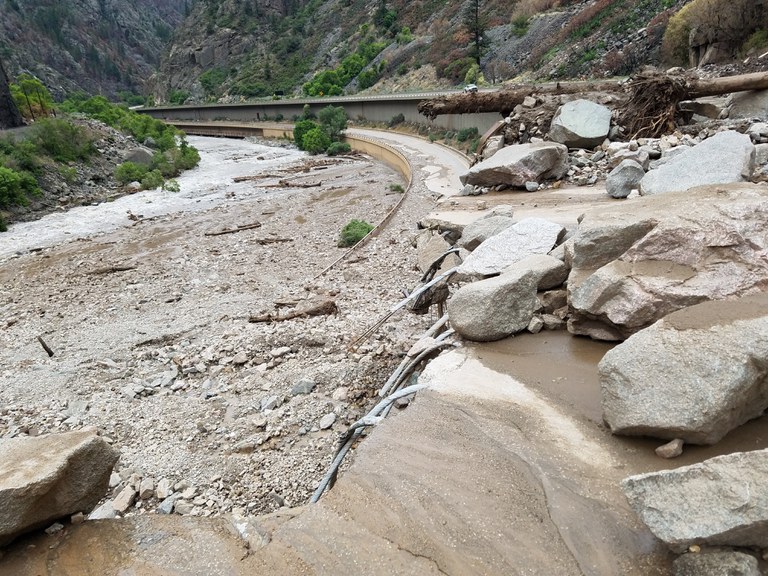 Before (right) and after road repairs and river material removal at Blue Gulch (Mile Point 123.5) on I-70 in Glenwood Canyon.
"CDOT has made tremendous progress in recovery from the 2021 mudflows," said CDOT Executive Director Shoshana Lew. "From fixing the road in record time to removing material from the river, as well as rockfall work and other mitigation, it's been a team effort. And that team extends beyond this agency. CDOT will continue to work with agency partners to manage this complex section of I-70 and impacts on our vital alternate routes."
Preparation efforts included two coordination exercises organized by the Colorado Division of Homeland Security and Emergency Management. Federal, state and local agencies met in Glenwood Springs and Gunnison on March 29 and 30 to review emergency response protocol for closures of I-70 in Glenwood Canyon. One hundred and seventy participants from more than 50 agencies participated in the tabletop exercises.
"The importance of partnerships in emergency operations cannot be understated," said Kevin Klein, director of the Colorado Division of Homeland Security and Emergency Management. "The response to the 2021 mudflows and rockslides demonstrated the value of our partnerships. Exercises help strengthen these relationships making us better prepared for future incidents."
"It is truly encouraging to see turnout from so many federal, state and local agency partners," said Director Lew. "We look forward to continuing to work together with stakeholders from along the I-70 corridor, the northern alternate route and the southern route to build on the lessons learned from 2020 and 2021."
Mudslides in July 2021 prompted an extended safety closure on I-70 for approximately two weeks. CDOT crews worked around the clock to remove boulders, dirt, rocks and other debris from the highway. Road repairs were also necessary, and were completed in December 2021. Since January, contractor partners Lawrence Construction and IHC Scott have focused on removing material from the Colorado River at six locations. The debris piles at these locations were created in summer 2021 by mudslides and other material flows. Removing material significantly helps protect I-70 and other infrastructure in the canyon, by lowering the risk of damage from high water or new mudslides. The Federal Highway Administration has concurred that mitigating the risk of runoff is critical to protecting the interstate and will reimburse the state's costs pursuant to the emergency relief program supporting the repairs to I-70 over the past several months. Work is weather dependent and motorists are reminded to drive the posted speeds through the work zone and drive for conditions.
Be Prepared
For spring, summer and fall 2022, CDOT continues to have an I-70 Glenwood Canyon safety protocol in place to protect the traveling public. Motorists planning to travel on I-70, visit rest areas or use the recreation path in Glenwood Canyon should pay close attention to weather forecasts. If there is rain in the forecast, be prepared for a safety closure of I-70, rest areas and recreation path. CDOT recommends that travelers have a back up plan in the event that closures are necessary. If a closure is anticipated to last longer than two hours, CDOT continues to recommend that travelers use the northern alternate route.
Alternate Route
If a safety closure of I-70 in Glenwood Canyon is anticipated to last longer than two hours, CDOT recommends a northern alternate route using Colorado Highway 9, US Highway 40 and Colorado Highway 13. Motorists should anticipate delays on the alternate route due to additional detour traffic and possible construction or maintenance projects.
WESTBOUND I-70: Motorists coming from the Denver metro area or Interstate 25 can travel westbound on I-70 to Silverthorne, then turn north onto CO 9. In Kremmling, travelers should turn onto westbound US Highway 40 towards Steamboat Springs. After reaching Craig, motorists can return south via CO 13 towards Rifle. Access to I-70 westbound is at Rifle.
EASTBOUND I-70: Motorists traveling eastbound from Utah or Grand Junction can reach the Denver Metro area by traveling the route above in reverse. CO 13 north to US 40 east to CO 9 south.
CDOT strongly discourages travelers from using highways south of I-70 for an alternate route, due to extensive construction closures on US Highway 50. CDOT also asks that motorists not use Cottonwood Pass Road (in Eagle/Garfield counties), Hagerman Pass, Eagle/Thomasville Road or other county or forest service roads in Eagle, Garfield and Pitkin counties as a detour. These roads are not built for heavy traffic or commercial oversize vehicles. Many of these four-wheel drive roads also do not have cell phone coverage.
Motorists should be familiar with the recommended alternate route (more information below) and should check www.cotrip.org for the latest road conditions and route options. CDOT also recommends that travelers bring an emergency kit with water, snacks, a flashlight and a blanket, as mountain conditions often change suddenly.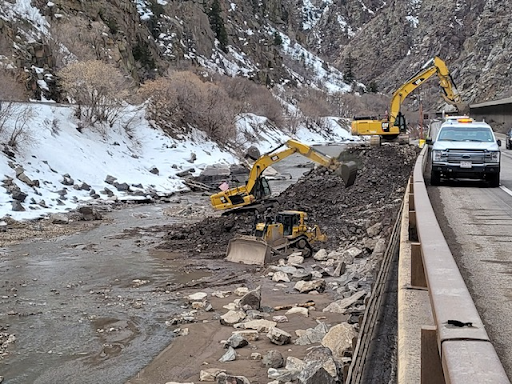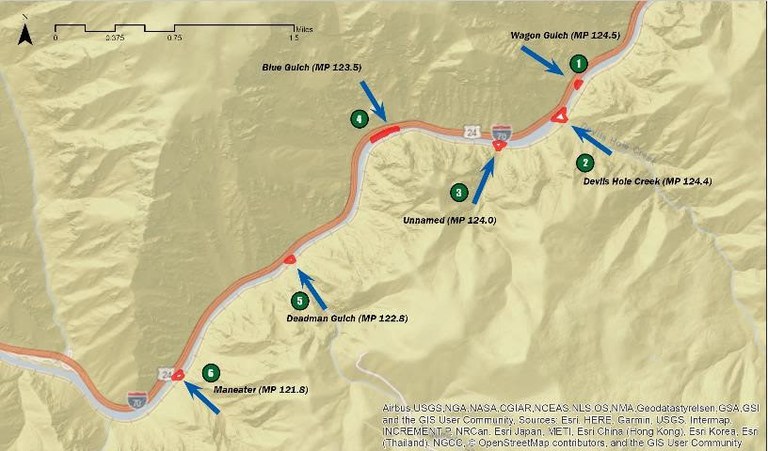 Project Information
For additional information about this project:
Download the COtrip App!
The new FREE COtrip Planner mobile app was designed to meet the growing trend of information on mobile and tablet devices for the traveling public. The COtrip Planner app provides statewide, real-time traffic information, and works on mobile devices that operate on the iOS and Android platforms. Visit the Google Play Store (Android devices) or the Apple Store (iOS devices) to download!