Work resumes on the I-70 Structure Replacement West of Eisenhower-Johnson Memorial Tunnels
April 19, 2022 - Northwestern Colorado - Crews to complete replacement of deficient structure in the second and final year of construction
Summit County – The Colorado Department of Transportation and contractor partner Kraemer North America have resumed work to replace a failing emergency access structure underneath Interstate 70. Used by law enforcement, CDOT maintenance, tow companies and other emergency services on the busy section of I-70 west of the tunnel to Silverthorne, the "Box" project will undergo its second and final construction season to complete the new bridge structures. Motorists should anticipate various lane closures and delays during construction in April. There is also the potential for occasional night work.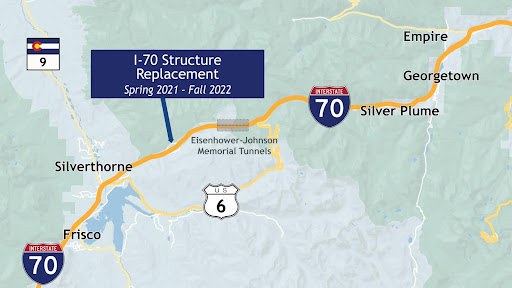 Structure Closure for Emergency Services
By May 1, the access structure will close for the summer to complete the bridge and underpass construction. Emergency responders will be required to detour up to the tunnel or down to Silverthorne to turn around on I-70. This closure will remain in place until project completion. Public access to the structure is already limited, so the closure will not affect the traveling public.
Traffic Impacts
Westbound I-70: In mid-May, crews will resume the long-term far-right lane closure on westbound I-70 from the tunnel's western end through the project site. This lane will be closed to the public but will serve as an emergency pull-off for emergency services. This lane closure will remain in place throughout project completion.
Eastbound I-70: Three uphill eastbound lanes will be maintained throughout the duration of the project. Various lane closures are possible.
Motorists can expect delays during construction. Lane closures down to one lane will be limited and only at night.
Runaway truck ramps on westbound I-70 at Mile Point 212 and MP 209 will remain open during construction.
Drivers should stay observant of variable lane widths and travel conditions during construction.
The project team will continue to coordinate with EJMT staff, emergency responders and nearby construction projects to keep traffic moving as smoothly as possible.
"CDOT is tackling several critical safety and state of good repair needs in the area surrounding the Eisenhower-Johnson Memorial Tunnels," said CDOT Executive Director Shoshana Lew. "As we restart this work, we implore drivers of cars and trucks to drive carefully, adhere to speed limits, and be mindful of the safety of fellow motorists as well as the men and women working hard within the work zone to fix our infrastructure. Please do your part to make sure drivers and workers get home safely."
When complete, the new underpass will improve the structural integrity of I-70 in that location and ensure safe access for emergency services to motorists, as well as efficient maintenance and plowing operations. The new structure will be widened to 33 feet, accommodating two-way traffic and improving the approach turning radius.
Other I-70 Projects
Other projects on I-70 are happening in close proximity. These projects each have their own prime contractors and construction teams. More information on these projects can be found on the project specific websites or by visiting www.cotrip.org for real time impacts on CDOT projects across the state. The I-70 construction teams are in close communication to help keep the public informed.
Project Information
For additional information about this project:
Know Before You Go
Travelers are urged to "know before you go." Gather information about weather forecasts and anticipated travel impacts and current road conditions prior to hitting the road. CDOT resources include:
Remember: Slow For The Cone Zone
The following tips are to help you stay safe while traveling through maintenance and construction work zones.
Do not speed in work zones. Obey the posted speed limits.

Stay Alert! Expect the unexpected.

Watch for workers. Drive with caution.

Don't change lanes unnecessarily.

Avoid using mobile devices such as phones while driving in work zones.

Turn on headlights so that workers and other drivers can see you.

Be especially alert at night while driving in work zones.

Expect delays, especially during peak travel times.

Allow ample space between you and the car in front of you.

Anticipate lane shifts and merge when directed to do so.

Be patient!
Download the COtrip App!
The new FREE COtrip Planner mobile app was designed to meet the growing trend of information on mobile and tablet devices for the traveling public. The COtrip Planner app provides statewide, real-time traffic information, and works on mobile devices that operate on the iOS and Android platforms. Visit the Google Play Store (Android devices) or the Apple Store (iOS devices) to download!