Resurfacing project begins for US 6 from Clifton to Palisade, CO 141
April 19, 2022 - Northwestern Colorado - Motorists should anticipate delays
Mesa County - The Colorado Department of Transportation and contractor United Companies have begun a resurfacing project on US Highway 6 from Mile Points 37-46. The project is located in the greater Grand Junction area, from Clifton to just east of the Town of Palisade. Improvements will take place along nine miles of US 6, from just west of the US 6 intersection with 33 Road to the eastbound on-ramp of I-70 just east of Palisade. Motorists should anticipate 10 minutes additional travel time when traveling on US 6 between Clifton and Palisade. Additional project work on US 6 will include guardrail replacement, ADA ramp construction, sign replacement and striping.
The project also includes resurfacing work on Colorado Highway 141 starting at the intersection of US Highway 50, located north of Whitewater. This work will take place on CO 141 from MP 156-159. CO 141 is also referred to as 32 Road.
Once complete, the project will improve the drivability for motorists on these busy stretches of highway in Mesa County. All work on both roadways is anticipated to end in late June.
The project is one of three CDOT roadway improvement projects along the US 6 corridor in Mesa County during the 2022 construction season. Please see below for a map of all three projects. The other two projects are the US 6 North Avenue Resurfacing project, planned for late spring 2022 through November 2022, and the US 6 Clifton Reconstruction project. The public is invited to attend an in-person open house tomorrow, Wednesday April 20, about the US 6 Clifton Reconstruction project. The open house will take place from 5:30-7:30 p.m. at the Clifton Community Center, 126 2nd St, Clifton, CO 81520. Members of the public will have the opportunity to learn more about the final improvements coming to the community and to learn more about upcoming construction. CDOT will alert motorists to travel impacts for all three projects once project schedules are confirmed.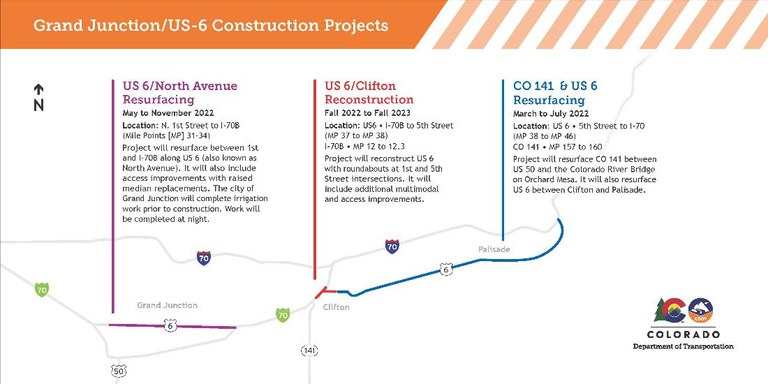 Traffic Impacts for the US 6 & CO 141 Resurfacing Project
Motorists should expect 10 minutes additional travel time on US 6 for both eastbound and westbound traffic in Clifton near the Railroad Overpass Bridge near 33 1/2 Rd. The delays are due to single lane alternating traffic.
Motorists should expect 10 minutes additional travel time on CO 141 for both northbound and southbound traffic, from the intersection with US 50 to the Colorado River Bridge. The delays are due to single lane alternating traffic.
Motorists must follow pilot cars. Pilot car operations will be in place during paving operations in order to ensure the safety of motorists and workers.
Project Information
For additional information about this project:
Know Before You Go
Travelers are urged to "know before you go." Gather information about weather forecasts and anticipated travel impacts and current road conditions prior to hitting the road. CDOT resources include:
Remember: Slow For The Cone Zone
The following tips are to help you stay safe while traveling through maintenance and construction work zones.
Do not speed in work zones. Obey the posted speed limits.

Stay Alert! Expect the unexpected.

Watch for workers. Drive with caution.

Don't change lanes unnecessarily.

Avoid using mobile devices such as phones while driving in work zones.

Turn on headlights so that workers and other drivers can see you.

Be especially alert at night while driving in work zones.

Expect delays, especially during peak travel times.

Allow ample space between you and the car in front of you.

Anticipate lane shifts and merge when directed to do so.

Be patient!
Download the COtrip App!
The new FREE COtrip Planner mobile app was designed to meet the growing trend of information on mobile and tablet devices for the traveling public. The COtrip Planner app provides statewide, real-time traffic information, and works on mobile devices that operate on the iOS and Android platforms. Visit the Google Play Store (Android devices) or the Apple Store (iOS devices) to download!