CDOT to begin traffic signal project on CO 115 at Broadway Street in Penrose
February 23, 2022 - Southeastern Colorado - The project includes installing new traffic signals and pedestrian crossings to improve safety
FREMONT County — Starting March 2, the Colorado Department of Transportation will begin a traffic signal and intersection improvement project on Colorado Highway 115 at Broadway Street in Penrose. Work includes adding new traffic signals, reconstructing the roadway, and installing sidewalks and pedestrian facilities in compliance with Americans with Disabilities (ADA) safety and accessibility guidelines. Sturgeon Electric Company has been selected as the prime contractor for this project.
The project is located on CO 115 at Broadway Street and Marilyn Drive in Penrose, a busy intersection that supports access to area residences and businesses and lots of pedestrian traffic. The work zone extends for half a mile on CO 115 from Mile Point 14.59 to MP 15.09 which is just north of US Highway 50 between Pueblo and Canon City.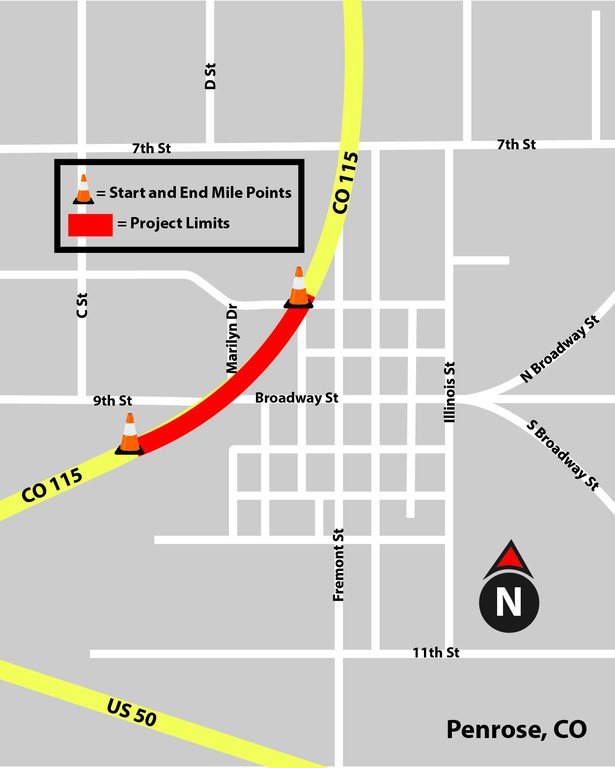 The intersection improvements are a much needed addition to this busy section of roadway. Creating a signalized intersection and pedestrian crossings with signage will result in an increased safety and fewer crashes. When complete, traffic will flow more efficiently and a safe walking environment will be preserved for pedestrians. 
The project will be performed in three phases with an anticipated completion date of later this summer. Phase I includes installing curb ramps and sidewalks. Phase II includes widening and reconstructing the roadway. New traffic signal installation and landscaping will be completed in Phase III. Work will be performed during daytime hours Monday to Friday with some night and weekend work expected.
Travel Impacts
Lane and sidewalk closures will be in place at the intersection of CO 115 and Broadway Street from project kickoff through completion. Full closures of Broadway Street to the east will exist during roadway reconstruction with detour signage in place offering alternate routes. Intermittent closures of CO 115, Broadway Street and Marilyn Drive will exist later in the project during traffic signal setup. Pedestrian access will be maintained during construction activities. 
Project Contact Information
Know Before You Go
Travelers are urged to "know before you go." Gather information about weather forecasts and anticipated travel impacts and current road conditions prior to hitting the road. CDOT resources include:
Remember: Slow For The Cone Zone
The following tips are to help you stay safe while traveling through maintenance and construction work zones.
Do not speed in work zones. Obey the posted speed limits.
Stay Alert! Expect the unexpected.
Watch for workers. Drive with caution.
Don't change lanes unnecessarily.
Avoid using mobile devices such as phones while driving in work zones.
Turn on headlights so that workers and other drivers can see you.
Be especially alert at night while driving in work zones.
Expect delays, especially during peak travel times.
Allow ample space between you and the car in front of you.
Anticipate lane shifts and merge when directed to do so.
Be patient!
Download the COtrip App!
The new FREE COtrip Planner mobile app was designed to meet the growing trend of information on mobile and tablet devices for the traveling public. The COtrip Planner app provides statewide, real-time traffic information, and works on mobile devices that operate on the iOS and Android platforms. Visit the Google Play Store (Android devices) or the Apple Store (iOS devices) to download!