CDOT celebrates project milestone on the I-70 Noise Wall Replacement Project in Denver
March 28, 2022 - Central/Eastern Colorado
Denver County— The Colorado Department of Transportation recently celebrated an exciting project milestone on the Interstate 70 Noise Wall Replacement Project in the City of Denver, as the first of the new noise wall panels are officially in place along the north side of I-70 between Tennyson Street and Lowell Boulevard. CDOT Executive Director Shoshana Lew and the I-70 Noise Wall project team were joined by Congressman Ed Perlmutter, Denver Mayor Michael B. Hancock, and Denver City Councilwoman Amanda Sandoval for the occasion. A media kit including photos and video of the old noise walls, photos and video of the new noise walls, photos from the event, and the full video of the event can be accessed at this link.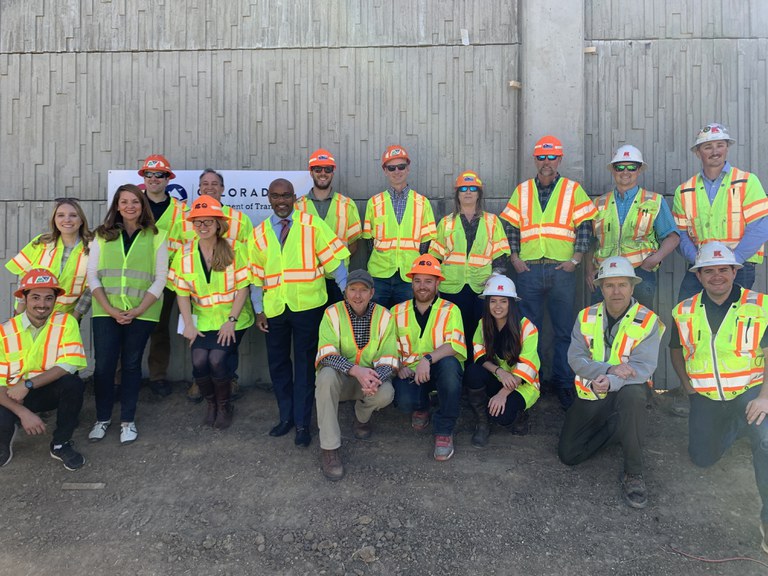 This phase of the project is replacing the significantly deteriorated timber noise walls on both sides of I-70 between Tennyson and Lowell, which are nearly 50 years old, with a series of new precast concrete wall panels. Kraemer North America is the contractor for this phase of work. The project will greatly improve the lifespan of the noise walls and the overall look of the highway in this area, and it will continue noise reduction by blocking the direct travel of sound waves from the highway to the adjacent homes.
"This project will improve safety as we won't be dealing with the falling timber fences, but it will also provide quality of life benefits for the people who live nearby with a better and more durable barrier from the highway noise and emissions along this busy stretch of I-70," said CDOT Executive Director Shoshana Lew. "That's why this project matters. The neighbors living close to I-70 have waited a long time for these improvements and we're excited to be in construction of this first phase of the project."
"So much traffic goes through this section of I-70, and this project is going to improve both the sight line of I-70 and the sound barrier for these neighborhoods," said Congressman Ed Perlmutter. "The fact that this is a focus of the local government, the state government, and the federal government is something I think all of us should be proud of."
"There are many pieces that go into making the transportation infrastructure in our city and region work the best that it can – from the surface road down to the sound walls," said Denver Mayor Michael B. Hancock. "Sound walls are critical infrastructure just like all the other pieces of our transportation system, because they mitigate the noise caused by the roadway for those living along it, improve quality of life and make our infrastructure stronger and more resilient."
"As a lifelong resident of the Northside, I can speak firsthand to the effects of living in an area that is bisected by highways. After years of advocating for updates to the sound walls, I am thrilled to celebrate the groundbreaking of this project that will improve the quality of life for my community," said Denver District 1 City Councilwoman Amanda Sandoval. "Thank you to everyone who made this project possible ­- I am greatly appreciative."
Replacing the timber noise walls along I-70 between Pecos Street and I-76 is a high priority for CDOT and part of the Department's 10-year plan. In early 2021, CDOT received federal stimulus funds for transportation projects across the state, which stemmed from the $900 billion COVID relief package passed and signed into law in Washington in late 2020. CDOT wasted no time putting those funds to work thanks to the 10-year plan list of shovel ready transportation projects that could immediately benefit residents of Colorado. From that stimulus funding, $9.7 million was allocated toward the I-70 Noise Wall Replacement project. CDOT quickly assembled an in-house design team to get this first phase of the project between Tennyson Street and Lowell Boulevard to the point of construction within a year of the identified funding. In mid-2021, CDOT secured approved funding through SB-260 for the remaining I-70 noise walls known as "Phase 2". At this time, design for Phase 2 is ongoing into early 2023, with construction expected to begin once design is complete.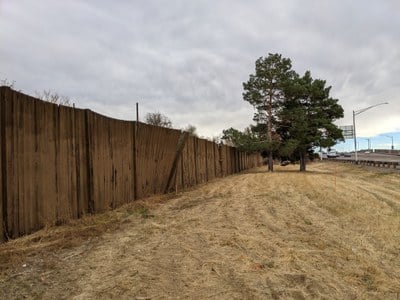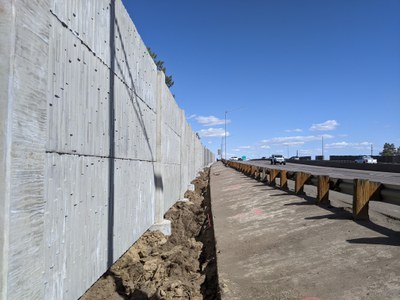 Before and after of the old timber walls vs. the new concrete panels

Project Location Map
Phase 1 Timeline
The estimated project schedule, dependent on weather and material availability:
Late October—December 2021: Preliminary work began prior to construction, such as utility location, tree removal, and offsite fabrication of the new wall panels. This planning and preliminary work will greatly minimize the duration in which the neighborhood is without a noise barrier.
Mid-January—March 2022: Demolition of existing timber walls on the north side of I-70 starting at Tennyson Street moving east to Lowell Boulevard. Installation of wall foundation and posts, followed by placing new concrete wall panels on the north side of I-70.
March—May 2022: Demolition of existing timber walls on the south side of I-70 starting at Lowell Boulevard moving west to Tennyson Street. Installation of wall foundation and posts, followed by placing new concrete wall panels on the south side of I-70.
June—July 2022: Landscaping restoration to reseed and plant trees in the area.
Travel Impacts
While construction continues, motorists and nearby residents should expect:
Right shoulder closures on east and westbound I-70 between Lowell Boulevard and Tennyson Street.
Single lane closures on West 48th Avenue North and West 48th Avenue South.
Periodic daytime full closures of West 48th Avenue North and West 48th Avenue South will occur during installation of the new concrete wall panels (see estimated project timeline above). Motorists are encouraged to use an alternate route during these closures.
Variable message sign boards will be placed in the neighborhoods in advance of lane closures.
Residents near I-70 should expect typical construction noise during working hours.
Daytime work hours are Monday through Friday from 7:00 a.m. to 5:00 p.m. Potential nighttime work could take place.
Project Information
For additional information about this project:
Know Before You Go
Travelers are urged to "know before you go." Gather information about weather forecasts and anticipated travel impacts and current road conditions prior to hitting the road. CDOT resources include:
Remember: Slow For The Cone Zone
The following tips are to help you stay safe while traveling through maintenance and construction work zones.
Do not speed in work zones. Obey the posted speed limits.
Stay Alert! Expect the unexpected.
Watch for workers. Drive with caution.
Don't change lanes unnecessarily.
Avoid using mobile devices such as phones while driving in work zones.
Turn on headlights so that workers and other drivers can see you.
Be especially alert at night while driving in work zones.
Expect delays, especially during peak travel times.
Allow ample space between you and the car in front of you.
Anticipate lane shifts and merge when directed to do so.
Be patient!