CO 82 Aspen Roundabout project begins preliminary work ahead of major improvements mid April
March 25, 2022 - Northwestern Colorado - Clearing of shrubs and trees makes way for temporary configuration before mobility and safety improvement work begins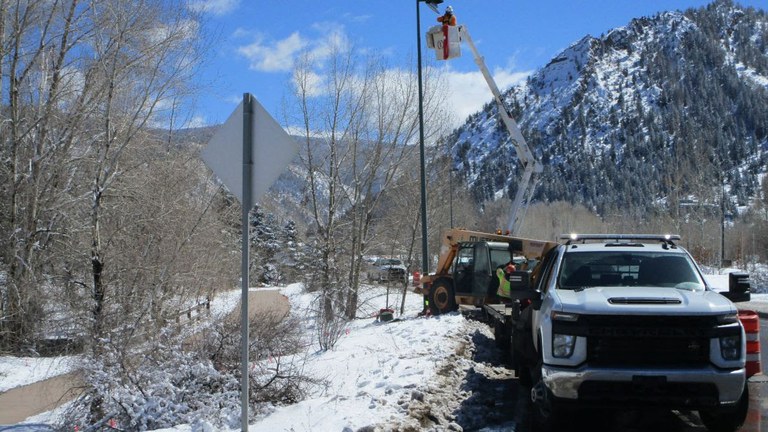 Pitkin County - The Colorado Department of Transportation and contractor partner, United Companies, began preliminary work clearing shrubs and trees around the Colorado Highway 82 Aspen roundabout at the intersection with Maroon Creek Road and Castle Creek Road. The location is known as the Maroon Creek roundabout. The preliminary work this month is anticipated to continue into early April and is weather dependent. Crews will have lane closures in place only when necessary, to minimize impacts on ski traffic. As work progresses, motorists should plan for 15-30 minutes more travel time and heavy traffic when driving through the project area. CDOT and partner agencies strongly recommend that motorists consider traveling by bus with the Roaring Fork Transportation Authority when possible. Please see below for more information about traffic impacts.
Starting mid April, crews will reconstruct the roundabout as part of a larger mobility and safety improvements project on CO 82 between the Aspen Airport Business Center and the City of Aspen. The roundabout reconstruction will replace the existing asphalt surface with concrete paving, which is a more durable surface. This section of CO 82 receives heavy traffic to and from Aspen. Reconstructing the roundabout in concrete will provide a stronger, more resilient roundabout, which has been plagued by potholes in recent years. Motorists will continue to be able to travel through the roundabout during reconstruction. Work begins in mid-April in order to minimize impacts to ski traffic while also using the limited construction season in the Roaring Fork Valley. Roundabout work is targeted to be complete by early July. Please see further below for more information about the project schedule.
Also starting mid April, McLain Flats Road, Smith Way and Cemetery Lane will be an alternate route option for passenger vehicles (light trucks and cars). Commercial motor vehicles should continue to use CO 82 throughout the project (unless their destination is on McLain Flats road). Commercial motor vehicles refers to large or oversized vehicles, like tractor trailers or delivery trucks.
Roundabout reconstruction is expensive and this project was made possible with support from the City of Aspen, the Roaring Fork Transportation Authority, Pitkin County and the Elected Officials Transportation Committee, which are essential partners in the reconstruction of the roundabout. Each agency is contributing to the cost of the roundabout work and has worked closely with CDOT on how best to carry out the project. The City of Aspen contributed $980,000; RFTA contributed $300,000; the EOTC contributed $271,000; and Pitkin County $100,000. During project preparation, CDOT and these agency partners worked closely to modify construction methods to limit the disturbance area, coordinating closely on tree replacement, and arranging a schedule to accommodate local events and businesses as much as possible.
"The Colorado Highway 82 corridor is critical to the local economy and safety, and CDOT appreciates the teamwork that has allowed this safety improvement project to move forward," says Regional Transportation Director Michael Goolsby. "By working together, CDOT is able to reconstruct a more durable, long-lasting roundabout."
In May, crews will begin surface treatment improvements on CO 82 between the AABC and the Maroon Creek roundabout. Paving will take place from the Aspen Airport Business Center east to the Maroon Creek Roundabout. Asphalt paving operations will be conducted at night and are anticipated to wrap up this fall. Crews will also conduct repairs to the Castle Creek Bridge, Maroon Creek Bridge as well as guardrail replacement, traffic control device upgrades and striping improvements. Repairs to the Castle Creek Bridge will take place in September, when traffic is historically the lowest on the CO 82 corridor.
Traffic Impacts in March
Motorists should plan for additional 15-30 minutes in travel time. Considerable vehicle congestion can be expected including long delays due to the volume of traffic that travels through the Maroon Creek Roundabout and roadways that feed into it.
Commuters and visitors are encouraged to ride RFTA, either from the communities in which they live, or from the Brush Creek Park and Ride. Bus service from the Brush Creek Park and Ride into Aspen or Snowmass is free. Parking at the Brush Creek Park and Ride lot is also free. Information about RFTA bus service can be found at www.rfta.com.
Eastbound or up valley traffic lane closures will be in place 9 a.m.-5 p.m. each day.
Westbound or down valley traffic lane closures will be implemented from 7 a.m.-3 p.m. each day.
Schedule & Milestone Timeline
CO 82 Roundabout Reconstruction
Schedule: Mid-March to June
Improvements: Mid-March clearing and grubbing of trees and bushes. Roundabout improvements begin mid April. Crews will reconstruct the roundabout with a more durable concrete surface.
Impact: One lane will be open through the roundabout. Starting mid April, the McLain Flats detour is an option for motorists.
Milestone 1: Roundabout Reconstruction
Anticipated completion date: End of June
CO 82 Resurfacing
Schedule: June through August
Improvements: Asphalt repave, Maroon Creek Bridge deck resurfacing, guardrail replacement, ADA ramp replacement
Impact: Majority of work will take place at night. CO 82 remains open with one lane in each direction.
Alternate route: McLain Flats detour continues to be an option.
CO 82 Castle Creek Bridge Work
Schedule: September
Improvements: Replacement of a bridge joint
Impact: During this construction, traffic will be routed onto the Power Plant Road detour.
Milestone 2: Castle Creek Bridge Work
Start date: Early September
Anticipated completion date: Early October
About the CO 82 Aspen Roundabout Project
This is a roundabout reconstruction and surface treatment project in Pitkin County along Colorado Highway 82. The project limits are from Mile Point 36.5-40.5. The roundabout reconstruction will replace the existing asphalt surface with concrete paving at the intersection of CO 82, Maroon Creek Road and Castle Creek Road. Additional work includes bridge maintenance, guardrail replacement, traffic signal controller upgrades, ADA ramp upgrades and pavement marking. CO 82 will continue to be open to motorists during the project.
Stay Informed and Connect with the Project
For questions about the project or to sign up for weekly traffic impact updates, please contact us at:
Know Before You Go
Travelers are urged to "know before you go." Gather information about weather forecasts and anticipated travel impacts and current road conditions prior to hitting the road. CDOT resources include:
Remember: Slow For The Cone Zone
The following tips are to help you stay safe while traveling through maintenance and construction work zones.
Do not speed in work zones. Obey the posted speed limits.
Stay Alert! Expect the unexpected.
Watch for workers. Drive with caution.
Don't change lanes unnecessarily.
Avoid using mobile devices such as phones while driving in work zones.
Turn on headlights so that workers and other drivers can see you.
Be especially alert at night while driving in work zones.
Expect delays, especially during peak travel times.
Allow ample space between you and the car in front of you.
Anticipate lane shifts and merge when directed to do so.
Be patient!
Download the COtrip App!
The new FREE COtrip Planner mobile app was designed to meet the growing trend of information on mobile and tablet devices for the traveling public. The COtrip Planner app provides statewide, real-time traffic information, and works on mobile devices that operate on the iOS and Android platforms. Visit the Google Play Store (Android devices) or the Apple Store (iOS devices) to download!