A DUI will cost you a pot of gold, says CDOT, ahead of St. Patrick's Day Weekend enforcement period ☘️
March 16, 2022 - Statewide Traffic Safety - Law enforcement urges partygoers to not test their luck by driving impaired
Statewide — The luck of the Irish will only get you so far if you choose to drive impaired. CDOT is joining forces with local law enforcement and Colorado State Patrol for the St. Patrick's Day Weekend enforcement, March 17-20. The message is clear — don't risk it.
A DUI will put you in a pinch and cost you a lot of green. Penalties are determined by the court and may vary but could exceed $13,500. According to NoDUIColorado.org, you could be required to pay the following fees if you get a DUI:
Increased Auto Insurance – $3,600
Ignition Interlock Service – $2,172
Alcohol/Drug Treatment & Education – $1,000
Defense Attorney – $3,655
Arrest, Court & Legal Fees – approx. $2,300
Department of Revenue & DMV Fees – approx. $773
"We expect a lot of spirited festivities during this holiday, especially since the last two were impacted by the pandemic," said Col. Matthew Packard, Chief of the Colorado State Patrol. "But I wouldn't test your luck behind the wheel, even if you are Irish. Impaired driving is reckless and law enforcement will be watching because we know the monetary cost of a DUI is the least of someone's worries when considering the impact of a serious or fatal crash."
Last year's St. Patrick's Day Weekend enforcement period ended with 229 arrests among 101 participating agencies. Recently the Presidents Day DUI enforcement period resulted in 140 arrests.
During enforcement periods, drivers may encounter sobriety checkpoints, saturation patrols and additional law enforcement on duty dedicated to impaired driving enforcement. Local law enforcement agency plans can be found at codot.gov/safety/traffic-safety-reporting-portal.
"Celebrations will likely occur all weekend long, but the party cannot extend to the roads," said CDOT's Office of Transportation Safety Director Darrell Lingk. "Being safe and sober behind the wheel should not be a difficult proposition, especially with so many alternative ways to get to your destination. So don't put your life, or that of others, at risk. It's that simple."
With impaired driving accounting for one-third of crashes and fatalities across the United States in mind, AAA's Tow To Go program returns for the festive weekend, offering partygoers a backup plan to get home safe if not sober.
For yearly impaired-driving crash and fatality data in Colorado, visit codot.gov/safety/traffic-safety/crash-data-management/fatal-crash-data. For trends involving impaired driving court cases, drug toxicology results and other impaired driving data, visit the Colorado Driving Under the Influence dashboard at https://ors.colorado.gov/ors-dui.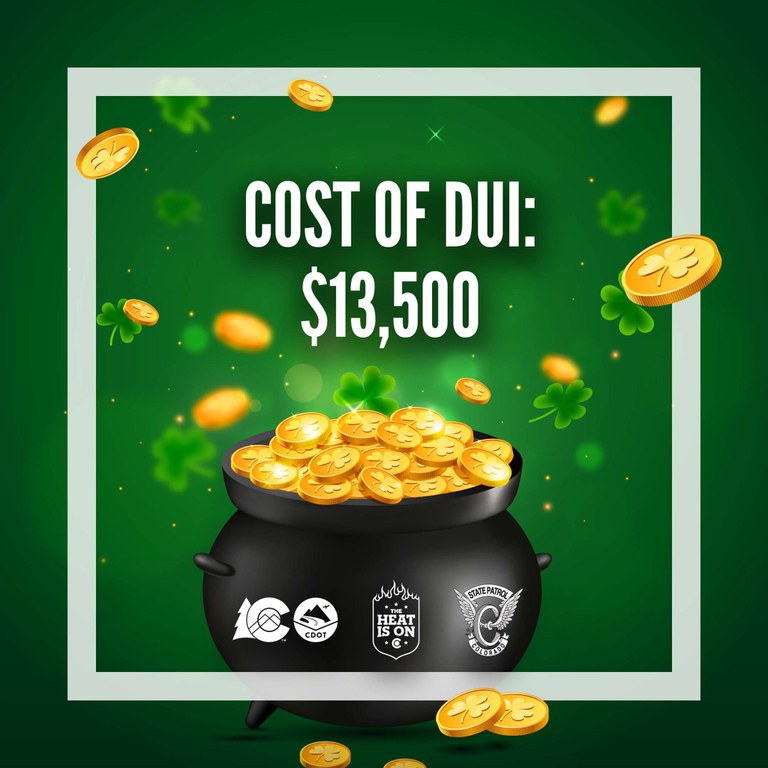 About The Heat is On
The CDOT Highway Safety Office provides funding to Colorado law enforcement for impaired driving enforcement, education and awareness campaigns. The Heat Is On campaign runs throughout the year, with 16 specific high-visibility impaired driving enforcement periods centered on national holidays and large public events. Enforcement periods can include sobriety checkpoints, saturation patrols and additional law enforcement on duty dedicated to impaired driving enforcement. Find more details about the campaign, including impaired driving enforcement plans, arrest totals and safety tips at HeatIsOnColorado.com. More information about DUI laws in Colorado can be found at NoDUIColorado.org. Learn more about CDOT's dedication to keeping Colorado roads safe, including impaired driving enforcement objectives, arrest data and safety information at codot.gov/safety.
Know Before You Go
Travelers are urged to "know before you go." Gather information about weather forecasts, anticipated travel impacts, and current road conditions prior to hitting the road. CDOT resources include:
Remember: Slow For The Cone Zone
The following tips are to help you stay safe while traveling through maintenance and construction work zones.
Do not speed in work zones. Obey the posted speed limits.

Stay Alert! Expect the unexpected.

Watch for workers. Drive with caution.

Don't change lanes unnecessarily.

Avoid using mobile devices such as phones while driving in work zones.

Turn on headlights so that workers and other drivers can see you.

Be especially alert at night while driving in work zones.

Expect delays, especially during peak travel times.

Allow ample space between you and the car in front of you.

Anticipate lane shifts and merge when directed to do so.

Be patient!
Download the COtrip App!
The new FREE COtrip Planner mobile app was designed to meet the growing trend of information on mobile and tablet devices for the traveling public. The COtrip Planner app provides statewide, real-time traffic information, and works on mobile devices that operate on the iOS and Android platforms. Visit the Google Play Store (Android devices) or the Apple Store (iOS devices) to download!