Emergency bridge deck repair underlines the urgency to fix I-70 Floyd Hill
March 3, 2022 - Central/Eastern Colorado
Clear Creek County - CDOT crews have completed an emergency bridge deck repair on westbound Interstate 70 at Exit 244, the exit for US 6 at the bottom of Floyd Hill in the I-70 Mountain Corridor. In the morning hours of Wednesday, March 2, CDOT identified a large pothole in the right lane on the westbound I-70 bridge at Exit 244 and quickly deployed the necessary teams to respond and make repairs. The damage was to the bridge deck and not to the structure. The aging bridge is structurally safe for traffic but is in need of replacement.
"Emergency repairs have become the norm for this vital stretch of the I-70 mountain corridor with decades of extreme weather and heavy traffic use, plus there have been no sustainable improvements since this section was built in the early 1960s," said CDOT Executive Director Shoshana Lew. "Improvements can't come fast enough. CDOT is moving forward with procurement and a schedule to rebuild this eight-mile section of I-70 and we will be seeking a federal grant that is critically important to the movement of people and goods throughout the state and beyond."
Less than a week ago, partners including United States Secretary of Transportation Pete Buttigieg, Gov. Jared Polis, Senators Michael Bennet and John Hickenlooper and Congressman Joe Neguse held an event announcing infrastructure investment to rebuild bridges like this one.
"We're filling potholes and fixing our roads so Coloradans can spend less time in traffic and more time with their families. These important upgrades to Floyd Hill will go a long way toward improving safety and saving people time," said Gov. Polis.
6/12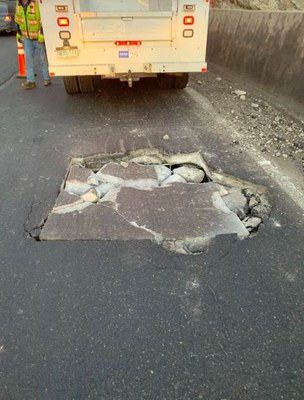 Pothole in the bridge deck on westbound I-70 at Exit 244
6/12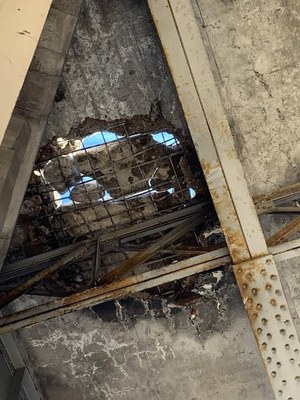 CDOT crews replacing the rebar
7/12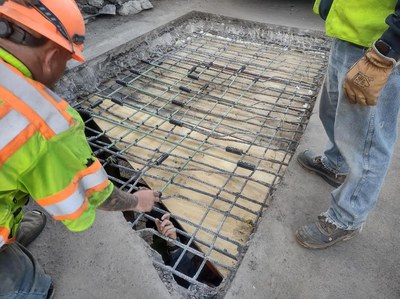 Crews filling the hole with concrete
5/12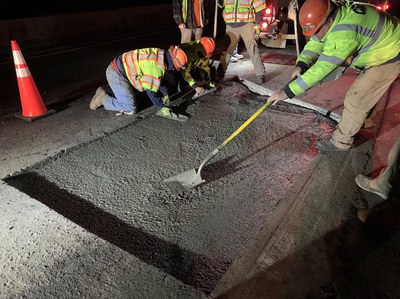 lt paving over the repaired area
The lane was immediately closed to traffic and remained closed until repairs were complete. CDOT crews, including bridge experts on staff, worked hard and swiftly through the day and overnight to repair the pothole including replacing the corroded rebar, adding additional reinforcement underneath the bridge, patching it with concrete, and then paving the area with asphalt. Repairs were completed and the lane opened to traffic by 9 a.m. Thursday, March 3.

Project Background:
CDOT is working to deliver a $700 million project to improve eight miles of I-70 between Floyd Hill, west of Evergreen, and the Veterans Memorial Tunnels, east of Idaho Springs. This section has not had significant improvements since it was built in the early 1960's. There are tight bottlenecks and a dire need to replace the aging westbound I-70 bridge at the bottom of Floyd Hill. Improvements will relieve congestion, rebuild bridges, enhance multi-modal travel, and improve wildlife habitat and access to Clear Creek and the Clear Creek Greenway.
CDOT has been working collaboratively with local communities, state and federal agencies, environmental groups, and other stakeholders to develop a solution for this vital stretch of highway. The interstate would be elevated above the canyon, similar to the stretch through Glenwood Canyon west of Vail, to offer drivers a scenic view of this gateway to the mountains and remove the highway from the floor of the canyon, opening it up to improved wildlife and recreational uses.
Key Project Elements:
Adding a third westbound travel lane, which will be an Express Lane, from Floyd Hill (where the highway currently narrows from three to two lanes) through the Veterans Memorial Tunnels and reconstructing horizontal curves to provide more consistent and safer speeds.
Adding a missing frontage road connection between US 6 and the Hidden Valley/Central City Parkway interchange to provide an alternate route to I-70 during emergencies and improving the Clear Creek Greenway trail for multimodal and recreational users.
Improving interchanges and intersections throughout the project area.
Adding an auxiliary lane to I-70 in the eastbound (uphill) direction of Floyd Hill between the US 6 interchange and the Hyland Hills/Floyd Hill interchange.
Reducing animal-vehicle conflicts and improving wildlife connectivity.
Providing two permanent air quality monitors at Floyd Hill and Idaho Springs to collect data on local air quality conditions and trends.
Coordinating rural broadband access with local communities, including providing access to existing/planned conduits and fiber in the interstate right of way.
Implementing a new micro-transit service from Denver to the mountains including park-and-ride facilities and regular service in vehicles that are sized to utilize peak period shoulder express lanes.
Project Schedule:
Construction on early projects, including wildlife crossings near Genesee and Empire (east and west of the Floyd Hill area), roundabout intersections between the Beaver Brook/Floyd Hill and Hyland Hills/Floyd Hill interchanges, and micro-transit infrastructure, could begin as soon as summer/fall 2022. Major westbound I-70 construction could begin in 2023 and continue through 2027.
Project budget:
Estimated budget to deliver the project is $700 million. $460 million in state funding has been identified, with the remainder coming from federal sources.
For more info:
I-70 Floyd Hill to Veterans Memorial Tunnels Improvements
Rendering of completed project - I-70 at Floyd Hill