CDOT urges motorists in the Denver region and along the Front Range to plan ahead for a snowy afternoon commute; statewide impacts continue through tomorrow
March 9, 2022 - Statewide News - Plows are out in force, but drivers need to prepare for and respect winter conditions
CDOT urges motorists to limit or avoid travel during the brunt of the snowstorm expected to impact the afternoon and evening commute in the Denver region and along the Front Range. During recent winter weather events, drivers failing to slow down and proceed with caution have caused crashes that forced extended closures and significant emergency response.
What motorists need to know:
Monitor the weather and road conditions and avoid or limit travel during the worst of the storm, which is the Wednesday afternoon rush-hour - fewer vehicles on the road reduce spin outs and crashes.
While crews have pretreated the interstates in the metro region and plows are fully deployed to clear roads, pavement conditions will be slick with driving conditions becoming more challenging during the afternoon commute.
If you are out, have the appropriate tires for the weather, make sure your windshields are clear and your vehicle is prepared for winter driving, take it slow, leave plenty of following distance, and don't pass plows.
The lead causes of spin outs and crashes are driving too fast, making sudden stops and following too closely. One spin-out can cause a multi-car crash.
Expect difficult driving conditions on the I-70 mountain corridor and mountain areas particularly for skiers heading for the slopes tomorrow morning.
What CDOT is doing:
We've deployed nearly 100 plows in the Denver metro region, including the I-70 mountain corridor to the Eisenhower-Johnson Memorial Tunnels. More plows are out statewide.
In the Denver region, crews have pre-treated interstates. The pretreatment is applied before the storm and helps to break up the ice and snow. Plowing begins once snow accumulates.
Crews work continuously through the storm, focusing first on the interstates and other major state-maintained roadways with the highest traffic volumes. Once the storm subsides, crews will plow other state routes. Motorists often believe that CDOT maintains local and residential roads, including neighborhood streets. However, cities and counties are responsible for local and residential roads.
Other statewide impacts:
Northeastern region - Snow and cold are affecting traffic on I-25 and other roads, especially on bridges and overpasses. Expecting continued snow through the day to have an impact on the evening commute and into Thursday's morning drive.
Southeastern region - Heavier accumulation of snow is expected in the mountainous areas of southeast Colorado, particularly south of US 50 as well as the Palmer Divide. Wind gusts could cause blowing and drifting snow, resulting in low visibility, particularly along US 50 and I-25 corridor. Motorists should prepare for commutes to be impacted by winter driving conditions on Wednesday evening and Thursday, with bitter cold temperatures remaining through Friday morning. The 14 southeastern counties will have 80 to 100 plows out around the clock throughout the duration of the storm.
Western & southern regions - Snow has begun to fall across the northern mountains of the state and is spreaded to the southern mountains. Heavy snow and snow squalls will make travel difficult, if not impossible, especially on mountain passes. (Squalls are short but intense bursts of snow accompanied by strong winds that can produce whiteout conditions.) Travelers should be aware that freezing, snowy weather will impact lower elevations as well. This prolonged, multi-day storm, expected to come to an end on Friday, will be followed by freezing temperatures running 20-30 degrees below normal.
The storm is moving in from north to south and lasting into Friday.
Accumulations:
3-7" plains
5-9" foothills
7-11" Front Range mountains
8-14" western mountains
Commutes Affected:
PM Wednesday
AM Thursday
PM Thursday (limited)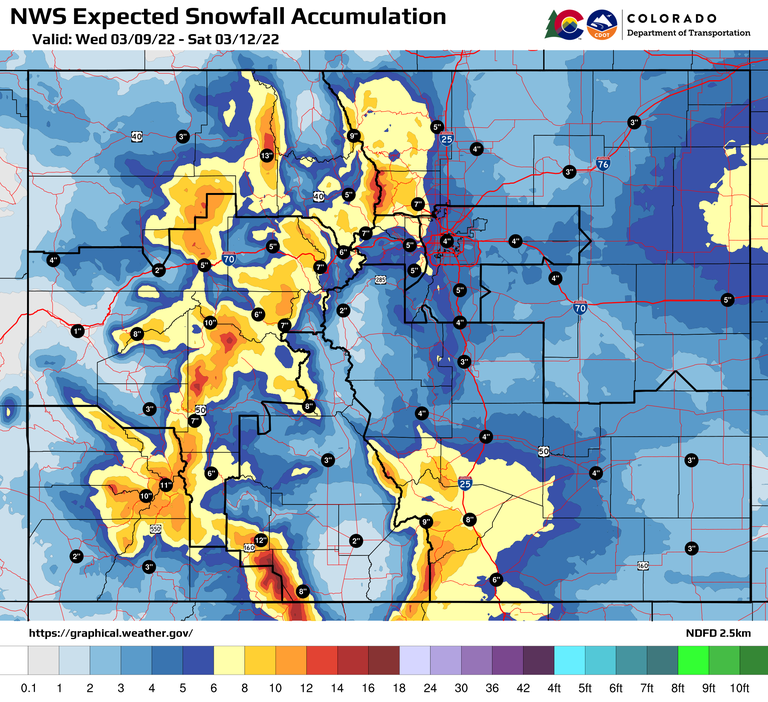 Bow to the plow
It is illegal to pass a snowplow when it is operating in a tandem formation with one or more snowplows. Tandem plowing staggers multiple plows to cover all lanes and clear the entire roadway in one sweep. It is extremely dangerous for motorists to try and pass plows in this formation because you could encounter white-out conditions and ridges of snow between lanes.
In general, don't pass plows because they are pushing snow, slush, rocks and other debris. That debris could damage your car and temporarily obstruct your view.
Don't crowd plows because they drop de-icer. Make sure to stay back three to four car lengths. If you are too close, the de-icer could hit your car. Also, a plow might need to make a sudden stop, so make sure you have plenty of room to do the same!
Chain and traction laws
When weather conditions warrant, CDOT will activate the Traction Law. If weather conditions deteriorate, CDOT will activate Chain Laws for passenger and commercial vehicles. Motorists will be alerted to an active Traction or Chain Law by highway signage. For more information on the Traction Law and Passenger Vehicle Chain Law requirements, click here.
Stay Informed
Travelers are urged to "know before you go." Gather information about weather forecasts and anticipated travel impacts and current road conditions prior to hitting the road. CDOT resources include:
About Winter Wise
CDOT's Winter Wise campaign focuses on education, tools and resources to help keep drivers safe on Colorado's winter roads. To learn more and view helpful tips for winter driving, visit winter.codot.gov. For specific information about I-70 and other highway travel conditions, motorists can call 511 or check COtrip.org. Additionally, drivers can check Twitter for up-to-date travel information via @ColoradoDOT. For more detailed information about the Traction and Passenger Vehicle Safety Laws, snowplow laws, safety stats and frequently asked questions, visit winter.codot.gov.