Wildlife fencing to be installed along US 24/285 east of Johnson Village
March 25, 2022 - Southwestern Colorado - Project will reduce wildlife-vehicle collisions
Chaffee County — The Colorado Department of Transportation and ABCO Contracting, Inc. will install new wildlife fencing and earthen big game ramps along US Highway 24/285 east of Johnson Village. The three-mile-long project will stretch between mile points 213.5 and 216.5. Crews will begin work on Mon., March 28. The project is expected to be completed by early September.
The project work will include installing three miles of new fencing on both sides of the highway, removing old fencing, installing deer guards at approach roads, and installing earthen game ramps. The project will cost $2.26 million and is the recipient of a $267,000 RESTORE Colorado grant awarded in 2020 to promote wildlife connectivity and reduce wildlife-vehicle collisions on the highway.
"Wildlife-vehicle collisions make up approximately 60 percent of the total crashes along this stretch of highway," said CDOT Regional Transportation Director Julie Constan. "The investment made to install the fencing will show us a tremendous benefit. Studies have shown that big game-vehicle collisions are expected to go down by at least 80 percent with the aid of fencing features."
Additionally, the high deer fencing will tie into existing drainage structures that are sufficiently large enough to offer crossing locations for large game. The new fencing will funnel wildlife to these locations, an important aspect of this project site, purpose, and design.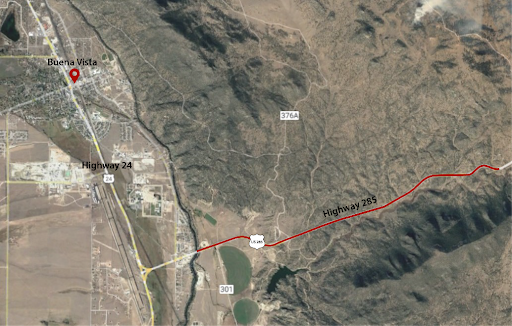 Travel Impacts
Daytime work hours will be from 8 a.m. to 5 p.m., Monday through Friday
Motorists will experience minimal delays with most work taking place off the travel lanes on the shoulder of the highway.
Travelers can expect single turn lanes on the county road and access road entrances within the work zone.
Speeds will be reduced to 40 mph through the work zone.
Project Contact Information
For additional information about this project, contact the project team.