Construction begins on the Firestone-Longmont mobility hub at I-25 and CO 119
January 30, 2023 - Northeastern Colorado - The hub will improve multimodal access to promote regional transit
Weld County — Starting Jan. 30, the Colorado Department of Transportation will begin construction on the Firestone-Longmont Mobility Hub project located at the I-25 and CO 119 interchange.
Communities along the I-25 corridor are continuing to rapidly expand, creating more congested roadways. This is one of several mobility hubs along the I-25 corridor that are currently under construction and will significantly improve bus service along I-25.
The hub will improve multimodal access to promote regional transit and includes:
A northbound pedestrian pick-up and drop-off platform along the I-25 off-ramp
A new pedestrian pick-up and drop-off platform on the east side of the southbound on ramp. A sidewalk and pedestrian underpass to connect users from the Park-n-Ride on the east side of I-25 to the station platforms on the west side of I-25
Greater capacity with 269 parking spaces
Large sidewalks and bicycle storage racks allow for multiple modes to utilize the hub and enhance multimodal connectivity
Bus shelters will be installed with an electronic public information board with real-time Bustang departure and arrival schedules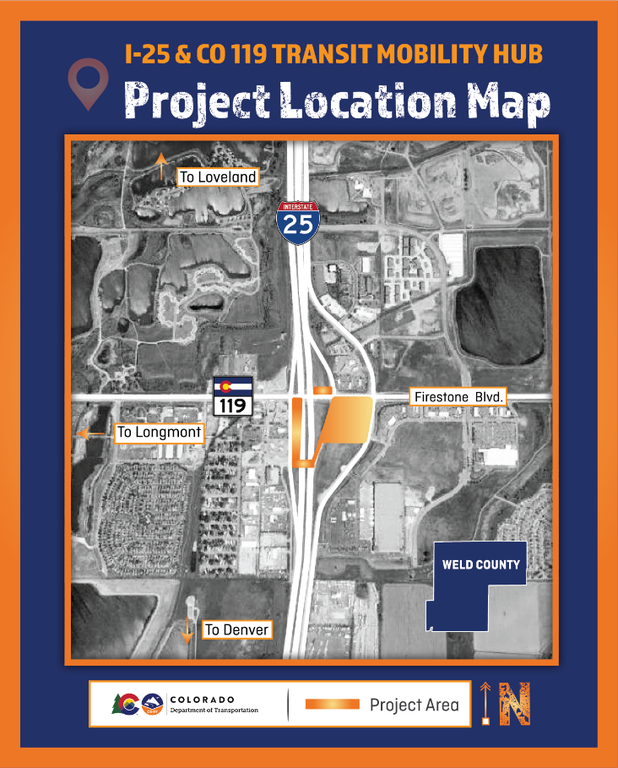 The Firestone-Longmont Mobility Hub is a part of the multimodal connectivity of the I-25 North improvements. For more information visit the project website listed below. The anticipated completion date of the project is August 2024.
Travel Impacts
Daytime work hours are expected between the hours of 7 a.m. to 7 p.m., Monday through Friday
Periodic overnight work between the hours of 7 p.m. and 7 a.m. will include lane closures on the off-ramp, on-ramps, and on I-25. Please sign up for project notifications below to be alerted of any closures that may impact your travel
Motorists can expect periodic single-lane closures on CO 119 and I-25, on-and off-ramp closures, and sidewalk closures
Speed limits will be reduced as needed to 55 mph through the work zone. Please obey speed limit signs
11-foot lane restrictions on the southbound I-25 on-ramp and the northbound off-ramp at Exit 240
In the event of unforeseen circumstances or weather, work may need to be rescheduled if operations cannot be completed.
Project Contact Information
For additional information about this project, contact the project team.
Know Before You Go
Travelers are urged to "know before you go." Gather information about weather forecasts and anticipated travel impacts and current road conditions prior to hitting the road. CDOT resources include:
Remember: Slow For The Cone Zone
The following tips are to help you stay safe while traveling through maintenance and construction work zones.
Do not speed in work zones. Obey the posted speed limits.
Stay Alert! Expect the unexpected.
Watch for workers. Drive with caution.
Don't change lanes unnecessarily.
Avoid using mobile devices such as phones while driving in work zones.
Turn on headlights so that workers and other drivers can see you.
Be especially alert at night while driving in work zones.
Expect delays, especially during peak travel times.
Allow ample space between you and the car in front of you.
Anticipate lane shifts and merge when directed to do so.
Be patient!
Download the COtrip App!
The new FREE COtrip Planner mobile app was designed to meet the growing trend of information on mobile and tablet devices for the traveling public. The COtrip Planner app provides statewide, real-time traffic information, and works on mobile devices that operate on the iOS and Android platforms. Visit the Google Play Store (Android devices) or the Apple Store (iOS devices) to download!