Improvement project begins on Highway 385
June 2, 2023 - Southeastern Colorado - Work is underway to replace a bridge and realign a segment of US 385 between Grenada and Bristol
Prowers County — Work is underway to replace a bridge and realign a segment of US 385 between Grenada and Bristol, near County Road FF, north of the Arkansas River.
The project consists of shifting the highway 35 feet east of its current location for 2.6 miles, providing for a smoother alignment. An 88-year-old timber bridge also is being replaced with a concrete box culvert to accommodate higher accumulations of water and lower the risk of roadway flooding.
Traffic Impacts
Work hours are 7 a.m. to 5 p.m., Monday through Friday.
Temporary traffic signal alternating one lane of traffic
Other lane and shoulder closures are in place, with speeds reduced to 40 mph.
Traffic fines doubled in the work zone.
Motorists urged to slow down approaching the work zones, drive with caution, allow extra space between vehicles, and give themselves extra travel time.
Tricon 2 of Castle Rock is the contractor for the $3,775,000 million project. It is schedule for completion in fall 2023.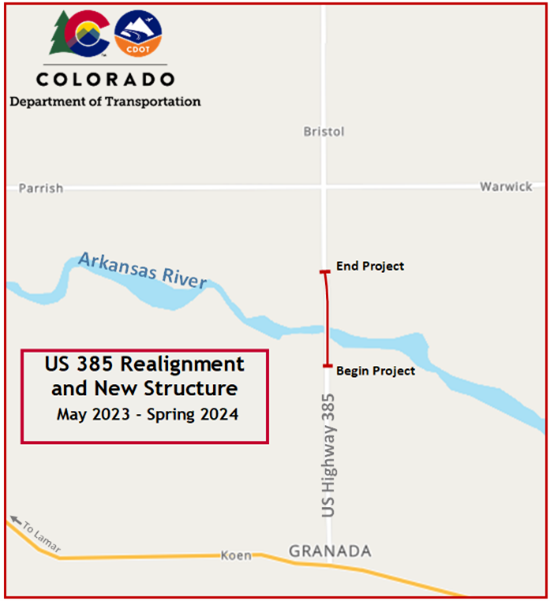 Project Information
Know Before You Go
Travelers are urged to "know before you go." Gather information about weather forecasts and anticipated travel impacts and current road conditions prior to hitting the road. CDOT resources include:
Remember: Slow For The Cone Zone
The following tips are to help you stay safe while traveling through maintenance and construction work zones.
Do not speed in work zones. Obey the posted speed limits.
Stay Alert! Expect the unexpected.
Watch for workers. Drive with caution.
Don't change lanes unnecessarily.
Avoid using mobile devices such as phones while driving in work zones.
Turn on headlights so that workers and other drivers can see you.
Be especially alert at night while driving in work zones.
Expect delays, especially during peak travel times.
Allow ample space between you and the car in front of you.
Anticipate lane shifts and merge when directed to do so.
Be patient!
Download the COtrip App!
The new free COtrip Planner mobile app was designed to meet the growing trend of information on mobile and tablet devices for the traveling public. The COtrip Planner app provides statewide, real-time traffic information, and works on mobile devices that operate on the iOS and Android platforms. Visit the Google Play Store (Android devices) or the Apple Store (iOS devices) to download!