US 160 McCabe Creek culvert replacement in Pagosa Springs is complete
June 29, 2023 - Southwestern Colorado - Improvements include new drainage structures, enhanced sidewalk safety features & updated guardrails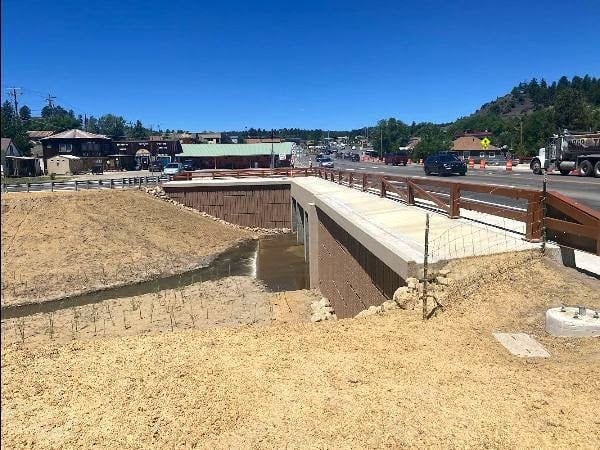 Archuleta County — The Colorado Department of Transportation, in collaboration with Four Corners Materials, announces the completion of the McCabe Creek culvert replacement project on US 160 in the town of Pagosa Springs.
This project replaced outdated metal culverts with new precast concrete box culverts. The new culverts are more durable in diverse environmental conditions, such as excessive amounts of rainfall or spring run-off from the mountains and drainage basin north of Pagosa Springs. The new culverts also provide increased resistance to corrosion and debris-induced damage, improved hydraulic efficiency and an extended lifespan.
In addition to the culvert replacement, the project encompassed the implementation of riprap lined drainage improvements. These shoreline protection and structure stability enhancements have created a new upstream and downstream channel, enabling more efficient drainage under the roadway and minimizing the risk of flooding. The improved drainage system contributes to the overall safety and functionality of the roadway.
More safety improvements include updated guardrails and bridge rails to safeguard against vehicles veering off the roadway and promoting safer travel for motorists. Utilities that were replaced include a new waterline, gas lines, geothermal pipes and underground electric lines.
Additionally, sidewalk enhancements and lighting were incorporated into the project, promoting ADA compliant pedestrian accessibility and safety. The improved sidewalks provide a more convenient and secure pathway for pedestrians, fostering a pedestrian-friendly environment in Pagosa Springs.
Know Before You Go
Travelers are urged to "know before you go." Gather information about weather forecasts and anticipated travel impacts and current road conditions prior to hitting the road. CDOT resources include:
Download the COtrip App!
The new free COtrip Planner mobile app was designed to meet the growing trend of information on mobile and tablet devices for the traveling public. The COtrip Planner app provides statewide, real-time traffic information, and works on mobile devices that operate on the iOS and Android platforms. Visit the Google Play Store (Android devices) or the Apple Store (iOS devices) to download!