Southbound US 287 at the CO 52 intersection will be fully closed this weekend during pipe installation work
March 1, 2023 - Boulder County - Detour route will be in place routing traffic to West 95th Street to bypass the closure
Boulder County – The Colorado Department of Transportation will implement a weekend closure of southbound US Highway 287 at the Colorado Highway 52 intersection from 4 a.m. on Saturday, March 4, through 3 p.m. on Sunday, March 5. The closure is necessary while crews perform phased irrigation pipe work at the south end of the intersection.
During the extended closure, all southbound traffic will be detoured west on CO 52 to W. 95th St., south to Lookout Road, and east to US 287. Variable message boards, signs and construction devices will be present alerting motorists to the closure and detour route. The closure is part of the US 287/CO 52 Intersection Improvement project that began in early January.
Project Location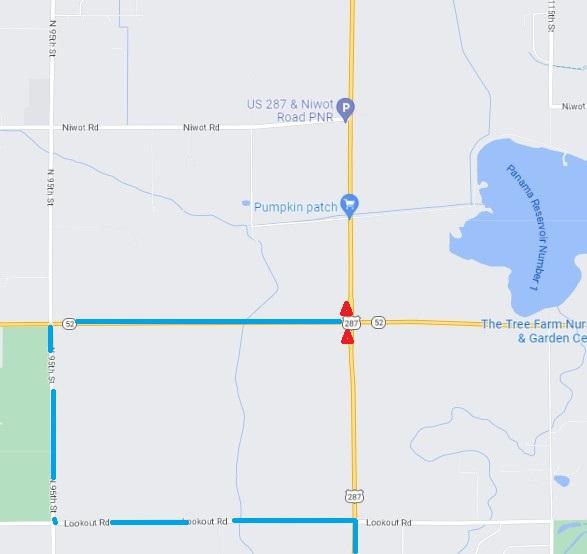 The project is located at the intersection of US 287 and CO 52 between the cities of Longmont and Broomfield in Boulder County. The work zone on US 287 extends north/south from MP 310.140 to MP 310.670, and east/west from MP 4.35 to MP 5.0 on CO 52.
Hours of Full Closure of Southbound US 287
The closure will be in place from 4 a.m. on Saturday, March 4, and run continuously until approx. 3 p.m. on Sunday, March 5.
All construction schedules are weather dependent and subject to change.
Traffic Impacts & Detour Route
No traffic will be permitted on southbound US 287 between CO 52 and Lookout Road during the period of closure
All southbound traffic will be detoured west on CO 52 to W. 95th St., then south to Lookout Road and east to US 287 to bypass the closure
Motorists can expect to add two miles and four minutes to travel times
Northbound US 287 traffic will not be affected by the closure
Residents located at the southwest corner of US 287 and CO 52 will be granted special access during the period of closure
Other single lane closures will be in place at the intersection during the weekend of March 3-5
Caution is advised
Lane closures and other traffic notices are posted weekly to COtrip.org
All construction schedules are weather dependent and subject to change
Project Contact Information
For additional information about this project, contact the project team:
Know Before You Go
Travelers are urged to "know before you go." Gather information about weather forecasts and anticipated travel impacts and current road conditions prior to hitting the road. CDOT resources include: