Eclipse traffic could be significant across southwest Colorado this week
October 9, 2023 - Southwestern Colorado - Motorists traveling US 160 towards Mesa Verde National Park are expected to encounter heavy traffic
Southwest & South-Central Colorado — The Colorado Department of Transportation anticipates increased traffic across southwest Colorado later this week as travelers migrate to areas in the path of "totality" for the solar eclipse on Sat., Oct. 14.
"This could be a significant traffic event, especially along the US 160 corridor from Walsenburg west to the Four Corners," said Julie Constan, CDOT Regional Transportation Director for southwest Colorado.
Motorists should plan for higher than normal traffic volumes in the southern half of the state especially on US 160, US 491 and CO 184 as Cortez, Dolores, Dove Creek and Mesa Verde National Park are destinations on the radar for maximum eclipse visibility. Traffic impacts could also occur in other areas of the state as a partial eclipse will be visible across most of Colorado.
CDOT urges motorists to pay attention to vehicles slowing down and pulling over due to potential disruptions caused by the eclipse for much of Saturday morning.
"We want the traveling public to plan ahead and enjoy their eclipse experience while still being safe. Drive defensively, pay attention and avoid distractions," noted Julie Constan, CDOT Regional Transportation Director for southwest Colorado.
Because the eclipse is on a Saturday morning, traffic is expected to be heavy this Thursday and Friday, and is likely to increase significantly on Saturday afternoon after the eclipse is completed.
The partial eclipse begins at approximately 9:11 a.m. Mountain Standard Time and ends at 12:04 p.m. Maximum annularity (greatest coverage of the sun by the moon) occurs at approximately 10:33 a.m. for southwest Colorado.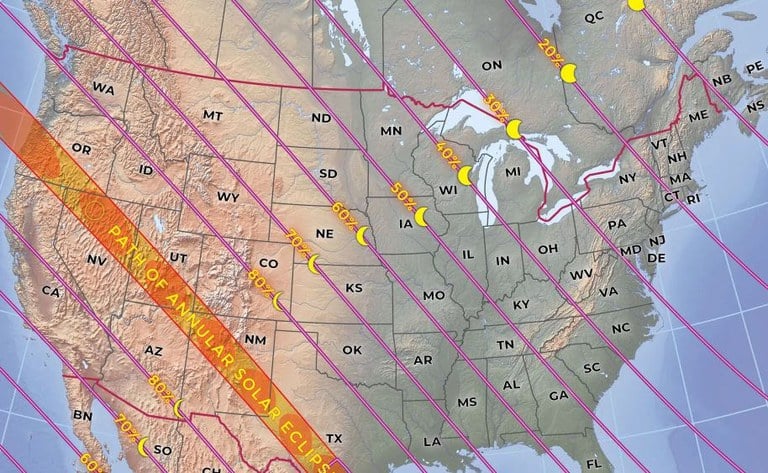 Eclipse Trip Tips
Research your Four Corners destinations as many Navajo Nation Parks and Recreation Areas may be closed during the eclipse for cultural reasons. For more closure information view the latest Press Release from the Navajo Nation
Discover safe public viewing locations in your area. Mesa Verde National Park is expecting an influx of visitors throughout the day and travelers are encouraged to monitor the park's website for viewing and parking information
Don't park on any highway shoulder or in any ditch area. That can be dangerous for you and other drivers, and a vehicle's exhaust could start a grass fire.
Plan ahead and move to a safe and legal area prior to the eclipse so you can enjoy the experience.
Use eclipse glasses to safely view the eclipse. These glasses provide eye protection from the sun. science.nasa.gov/eclipses/safety
Bring plenty of water, sunscreen and snacks. It is unknown how busy traffic will be, but with hotels and campsites sold out, high volumes of traffic are expected before and after this eclipse event.
Plan ahead and check the most current road conditions on COTrip.org.
Know Before You Go
Travelers are urged to "know before you go." Gather information about weather forecasts and anticipated travel impacts and current road conditions prior to hitting the road. CDOT resources include:
Remember: Slow For The Cone Zone
The following tips are to help you stay safe while traveling through maintenance and construction work zones.
Do not speed in work zones. Obey the posted speed limits.
Stay Alert! Expect the unexpected.
Watch for workers. Drive with caution.
Don't change lanes unnecessarily.
Avoid using mobile devices such as phones while driving in work zones.
Turn on headlights so that workers and other drivers can see you.
Be especially alert at night while driving in work zones.
Expect delays, especially during peak travel times.
Allow ample space between you and the car in front of you.
Anticipate lane shifts and merge when directed to do so.
Be patient!
Download the COtrip App!
The new free COtrip Planner mobile app was designed to meet the growing trend of information on mobile and tablet devices for the traveling public. The COtrip Planner app provides statewide, real-time traffic information, and works on mobile devices that operate on the iOS and Android platforms. Visit the Google Play Store (Android devices) or the Apple Store (iOS devices) to download!