I-70 Mountain Corridor Background and Resources
The I-70 Mountain Corridor is a 144-mile route that spans from the Denver metro area on the east to Glenwood Springs on the west. It is the only east-west interstate to cross Colorado and serves many unique communities and recreational areas along the way. To protect the cultural and environmental richness along the mountain corridor while working to improve mobility and transit, the Colorado Department of Transportation (CDOT) and the Federal Highway Administration (FHWA) developed a Programmatic Environmental Impact Statement (PEIS) under the National Environmental Policy Act (NEPA). After nearly a decade of consideration and review from numerous stakeholder groups, the Record of Decision (ROD) was approved in 2011. The PEIS is a Tier 1 document that identifies transportation needs and proposed alternatives for the corridor. The ROD selects a Preferred Alternative and defines how projects that make up the Preferred Alternative will move forward in the future to continue to protect the corridor's most valued assets. To learn more about the PEIS, ROD, and other NEPA resources related to the corridor, access the links below. If you have any questions or comments please email Vanessa Henderson.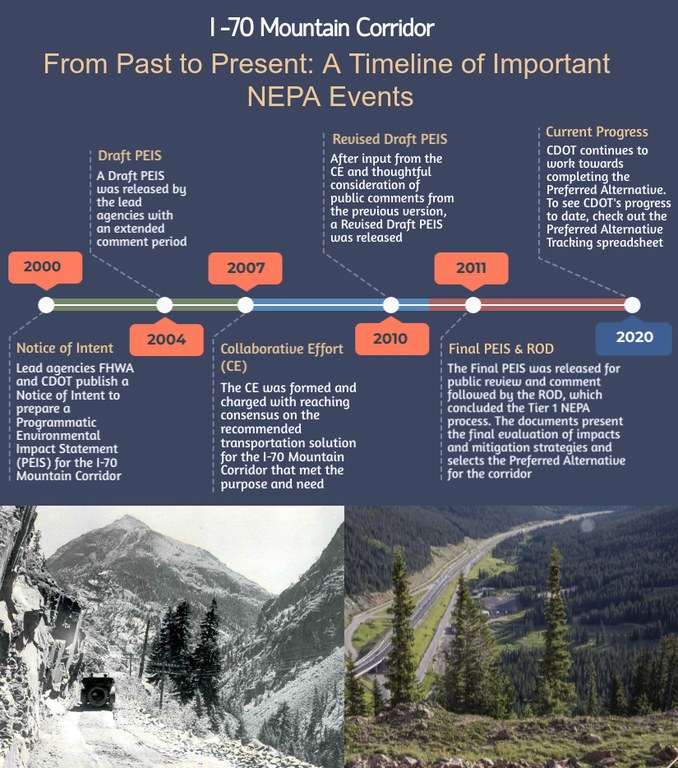 See below for NEPA documents related to the corridor. See the Projects and Studies page for specific projects within the corridor.