I-70 West Vail Pass Auxiliary Lanes | Planning Phase
Environmental Assessment & Section 4(f) Evaluation Public Review Presentation
Prefer to take your time and zoom in on graphics in the video? View this set of static video content:
Public Review Presentation in English   Presentación de revisión pública en español
Environmental Assessment   Finding of No Significant Impact
---
About the Study
CDOT conducted an environmental assessment and conceptual design for safety improvements on West Vail Pass. The study concluded in January 2021 with a Finding of No Significant Impact. The Proposed Action is a package of improvements including an eastbound and westbound auxiliary lane on I-70 on the west side of Vail Pass in Eagle County, from the East Vail exit (Mile Point 180) to the Vail Pass Rest Area (Mile Point 190). Other improvements include a widened inside shoulder, reconstruction of tight curves, wildlife underpasses and fencing, water quality improvements, truck ramp and parking enhancements, median glare screens and relocation of two miles of the recreation path that is currently next to I-70. The latest technology will be used to add variable speed limit and message signs and a way to close the pass immediately through a remote system when necessary.
A detailed description and evaluation of the proposed action has been documented in the environmental assessment (EA) and Section 4(f) evaluation, which considers benefits, impacts, and proposed mitigation for numerous environmental and community resources. View the EA online here. Project elements included:
implementing the I‐70 Mountain Corridor Context Sensitive Solutions (CSS) process.
providing public and stakeholder involvement Opportunities.
analyzing traffic and safety data and evaluating the impacts of proposed safety improvements.
collecting data and updating reports for potentially impacted environmental resources along the corridor.
conducting analysis to determine the most practical and least impactful solutions to add auxiliary lanes on West Vail Pass.
completing an environmental assessment (EA).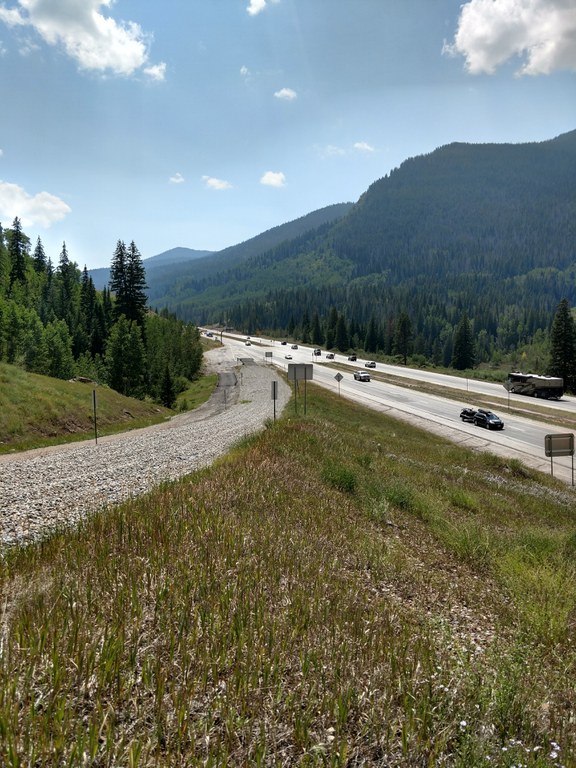 Runaway Truck Ramp on West Vail Pass
As outlined in the Environmental Assessment, CDOT plans to ultimately make the following improvements as funding allows:
Adding a 12-foot auxiliary lane in both directions of I-70 between Mile Points 180 (East Vail) and 190 (Vail Pass Rest Area)**
Modifying existing curves as needed to meet current federal design standards**
Installing variable message signs at key locations to warn drivers of upcoming curves, grade changes and incidents
Putting in lane closure improvements along eastbound I-70 approaching the East Vail exit and along westbound I-70 approaching the Vail Pass Rest Area
upgrading the existing emergency truck ramps near Mile Points 182 and 185 to current design standards**
Widening the inside shoulder of I-70**
Relocating approximately two miles of the Vail Pass Recreation Trail to accommodate the addition of the I-70 auxiliary lane
Constructing six wildlife underpasses and wildlife fencing throughout the corridor
Adding additional shoulder width in multiple locations to accommodate emergency pull-offs, emergency truck parking and staging of tow trucks
Increasing capacity to the existing commercial truck parking area along eastbound I-70 at the top of Vail Pass*
Improving median emergency turnaround locations to accommodate the maneuvering of larger emergency and maintenance vehicles*
Improving the chain station near Mile Point 182 to include additional parking, signage, lighting and better separation from I-70 traffic*
Installing avalanche protection near Mile Point 186*
CDOT received a $60.7 million INFRA grant to start design and construction on some of these improvements. The improvements marked with an (*) are still unfunded and those with an (**) are partially funded. Initial improvements to Vail Pass will only include building an auxiliary lane along eastbound I-70 between Mile Points 185 and 190.