Segment C: US 287 to 119th Street
About this Segment
Segment C is located between US 287 and 119th Street. CO 7 is constrained through this area, and a study is underway to identify improvements to Arapahoe Road (from US 287 to 119th Street) and 119th Street (from Arapahoe Road to CO 7/Baseline Road) to help handle the east-west multimodal travel needs of the corridor.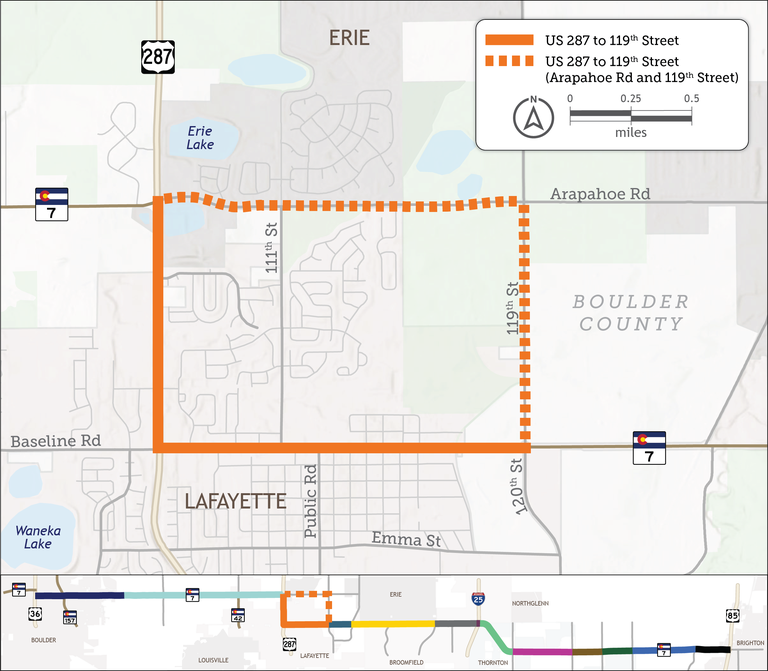 This study will provide recommendations to improve the travel experience and connect communities from Boulder to east of Lafayette in the future.
The Colorado Department of Transportation, Boulder County, The City of Lafayette, and the Town of Erie have completed several corridor studies and planning efforts for CO 7 in the last decade. These studies all have a direct influence on this project. This project will use public input and data from those studies to inform and guide the process.
Engage with the project:
February 2023: Virtual

Understand the benefits of this project. Learn about key findings.
Give input on future improvements that are important to you.
COMING SOON: Information and dates

May 2023: In-Person

Review and workshop possible solutions developed from public input and data.

June 2023: Project Page Updates

Review recommended solutions and next steps.