DUIs are costlier than you think. Here's the breakdown
What to expect and the cost of a DUI from cannabis-impaired driving.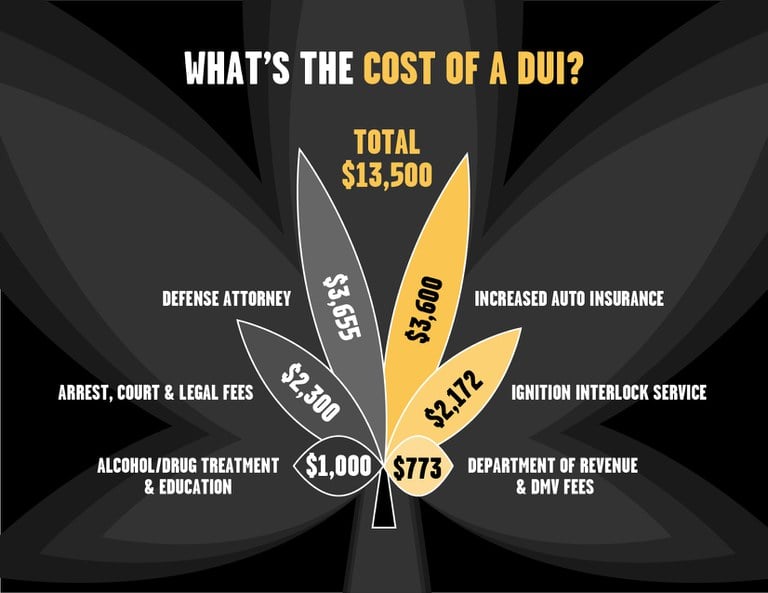 Although cannabis is legal for both medical and recreational use in Colorado, it's important to note that you can receive a DUI for driving while impaired by marijuana. We've talked about the difference between active Delta-9 THC and inactive THC, but if law enforcement pulls you over and observes impairment through roadside testing, you will be arrested.
Think officers won't "be able to tell" if you're driving under the influence of cannabis? Think again. Colorado Drug Recognition Experts (DRE) are law enforcement officers trained to recognize impairment in drivers under the influence of drugs other than, or in addition to, alcohol. The International Association of Chiefs of Police (IACP) coordinates the International Drug Evaluation and Classification (DEC) Program with support from the National Highway Traffic Safety Administration (NHTSA) of the U.S. Department of Transportation.
The penalties for driving under the influence of marijuana are the same as those for driving under the influence of alcohol. In either instance, you can expect to spend a hefty amount of time and money dealing with short- and long-term legal repercussions (not to mention hurting or killing yourself or others on the road).
The cost of the average first-time DUI in Colorado was compiled by NoDUIColorado.org. Here's the breakdown:
The total cost of a DUI can reach or exceed $13,500.
Increased Auto Insurance (over 5 years) - $3,600
Ignition Interlock Service - $2,172
Alcohol/Drug Treatment & Education - $1,000
Defense Attorney - $3,655
Arrest, Court & Legal Fees - ~$2,300
Department of Revenue & DMV Fees - ~$773
Driving under the influence of cannabis can carry heavy consequences. Leave the driving to the sober. Plan ahead and make good choices — it's not worth the risk.