I-70 Glenwood Canyon Traveler Information
Motorists planning to travel on I-70, visit rest areas or use the recreation path in Glenwood Canyon should pay attention to road conditions on COtrip.org and weather forecasts. 
Weather Warnings
Flash Flood Watch
I-70 Protocol Maintenance crews will be stationed at the two closure points along I-70 at MP 133 (Dotsero) and MP 116 (Glenwood Springs). This allows for a quick closure of the interstate if weather worsens. There will be a single lane closure on eastbound I-70 at MP 116 which, again, allows the opportunity to quickly close the interstate as soon as a Flash Flood Warning is issued.
Flash Flood Warning I-70 Protocol
In the event that a Flash Flood Warning is issued, maintenance crews at the two closure points will close the interstate. The Colorado State Patrol will sweep the area to ensure there are no motorists or members of the public in the area. Crews will continue to monitor the mudslide area. Motorists should be prepared for an extended closure should there be another mud slide or slide materials blocking the roadway that will need to be cleared before reopening. Safety is CDOT's and CSP's number one priority and the agencies will not reopen the interstate until it is safe to do so.
I-70 Safety Closure Protocol
If there is rainfall on the Grizzly Creek burn scar above the roadway, there may be a safety closure due to the potential for mudslides and other debris flow. If there is a significant vehicle crash, there may be extensive delays or a closure. Digital message boards will display the closure points and the recommended detour. The detour will be the same as when the canyon originally closed. CDOT will post messaging on both Facebook and Twitter and will send information to stakeholders if we anticipate an extended closure. Motorists are encouraged to check COtrip.org and the weather forecast before driving through the canyon.
---
2021 Recommended Detour & Alternate Route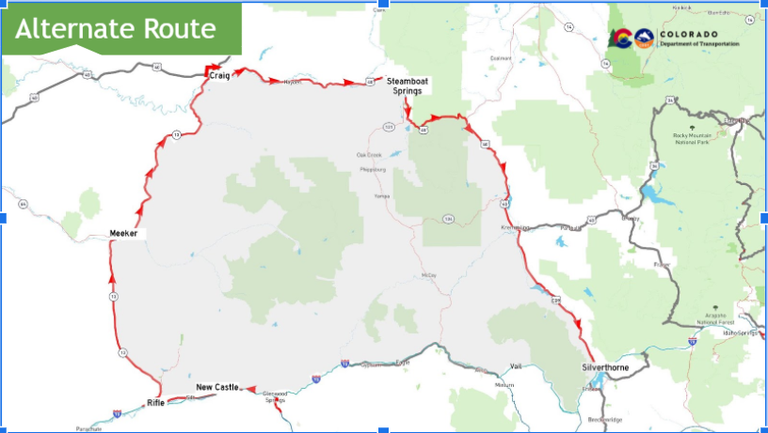 CDOT strongly asks that motorists use the recommended northern alternate route via I-70 - CO 9 - US 40 - CO 13. Westbound motorists from the Denver metro area should exit I-70 at Exit 205 (Silverthorne) and travel north on Colorado Highway 9 towards Kremmling. Travelers will continue west on US Highway 40 and then south on CO 13 to complete the alternate route and return to westbound I-70 at Rifle (Exit 90). Eastbound travelers can detour using the same route in reverse. 
---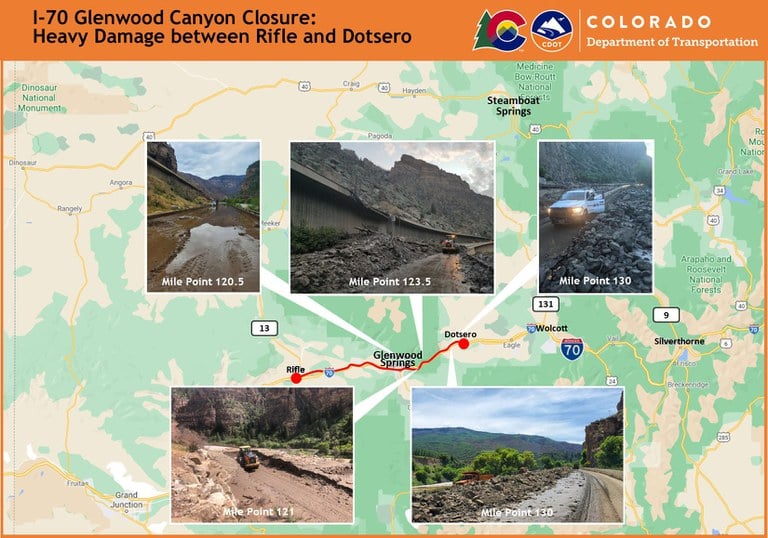 If a safety closure of I-70 is anticipated to last longer than one hour, CDOT recommends that motorists travel to their destination using an alternate route. 
Westbound I-70: Motorists coming from the Denver metro area or I-25 can travel westbound on I-70 to Silverthorne, then turn north onto CO 9. In Kremmling, travelers should turn onto westbound U.S. 40 toward Steamboat Springs. After reaching Craig, motorists can return south via CO 13 towards Rifle. Access to I-70 westbound is at Rifle.
Eastbound I-70: Motorists traveling eastbound from Utah or Grand Junction can reach the Denver Metro area by traveling the route above in reverse.
Before detouring onto any alternate route, motorists should refer to COtrip.org for the latest road conditions. 
---
Prepare for Traveling on I-70 in Glenwood Canyon 
Plan ahead, know before you go and check for the latest road conditions by going to

 

COtrip.org.
Know the latest weather conditions.
Give yourself extra time and avoid traveling during adverse weather conditions.
Have an emergency kit in your vehicle, including extra food, water, medicine, clothing, batteries, and other necessities – enough to sustain you for ten hours.
Make sure your car is in safe driving condition with adequate tires.
When on the road, obey the speed limit and don't follow too closely; speeding and tailgating are among the leading causes of crashes, injuries, and fatalities.