I-70 Glenwood Canyon Safety Closures
Motorists planning to travel on Interstate 70, visit rest areas or use the recreation path in Glenwood Canyon should pay close attention to road conditions on COtrip.org and weather forecasts. If there is rainfall on the Grizzly Creek burn scar above the roadway, there may be  a safety closure due to the potential for mudslides and other debris flow. If there is a significant vehicle crash, there may be extensive delays or a closure.
2021 Recommended Alternate Route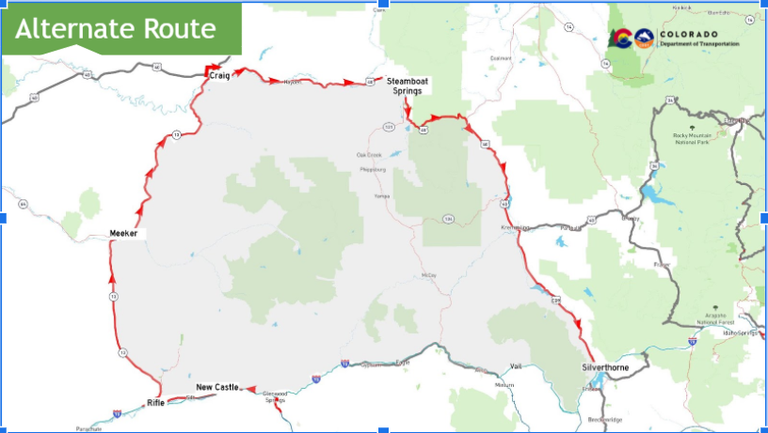 If a safety closure of I-70 is anticipated to last longer than one hour, CDOT recommends that motorists travel to their destination using an alternate route. 
Westbound I-70: Motorists coming from the Denver metro area or I-25 can travel westbound on I-70 to Silverthorne, then turn north onto CO 9. In Kremmling, travelers should turn onto westbound U.S. 40 toward Steamboat Springs. After reaching Craig, motorists can return south via CO 13 towards Rifle. Access to I-70 westbound is at Rifle.
Eastbound I-70: Motorists traveling eastbound from Utah or Grand Junction can reach the Denver Metro area by traveling the route above in reverse.
Before detouring onto any alternate route, motorists should refer to COtrip.org for the latest road conditions. 
---
Prepare for Traveling on I-70 in Glenwood Canyon