District 1: Yessica Holguin
Counties Representing:
Denver County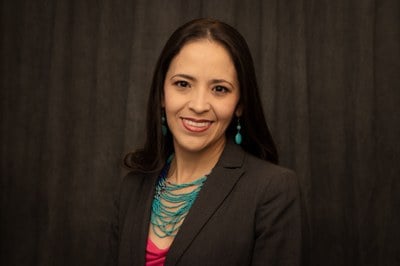 Commissioner Yessica Holguín was appointed to the Commission in July 2021, and represents District 1, which encompasses Denver.
Yessica Xytlalli Holguín is the Executive Director of the Center for Community Wealth Building (CCWB), an organization she co-founded in 2017, focused on building an economy that works for all. Prior to CCWB, Holguin was the Country Director at Project Gettysburg-León (PGL), an international sister-city organization that worked with municipalities and communities on infrastructure and community projects. Prior to PGL, Yessica served the United States as a Small Business Development Specialist in the city of Estelí in northern Nicaragua through the Peace Corps.
Her professional focus areas include developing innovative strategies to increase opportunities for small businesses and working with institutions to advance racial equity and sustainability.
Holguín lives in Denver, Colorado, and holds a Bachelor of Science in Business Administration with an emphasis in Information Systems and a Master of Science in Management and Organization from the University of Colorado Denver.